The Year of Luigi was an event that was held in 2013 to celebrate the 30 years of Luigi. It focused on many Luigi-related content including games that focus more on Luigi than his older brother Mario.
Games
New Super Luigi U
New Super Luigi U
is basically the same as
New Super Mario Bros. U
, except that the game mainly focuses on Luigi and no other characters (except for Toads). Many are the levels are the same, but there are a few levels that is only exclusive to this game. This game was eventually released pre-downloaded onto
New Super Mario Bros. U
with the
Wii U
bundle.
Luigi's Mansion: Dark Moon
Luigi's Mansion: Dark Moon
is the sequel to
Luigi's Mansion
and it once again stars Luigi. The main plot of this game is to collect the
Dark Moon
pieces after
King Boo
destroyed it and caused the ghosts of
Evershade Valley
to turn hostile. This game is arguably the most popular of the Year of Luigi games due to the gameplay, plot, and length.
Mario & Luigi: Dream Team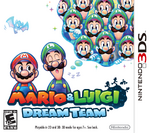 Mario & Luigi: Dream Team
is the fourth game of the
Mario & Luigi series
and the sequel to
Mario & Luigi: Bowser's Inside Story
. However, unlike the previous game, most of the actions of this game comes from controlling Luigi. Several things, such as
Luiginary Attacks
,
Luiginoid
, and the
dream world
are all mainly associated with Luigi. Luigi has also finally receive recognition from Bowser and then considers the green-clad plumber a threat like Mario.
Luigi Bros.
Luigi Bros.
was a mini game hidden on the main menu of
Super Mario 3D World
. The game was a rip of the original
Mario Bros.
game on the NES, with
Mario
being replaced by Luigi, and the second player replaced by a Luigi that looks similar to Luigi with a
Fire Flower
power up.
Dr. Luigi

Dr. Luigi
is a game that was released as downloadable content for the Wii U on December 31, 2013. This game stars Luigi as
Dr. Luigi
who must get rid of the
Viruses
. This game is a sequel to
Dr. Mario
but with much better graphics. This is the last Mario game of the year 2013.
Trivia
Community content is available under
CC-BY-SA
unless otherwise noted.