"Lord Junior... I know you're in charge, but not even your dad talks to us like that..."
― Wendy, Bowser Jr.'s Journey
Wendy O. Koopa (ウェンディ Wendy?) (or simply just Wendy) is one of the Koopalings and the only female member of the Koopalings. She wears a pink polka-dotted bow on her head, large golden bracelets on her arms, a red pearl necklace and high-heeled shoes on her feet. Wendy also has big pink lips. She and Roy Koopa are the only Koopalings with pink shells, until in New Super Mario Bros. Wii, when Roy sported a purple shell instead. She loves ice skating.
She is thought to be a singer (as implied by the in-game text of Super Mario World, as well as the similarity between her name and that of punk singer Wendy O. Williams of The Plasmatics), and, in Hotel Mario, she is shown having a quick temper, and is so clingy with money and luxury that she set false coins ('Wendy's Pennies') to stop Mario's advance.
Wendy is one of the first Nintendo characters to distinguish herself as female by wearing a bow on her hairless head, and the first to do so in a game. Other characters who wear a bow include Birdo, who wears a similar bow, Lady Bow from Paper Mario, who wears a smaller bow on each side of her head, and Candy Kong, who wore a bow in Donkey Kong Country.
She is considered the first true villainess in a Mario game.
Profile
Physical description
Wendy Koopa is the only female Koopaling and she wears a pink bow, a red necklace, gold rings, and pink heals. Her skin tone is slightly more orange than the other koopalings. Wendy has blue eyes and a pink shell with small spikes and grey rings.
Personality
Wendy is said to be bold, bossy, big-headed, and has a rivalry between Peach and Daisy. It is stated in her bio on the Japanese New Super Mario Bros. Wii website that she is a "strong-minded, intrusive tomboy". The tomboyish traits are reconfirmed in the bio from the Encyclopedia Super Mario Bros. Despite her tomboyish nature, she's not afraid to show off her feminine side as she has a love for the color pink and wears a pink bow and heals. Wendy also has been seen to like singing in Super Mario World. Wendy is also shown to be a really good ice skater, as seen in New Super Mario Bros. U.
Super Mario Bros. series
Spoiler warning
:
This article or section contains spoilers you are reading at your own risk. Plot and/or ending details follow.
(
Skip this section
)
Super Mario Bros. 3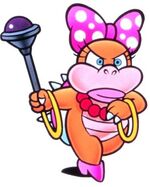 Wendy O. Koopa and the Koopalings made their debut in Super Mario Bros. 3. Wendy is the third boss encountered after Morton Koopa Jr..
Wendy can be found in her airship. Wendy's battle takes place on flat ground, Mario/Luigi must aim to stomp thrice on Wendy's head. Wendy summons rings that bounce in any direction that can harm the player. After her defeat, the player can grab the wand to return to the king.
Super Mario World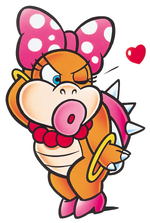 Wendy is the sixth boss of this game. She is the boss of Chocolate Island, where she attempts to confuse Mario by emerging from various pipes along with two decoys. Her fight is similar to Lemmy's except her pipes are all in a straight line and there are two fireballs bouncing around instead of one. She will still roast in the boiling lava under her after three bonks on the head. Her boss battle is thought to be easier than Lemmy's battle.
New Super Mario Bros. Wii
Wendy is the fourth boss of this game. She is the boss of the World 4's fortress and castle.
New Super Mario Bros. 2
New Super Mario Bros. U/New Super Mario Bros. U Deluxe
Wendy is the fourth boss of this game. She is the boss of World 4's castle. In the battle, she will spawn two fireballs and they will hit the large ice spikes on the ceiling to make two of them fall. After she has been stomped on two times, she will spawn three fireballs which will make three ice spikes fall from the ceiling. Once she has been stomped on three times, she will de defeated.
Yoshi's Safari

In Yoshi's Safari, Wendy appeared as the boss of Pipe Island. She is fought alongside a flying anvil. To hurt Wendy, the player has to beat her three times with the anvil. The anvil must be overhead of Wendy to hurt her. Once she is defeated, the player will receive the Aquamarine Gem.
Paper Mario: Color Splash
Wendy is the fourth boss in Paper Mario: Color Splash. Mario will find her in Fortune Island with Purple Big Paint Star. She attacks by throwing coins, Gold Guys, and Fire bros. When most of her health is gone, she turns her wand into a gold ring and tries to choke you with it. You use the Camera Thing Card so that she chokes the picture instead.
Mario & Luigi series
Mario & Luigi: Superstar Saga/Mario & Luigi: Superstar Saga + Bowser's Minions

Wendy is a boss after Bowletta takes over the Beanbean Kingdom. She has a Time Bob-omb in her battle, along with Roy and Larry. she attacks with her rings that go under the player's feet and then close together, and with a duplicate program similar to Lemmy Koopa, but is made harder due to the Time Bob-omb.
Minion Quest: The Search for Bowser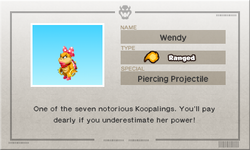 In Minion Quest, Wendy is the third Koopaling to be recruited by Captain Goomba and the second-runner up of her Cutie Contest. Wendy is a ranged minion and is weak against melee minions but strong against flying minions.

Wendy appears along with the rest of the Koopalings in Mario & Luigi:  Paper Jam where they assist Bowser and his paper self in kidnapping Princess Peach. Wendy is first seen after Mario, Luigi, and Paper Mario all reach Bowser's Castle but were knocked out by a giant cannonball. Wendy and Morton then have the heroes taken away to the Twinsy Tropics jail cell. Later, Wendy and Roy confront the heroes just before they left underground jail cell and battles them but loses.
Mario Kart series
Mario Kart 8/Mario Kart 8 Deluxe
Wendy made her first appearance as a playable character in Mario Kart 8 along with the rest of the siblings.
Wendy reappears in the Mario Kart 8 Deluxe. She is the only Koopaling to not have another Koopaling as her rival, but Peach and Daisy. She is controlled by the 200cc staff ghost Nin★Frank for Piranha Plant Slide.
Spoiler warning: Plot and/or ending details ends here.
Super Smash Bros. series
Non-canon warning: This article or section contains non-canonical information that is not considered to be an official part of the Mario series and/or isn't considered to be part of the series' overall storyline.
Super Smash Bros. for Nintendo 3DS/Wii U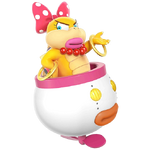 Wendy appeared in Super Smash Bros. for Nintendo 3DS and Wii U as an alternate costume of the newcomer, Bowser Jr.. Wendy, along with the Koopalings, Sans, and Bowser Jr. have the same dialogue used for Palutena's Guidance.
Super Smash Bros. Ultimate
Wendy reappeared in Super Smash Bros. Ultimate as an alternate costume for Bowser Jr.. Wendy gained the same Palutena's Guidance dialogues.
Other media
In the cartoons, she was named Kootie Pie.
Kootie Pie (a portmanteau of "Koopa" and "cutie pie", also implying "cootie"), was apparently sixteen years old,[1] and often whined about everything. Frequently, Koopa would execute his schemes (such as kidnapping Milli Vanilli)[2] just to keep Kootie Pie pleased. She also displayed some sort of animosity or even envy towards Princess Toadstool (as Princess Peach was called in North American until 1995). There is little physical difference between Wendy and Kootie Pie. The only differences that really stand out are that Kootie Pie's bow is more pointy and she has two fangs sticking out of her mouth. Kootie Pie also has a smaller bow on her tail. She was voiced by Tabitha St. Germain under the alias Paulina Gillis.
Other than Lemmy, Wendy is the only Koopaling to appear in her own story in the comic books.[3]
Wendy also played a prominent part in the Super Mario Adventures comic serial that ran in Nintendo Power in 1992. There, she continually matches wits with Princess Toadstool. Wendy is the de facto leader of the Koopalings in this comic, and stands out among her siblings, who are all portrayed with more or less identical personalities.
Trivia
Although she has never seen without shoes, the other Koopalings, who are barefooted, confirm that Wendy has three toes on each foot, and also has white pads on the soles of her feet.
Wendy was named after American musician, Wendy O. Williams. [4]
She Is Not Happy. Paper Jam Has Many Broken Links
Gallery
References
Navigation
Characters
Playable characters
Mario • Luigi • Yellow Toad • Blue Toad* • Toadette** • Nabbit**/*** • Mii*
Supporting characters
Princess Peach • Toad • Green Yoshi • Baby Yoshi (Balloon, Bubble, Glowing)
Bosses
Koopalings (Lemmy Koopa, Morton Koopa Jr., Larry Koopa, Wendy O. Koopa, Iggy Koopa, Roy Koopa, Ludwig von Koopa) • Bowser Jr. • Bowser
Enemies and obstacles
Enemies
Amp* • Banzai Bill • Big Amp* • Big Boo • Big Buzzy Beetle* • Big Cheep Cheep • Big Dry Bones • Big Deep Cheep** •

Big Eep Cheep

** •

Big Fuzzy

• Big Goomba • Big Koopa Troopa • Big Piranha Plant •

Big Thwomp

•

Big Urchin

• Big Venus Fire Trap** • Big Wiggler • Blooper •

Blooper Baby

* • Blooper Nanny* • Bob-omb • Bony Beetle • Boo • Boomerang Bro •

Bowser Stunner

• Bramball • Broozer • Bulber* • Bullet Bill • Buzzy Beetle • Chain Chomp • Cheep Cheep • Cheep Chomp • Circling Boo Buddies • Cooligan •

Dai Gorō

• Deep Cheep** • Dragoneel •

Dragoneel (purple)

* • Dry Bones •

Eep Cheep

• Fire Bro • Fire Snake • Fire Piranha Plant • Fish Bone • Flame Chomp •

Fliprus

• Foo • Fuzzy • Goomba •

Goomba (balloon)

* • Goombrat • Grrrol •

Gūrindai

• Hammer Bro • Heavy Para-Beetle •

Hefty Goomba

• Huckit Crab • Ice Bro • Ice Piranha Plant • Jellybeam* • King Bill • Koopa Paratroopa • Koopa Troopa • Lakitu • Lava Bubble • Lava Geyser • Magmaargh • Magmaw • Mecha Cheep* •

Mecha Hand

• Mechakoopa •

Meteor

•

Mini Goomba

•

Missile Bill

• Monty Mole • Muncher • Nabbit • Para-Beetle •

Parabomb

• Paragoomba* • Piranha Plant • Pokey • Porcupuffer •

Prickly Goomba

• Red Skull Box • River Piranha Plant • Rocky Wrench* • Scaredy Rat* • Sledge Bro • Spike • Spike Top • Spiked Ball • Spinner • Spiny •

Spiny Cheep Cheep

• Stalking Piranha Plant • Stone Spike • Sumo Bro • Swoop* • Targeting Ted • Thwimp* • Thwomp • Torpedo Ted • Urchin • Waddlewing • Wiggler
Obstacles
Banzai Bill Cannon •

Big Fire Bar

• Bill Blaster • Bill Blaster Turret • Burner • Cannon • Cannonball* • Fire Bar •

Giant Cannonball

• Icicle •

Obake Block

• Red Skull Box •

Skewer

• Skull Box* • Spiked Ball • Spinner • Spiny Egg
Worlds and levels
Acorn Plains
Acorn Plains Way • Tilted Tunnel • Crushing-Cogs Tower • Yoshi Hill • Mushroom Heights • Rise of the Piranha Plants • Lemmy's Swingback Castle • Blooper's Secret Lair • Waddlewing Warning!*** • Crooked Cavern*** •

Flame-Gear Tower

*** • Rolling Yoshi Hills*** • Piranha Heights*** • Piranha Gardens*** • Lemmy's Lights-Out Castle*** • Cheep Chomp Chase***
Layer-Cake Desert

Stone-Eye Zone

•

Perilous Pokey Cave

•

Fire Snake Cavern

•

Stoneslide Tower

• Spike's Spouting Sands •

Dry Desert Mushrooms

•

Blooming Lakitus

•

Morton's Compactor Castle

•

Piranha Plants on Ice

•

Piranha Plants on Ice

• Spike's Tumbling Desert*** • Underground Grrrols*** • Piranhas in the Dark*** • Wind-Up Tower*** • The Walls Have Eyes*** • Stone Spike Conveyors*** • Spinning Sandstones*** • Morton's Lava-Block Castle*** • Slippery Rope Ladders***
Sparkling Waters

Waterspout Beach

•

Tropical Refresher

•

Giant Skewer Tower

•

Haunted Shipwreck

•

Above the Cheep Cheep Seas

•

Urchin Shoals

•

Dragoneel's Undersea Grotto

•

Larry's Torpedo Castle

•

Skyward Stalk

• Huckit Beach Resort*** • Urchin Reef Romp*** • Shish-Kebab Tower*** • Haunted Cargo Hold*** • The Great Geysers*** • The Great Geysers*** • Dragoneel Depths*** • Larry's Trigger-Happy Castle*** • Beanstalk Jungle***
Frosted Glacier

Spinning-Star Sky

•

Cooligan Fields

•

Freezing-Rain Tower

•

Prickly Goombas!

•

Scaling the Mountainside

•

Icicle Caverns

•

Swaying Ghost House

•

Fliprus Lake

•

Fliprus Lake

• Broozers and Barrels*** • Cooligan Shrooms*** • Icicle Tower*** • Fire and Ice*** • Weighty Waddlewings*** • Ice-Slide Expressway*** • Peek-a-Boo Ghost House*** • Wendy's Thwomp Castle*** • Fliprus Floes***
Soda Jungle

The Mighty Cannonship

† •

Jungle of the Giants

•

Bridge over Poisoned Waters

• Bramball Woods •

Snake Block Tower

•

Which-Way Labyrinth

•

Painted Swampland

•

Deepsea Ruins

•

Seesaw Bridge

•

Wiggler Stampede

•

Iggy's Volcanic Castle

•

Flight of the Para-Beetles

• All Aboard!†/*** • Giant Swing-Along*** • Dancing Blocks, Poison Swamp*** • Heart of Bramball Woods*** • Stone-Snake Tower*** • Stone-Snake Tower*** • Painted Pipeworks*** • Deepsea Stone-Eyes*** • Sumo Bro Bridge*** • Wiggler Floodlands*** • Iggy's Swinging-Chains Castle*** • Para-Beetle Parade***
Rock-Candy Mines
Fuzzy Clifftop • Porcupuffer Falls • Grinding-Stone Tower • Waddlewing's Nest • Light Blocks, Dark Tower • Walking Piranha Plants! • Thrilling Spine Coaster • Screwtop Tower • Screwtop Tower • Roy's Conveyor Castle • Mount Fuzzy*** •

Porcupuffer Cavern

*** • Smashing-Stone Tower*** • Spike's Seesaws*** • Light-Up-Lift Tower*** • Rising Piranhas*** • Spine Coaster Stowaways*** • Sumo Bro's Spinning Tower*** • Switch-Lift Express*** • Roy's Ironclad Castle***
Meringue Clouds
Land of Flying Blocks • Seesaw Shrooms • Switchback Hill • Slide Lift Tower • Spinning Spirit House • Bouncy Cloud Boomerangs • A Quick Dip in the Sky •

Snaking above Mist Valley

• Ludwig's Clockwork Castle • Boarding the Airship •

Frozen Fuzzies

*** •

Wiggler Rodeo

*** •

Rainbow Skywalk

*** •

Stonecrush Tower

*** •

Vanishing Ghost House

*** •

Above the Bouncy Clouds

*** •

Flame Chomp Ferris Wheel

*** •

Three-Headed Snake Block

*** •

Ludwig's Block-Press Castle

*** •

Bowser Jr. Showdown

***
Peach's Castle
Meteor Moat • Magma-River Cruise • Rising Tides of Lava • Firefall Cliffs • Red-Hot Elevator Ride •

The Final Battle

• Magma Moat*** • Magmaw River Cruise*** • Hot Cogs*** • Firefall Rising*** •

Current Event

*** •

The Final Battle

***
Superstar Road
Spine-Tingling Spine Coaster •

Run for It

•

Swim for Your Life!

•

Hammerswing Caverns

•

Spinning Platforms of Doom

•

Fire Bar Cliffs

•

Lakitu! Lakitu! Lakitu!

•

Pendulum Castle

•

Follow That Shell!

•

Spine Coaster Connections

*** •

P Switch Peril

*** •

Star Coin Deep Dive

*** •

Hammerswing Hangout

*** •

Under Construction

*** •

Fire Bar Sprint

*** •

Cloudy Capers

*** •

Impossible Pendulums

*** • Flying Squirrel Ovation***

Coin Courses

World

Coin

-

1

• World

Coin

-

2

• World

Coin

-

3

• World

Coin

-

4

• World

Coin

-

5

• World

Coin

-

6

• World

Coin

-

7


• World

Coin

-

8

Other
Secret Island
Collectibles and objects
Power-ups
Fire Flower • Ice Flower • Mini Mushroom • Penguin Suit • Propeller Mushroom • Super Acorn (

P-Acorn

) • Super Crown** • Super Mushroom • Super Star (

Boost Star

)
Items
? Switch • ! Switch • 1-Up Mushroom • 3-Up Moon • Berry • Blue Coin •

Boost Star

• Coin • Dash Coin •

Green Coin

• Red Coin • Star Coin • Yoshi Egg
Objects

3-Up Moon Block

• Barrel • Beanstalk •

Boost Block

• Brick Block •

Cannon Pipe

• Checkpoint Flag • Coin Block • Donut Lift •

Flying Question Block

•

Giant Brick Block

•

Giant Question Block

•

Giant Snake Block

• Goal Pole •

Green Ring

• Ice Block •

Light Block

• Note Block • POW Block • P-Switch •

Qestion Block

• Red Ring • Roulette Block • Snake Block •

Super Guide Block

• Springboard •

Stretch Block

•

Warp Door

•

Water Pipe

•

Water Ball

•

Wooden Block

Miscellaneous
Other

Ash

•

Current

• Floating Jump • Koopa Clown Car • Lava •

Poisoned Water

• Quicksand •

Sand Geyser

•

Spine Coaster

•

Stone-Eye

•

Water Geyser

Info
Gallery (

Luigi U

/Deluxe)
*-Exclusive to New Super Mario Bros. U • **-Exclusive to New Super Mario Bros. U Deluxe • ***-Exclusive to New Super Luigi U
†-Level before the world