"We're still missing something. Oh yeah—Wario!"
This article is missing an infobox. You may remove this template once an infobox has been added to the article.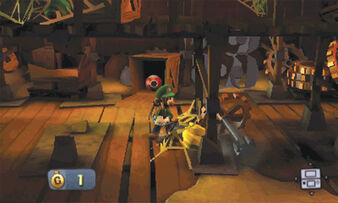 The Warehouse is a room in Old Clockworks in the game Luigi's Mansion: Dark Moon. It is located in the front of the mansion and has doors leading to the Workshop, the Clockmaker's Chambers, Clockworks Court (outside), and the Roundhouse.
History
The Warehouse is accessible in all missions of Old Clockworks except for C-5: Piece At Last and C-Boss: Showtime. It is the first room available in Old Clockworks and must be passed through in several missions. The Boo for mission C-1: A Timely Entrance  is located in the Warehouse. A spool of red ribbon must be picked up and placed on the device by the entrance to reveal the Boo. The mansion's second Gem is also located in the Warehouse. Shine the Dark-Light Device in the empty box on its side which is near the door to the Roundhouse to reveal a spool of green ribbon. Place it on the device to receive the Gem. Ghosts often occupy this room and it needs to be visited twice in the unlockable Boo mission.  Luigi is never directly pixelated into the Warehouse.
Community content is available under
CC-BY-SA
unless otherwise noted.