Main Page
Welcome to


MarioWiki is a collaborative encyclopedia for everything related to the Mario series. There are 8,337 articles and growing since this wiki was founded in July 2007. The wiki format allows anyone to create or edit any article, so we can all work together to create a comprehensive database for the Mario series.
The MarioWiki community would love it if you'd join us in our Chat room for friendly conversation.

Overview · Wiki tutorial · Help pages · Navigation
Featured Article
Featured Article
Mimi (マネーラ Mimi?) appears as a girl with an aggressive and violent character, born on May 5. Mimi's race is unknown due to her shapeshifting abilities, she also forgets who she was.
Mimi appears as an antagonist (along with Count Bleck, Nastasia, O'Chunks, Dimentio and Mr. L) in Super Paper Mario.
(Read more...)
Reminders
Please don't copy articles from other Wikis. While it is legal, we still have to write our own articles.
Welcome new users! We are an ever growing community, and new users need to feel welcomed!
Reviews
Reviews
Date:11/04/19 Rating: 8/10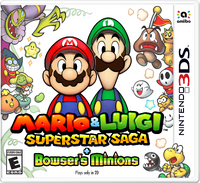 Mario & Luigi: Superstar Saga + Bowser's Minions is the 3DS remake of the 2003 original game on GBA! Without any further ado, let's get started!
The GBA classic reborn now runs at an immaculate 60 FPS all the way through! It has a save feature to save whenever you want and not just at a certain point, and the Simultaneous Jump uses the X button. Although they're still using Dream Team's art style, it makes the use of 3D models more convincing despite the lack of 3D. Still, the models are just not the same.
Minion Quest shows the other side of what happened during the adventure, and although it can get too passive at times, the fanbase of this side story is the best part of the game.
Past reviews... Super Mario Run... Mario Party DS... Mario Party 9...
Featured Media
Suggest a song at the Featured Media page.

MarioWiki now brings to you The Glitz Pit! An all new fighting arena in which your favorite characters go head to head against each other.
The current Glitz Pit fight is...
Geno vs. Mallow
LET'S RAWK OUT.
Also, suggest a fight!
News
June 7, 2020

May 20, 2020

May 15, 2020

May 14, 2020

April 20, 2020
Weekly Poll
Monthly Poll
How do you feel about the new Super Mario Maker 2 3.0.0 update?
Poll created and suggested by LuigiMaster41, make sure to request one and your poll could be picked! (polls are picked once a month.).
Also, suggest a poll!
See previous poll results here!
Cleanup of the Month
Helping out
You can help out the wiki by checking those pages and editing them.
Templates
This failed.
Community content is available under
CC-BY-SA
unless otherwise noted.