Welcome!!
Hello MarioWiki user! My name is LuigiMaster41, and I personally enjoy the Mario series. I mostly enjoy the Mario Kart series & the New Super Mario Bros. series. I first joined this wiki on August 1, 2017, then I became a content moderator on April 8, 2019, then I became a admin on May 14, 2019. My favorite Mario games are Mario Kart DS, Mario Kart 7, New Super Mario Bros. DS, Super Mario 3D Land & New Super Mario Bros. 2. list of my favourite characters can be found here.
If you need help or advice with anything, you can always message me on my message wall, or you can get help from another admin.
Other than the Mario series, I like watching LEGO Ninjago, Nexo Knights, Almost Naked Animals, Lock's Quest, Millie Inbetween, So Awkward, The Simpsons, Family Guy and many other cartoons!
Edit Counter: 308,856
My Sig
 LuigiMaster41 

  03:42, October 24, 2020 (UTC)  

Userboxes
LuigiMaster41's Userboxes
Lock's Quest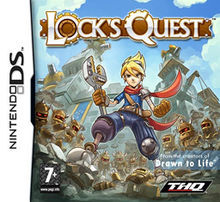 My favourite non-Mario game is Lock's Quest. Lock's Quest is basically a Tower Defense game, developed by THQ and 5th Cell, for the Nintendo DS in September 2008 and then 9 years later in March 2017, they released a PS4, XBOX & PC. I only have the DS version of the game. I got this game when I was a lot younger and to this day, I still love it. There is even a wiki based on the game, Lock's Quest Wiki! I'm currently working there and I am a admin there. Anyways, this game is awesome in my opinion, and I love this game so much that it might be my most favourite game overall.
Names you can call me
LuigiMaster41 (my original name)
Cosmic Brute (my old name)
LuigiMaster
LM41
Stuff I'm working on:
Mario Kart DS karts articles.
Editing MarioWiki templates.
Creating Mario Kart DS kart stats data tables (with the help of Derek)
Notes & Trivia


As stated above, other than Mario, I like LEGO Ninjago, Nexo Knights, Millie Inbetween, The Simpsons, So Awkward and lots of other shows. But I really do love the Ninjago franchise, in fact, it is number one in my top favourite cartoon shows!
Mario Kart DS has and will always be my favourite Mario game of all time.
New Super Mario Bros. was my very first video game ever, and if it wasn't for that game, I would not have known what Mario is, nor remember what Luigi's name was lol.
I have many friends here on this wiki. If you are a new user here, don't just straight up ask me to be friends with you, I need to get to know you first.
I am thinking of making my own nav template sometime soon.
I used to dislike Daisy, but now I like her again as a character.
Game ratings
Lock's Quest, Mario Kart DS and New Super Mario Bros. (9/10)
Mario Party DS and Super Mario 3D Land (8.75/10)
New Super Mario Bros. 2 (8.6/10)
Mario Kart 7 (8.4/10)
Friends
Favorite articles
My position in the Leaderboard
Rank: 5th place
Points: 6,180 points
Music
<soundcloud url="https://soundcloud.com/davidjfranco/kwk-lqwarmachine-1" height="100" auto_play="true"> </soundcloud>
Gallery
Community content is available under
CC-BY-SA
unless otherwise noted.