This article is in need of an infobox.
Please remove this template once or when an infobox has been added.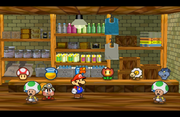 Toad Bros. Bazaar
is a location in
Paper Mario: The Thousand-Year Door
.
The Shop is most likely the first shop in the game, Mario will visit. This shop is located in Rogueport, in the large plaza in the center of town. This place sells mostly basic items, but does sell some rare Key Items, Mario can obtain for his adventure.
Mario, before Chapter 3, must visit this shop. Mario, while trying to access the western portion of Rogueport. On his way, Zess T., a cook who lives next to the gate, drops her contact lens. Unfortunately, Mario accidentally steps on the lost lens and breaks it. In rage, Zess T. blocks the gate to Westside so Mario can't proceed. To make ammense, he goes to the Toad Bros. Bazaar and asks for a Contact Lens. The shopkeeper responds saying that a shipment will arrive shortly and Mario will be on his way. Upon arriving at the shop later, Mario can purchase the lens for ten coins.
Inventory
This shop sells mostly basic beginner items, some of which aren't that great. This shop sells similar items to that of the first Toad Town shop in Paper Mario. The Toad Bros. Bazaar is also the first shop available in the game. This shop sells the following items:
Super Luigi Novels
This shop is also the only shop in the game to carry the pristine Super Luigi Novel series. This series catalogs Luigi's adventures in the Waffle Kingdom. Mario can purchase these books for steep prices from this very shop. There are 5 volumes in total:
Trivia
This is the first Item Shop accessible in the game.
This shop sells the Super Luigi Series of books.
The Toad Bros. Bazaar is one of the two shops Mario must purchase a product from. The other is Westside Goods.
The Mushroom item purchasable from the shop is replaced every so often with the Super Luigi Novels and the Contact Lense. These items appear only once until purchased.
This is the only item shop whose inventory changes.
Community content is available under
CC-BY-SA
unless otherwise noted.