Tiara (ティアラ Tiara?) is a character introduced in the game Super Mario Odyssey. Bowser forced Tiara to become Princess Peach's wedding tiara. She is the younger sister of Cappy.
After rescuing Princess Peach and Tiara, they appear in different areas in every kingdom, which they reward Mario a Power Moon.
Profile
Physical description
Tiara's is a Bonneter with a form of a white and silver tiara with magenta eyes. Under the hat, she has a small spectral body similar to a Boo. Her large eyes appear in all of her appearances.
Powers and abilities
Hat Mimicry: Like Bonneters and Cappy, Tiara can take the form of different hats, including Peach's Tiara.
Biography
Tiara is a Bonneter who lives with her older brother, Cappy, in the Cap Kingdom.
Above Peach's castle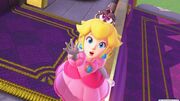 During the events "in the skies above Peach's castle", Bowser kidnapped Princess Peach and Tiara on his airship. While Bowser proposed a forced wedding to Peach, he used Tiara as Peach's headdress.
Bowser's Kingdom
When Mario and Cappy were confronting Bowser with Peach and Tiara at his kingdom, he told them that he planned his wedding on the moon and left the duo.
Moon Kingdom
While Peach, Bowser, and other attendees were present at the wedding, Mario and Cappy interrupted the wedding. After Mario fought Bowser, he, Cappy, Peach, and Tiara reunited. They escaped from the collapsing area to the moon with Mario and Cappy possessing Bowser. Meanwhile, Mario and Bowser proposed to Peach, but she rejected them and left with Cappy and Tiara to the Odyssey. Mario jumped onto the Odyssey with Bowser stuck on the moon.
Kingdoms
Peach and Tiara travelled around the kingdoms in Peach's "own terms" while collecting Power Moons. Mario and Cappy visited them and Peach gave Power Moons to Mario. After visiting many kingdoms, Peach and Tiara return to the Mushroom Kingdom.
Gallery
Gallery
References
See also:
External links