This is the place to discuss the Main Page article and MarioWiki in general. You can leave a message by clicking the + link or the leave message link (depending on which skin you use).
Please don't leave any messages about Mario Wiki. Doing so will result in removal upon sight.
Improving MarioWiki page
The MarioWiki page needs more improvement. I believe we should start a draft for that page. It's-a me, Derek-o. (talk, blog, contribs) 09:17 Jun 2 2019 (UTC)
So, the MarioWiki needs more improvement, huh? I can help! What would you like for me to do to help improve it? And how exactly do you want it laid out?

 LuigiMaster41 

  10:04, July 3, 2020 (UTC)  
I have somewhat of a template for some new logos for the main page.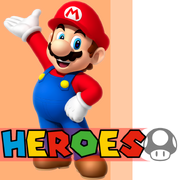 TKTems
(
talk
) 19:04, November 11, 2019 (UTC)
Community content is available under
CC-BY-SA
unless otherwise noted.