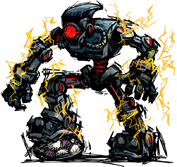 The Super Team (also known as the Robotic Nightmare) are the final opponents in tournament mode in the game Super Mario Strikers, as well as the only unlockable team. The team is made up of several Robotic Nightmares, a kind of robot created for Super Mario Strikers. Every member of the Super Team has the ability to perform Super Strikes, which is unique to this team, as this ability is usually given exclusively to a team's captain. The Super Team shares some their animation with Waluigi's, including their Super Striker animation.
While every other team has a Kritter serving as their goalie, the Super Team makes use of a Robo-Kritter. The Super Team's team logo is the Greek letter Omega (Ω).
While the Super Team itself is not playable in Mario Strikers Charged, one of the robots makes a cameo appearance in the game's credits, cleaning a theater's stage with a bucket and a mop.
Trivia
The Super Team are the only characters voiced by Kenny James who aren't a variant of Bowser.
Community content is available under
CC-BY-SA
unless otherwise noted.