Raise a Floppa - The Loop
Play Sound

Super Smash Bros. (ニンテンドウオールスター! 大乱闘スマッシュブラザーズ Nintendō Ōrusutā! Dairantō Sumasshu Burazāzu, lit. Nintendo All-Star! Great Fray Smash Brothers), often shortened to SSB (Smash 64, SSB64, Super Smash Bros. 64), was the first in the series of five fighter games starring most of Nintendo's All Stars. It was released on the Nintendo 64 by Hal Laboratory. It is also available through the Wii Virtual Console.
Characters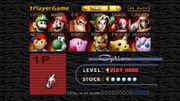 There are twelve characters in Super Smash Bros., eight are starter characters, and four are unlockable.
Defaults
Unlockables
Captain Falcon (C. Falcon is earned when Single Player is beaten in under 20 mins.)
Jigglypuff (For Jigglypuff, beat 1 player mode with any character.)
Luigi (To get Luigi, beat Bonus Practice 1 with the 8 original characters.)
Ness (In order to get Ness, you must beat 1 player on normal with 3 lives.)
The other unlockable is Sound Test; which is earned by beating both Bonus Practices with all the characters.
Stages
The playable stages in Super Smash Bros. are:
Planet Zebes

Sector Z

Saffron City
Unlockable Stages
Gallery
Trivia
Super Smash Bros. was supposed to be called Kakuto-Gēmu Ryūō (Dragon King: The Fighting Game) and featured colored versions of The Fighting Polygon Team not shaped like Nintendo characters.
Commercial