Raise a Floppa - The Loop
Play Sound
"Can everyone please stop telling jokes and start actually helping?!"
Wendy O. Koopa is not happy. She has spotted broken links on this article. You can make her proud by helping MarioWiki editors create pages!
Super Mario 3D World + Bowser's Fury is a multiplayer[1] 3D-platform video game and a port of the 2013 Wii U game Super Mario 3D World released on February 12, 2021 in US and February 11, 2021 for UK and Japan for Nintendo Switch.[2] There is a new mode called "Bowser's Fury".
Changes from the original game
Characters move faster.
Characters can now dive and roll in midair.
The game has amiibo support and will have Cat Mario and Cat Peach Amiibo launching alongside the game.
Green Stars and Stamps collected before losing a life will remain collected until a Game Over is acquired.
Captain Toad's Adventures Levels can now be played in Multiplayer mode, with the other players playing as Hint Toad, Banktoad, and Yellow Toad, respectively. Similarly, the players are ranked by score at the end of the Captain Toad levels in multiplayer.
The X displaying next to the life count was removed.
Game inform
Characters
Playable

Luigi

Peach

Toad

Captain Toad

Rosalina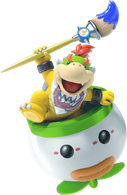 Bowser Jr.
Enemies
New
Cat Coin Coffers

Cat Spikes

Big Cat Piranha Plants
Cat Fire Piranha Plants
Cat Conkdors
Cat Stingbies
Cat Boomerang Bros.
Cat Fire Bros.
Cat Hammer Bros.

Cat Biddybuds

Cat Para-Biddybuds
Cat Blocksteppers
Cat Fuzzies
Cat Bullies
Cat Snow Pokeys

Cat Bob-ombs

Cat Flopters
Cat Rammerheads
Cat Skipsqueaks
Cat Splounders
Cat Fuzzlers
Bosses
Others
Power Ups
Super Mario 3D World has a variety of power-ups that can be used by players:
Super Mushroom - Makes you grow a size.
1-up Mushroom - Gives an extra life.
Super Star - Temporarily makes invincible and extremely fast.
Fire Flower - Makes fire balls shoot from the user's palms.
Lucky Bell - Makes Mario and his friends turn to golden Statue Cats That gives the player coins when they drop.
Super Leaf - Spin nearby enemies, flutter through the air.
Super Bell - Climb onto walls, pounce on enemies and slide on ground. Turns the player(s) into a cat.
Double Cherry - Doubles the character.
Boomerang Flower - Throw boomerangs to knock out enemies.
Cannon Box - Shoot cannonballs to knock out enemies and bosses.
Mega Mushroom - Makes Mario grow giant temporarily
Goomba Head - The player dons a Goomba mask to avoid being detected by enemies
Ice Skate - In the first level of World 3, the player can get an Ice Skate from Skating Goombas.
Worlds
Worlds in italics can only be played after you defeat Meowser.
Bonus Stamps
5 Star File
Star 1: Beat the level The Great Tower of Bowser Land.
Star 2: Get every Green Star from World 1 to World Flower.
Star 3: Get every stamp from World 1 to World Star.
Star 4: Reach the top of every flagpole from World 1 to World Flower.
Star 5: Complete every level from World 1 to World Flower as all five characters.
Shiny Stars
Complete every level without the use of the Invincibility Leaf. Completing a level using the Leaf and beating it again later without the Leaf is allowed.
References to Other Games
Super Mario Bros. - Most of the soundtrack consists of remix versions of the main theme for Super Mario Bros. Also, the second major level of the game includes an underground level.
Super Mario Bros. 2 - During the Slot Machine levels, the theme heard while in there is a remix version of the character select screen from this game. Also, Princess Peach's floating ability returns in this game. The Subcons resemble a Sprixie Princess in this game.
Super Mario Bros. 3 - Whenever a player enters a Toad House, the same theme (albeit remixed) from this game plays whenever a player is in it. When a player dies, the death music is this one instead of the ones from other games.
"Super Mario Galaxy" The extra worlds and levels feature Super Mario Galaxy themes and characters. There is also a playable Rosalina and stamps of her and Lumas.
Plot
"Join Mario, Luigi, Princess Peach and Toad on a quest to save the Sprixie Kingdom in Super Mario 3D World + Bowser's Fury, pouncing onto Nintendo Switch! Bowser's kidnapped the Sprixie Princess, and it's up to our heroes to rescue her!"
Gallery
| | |
| --- | --- |
| | To view Super Mario 3D World + Bowser's Fury's |
References
References to Later Games
Trivia
Super Mario 3D World was released on the same day as Mario Party: Island Tour and The Legend of Zelda: A Link Between Worlds in the U.S.
This game marks a few milestones for Peach:

The first mainstream Mario game since Super Mario Bros. 2 to feature her as a playable character.
The first 3D Mario game to feature her as a playable character.
The first Mario game since Super Mario Bros. 2 where the main plot doesn't revolve around rescuing her since she is a playable character in this game.

Super Mario 3D World currently features more power-ups in one game than any of the other Mario games with 19 power-ups.
When two or more players are present in the game, and one or more has acquired a Double Cherry, another player can ground pound on one of the player's clones and take it as their own.
If one counts the wearable items (such as boxes and shoes), Super Mario 3D World has the most power-ups in any Mario platformer thus far, with seventeen power-ups (compared to Super Mario Bros. 3, which has nine).
This is the second 3D Mario game to have Mario slide down a flagpole. The other was its predecessor Super Mario 3D Land.
This is the first 3D Mario platforming game that features the Mega Mushroom.
This game is the second 3D Mario game that is a 3D platformer and not an open world platformer. The other is Super Mario 3D Land.
Videos
See also
External links