Super Mario 3D All-Stars (スーパーマリオ 3Dコレクション[2] Super Mario 3D Collection?) is a Nintendo Switch 3D Platformer Compilation game that was released on September 18, 2020 for a limited time. Announced alongside to celebrate Mario's 35th Anniversary. 3D All-Stars includes high-definition ports of the three major 3D platformers in the Super Mario series: Super Mario 64 (1996), Super Mario Sunshine (2002), and Super Mario Galaxy (2007). The collection was only available until late March 2021.[1]
Development
According to video game news website Eurogamer, Nintendo referred to the compilation as Super Mario All-Stars 2 internally.[3] Super Mario 3D All-Stars was officially announced on a Nintendo Direct presentation on September 3rd 2020.[4]
Overview
All the games have been improved for a "smoother" experience, high-definition upgrades (up to 1920 x 1080 docked; except Super Mario 64), and new Switch controls, while they maintain their faithful design and look.[5] There will also be a new mode where the player can listen to whole soundtracks of all the three included games, whether the console is turned on or off. The text and dialogues are expected to be changed for improvement, removal of original console-exclusive features not compatible with the Switch, and to match the Switch controls. Some textures of these games have been updated, with Super Mario Sunshine having received the most texture updates.
Games
64 maintains its original 4:3 aspect ratio, while now having a high-definition upgrade, up to a resolution of 960 x 720 in both docked and handheld modes.[5] The HUD design has been modified for an HD upgrade as well which now looks smooth and more clear. The same is applied to Mario's "M" emblem.[6] The game's title screen has a "Press +" text, replacing the "Press Start" text to match the Switch controls. Mario no longer says "So long, king Bowser!" when throwing him; he'll instead say "Bye-bye!" Some glitches like the backwards long jump have been fixed which means it might be based on the JP version.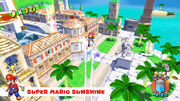 Sunshine features an aspect ratio presentation of 16:9 hacked from the original using a Gecko widescreen code. Additionally, despite the Switch's capability to support the GameCube controller (via an adapter) and the game originating from the console, this version doesn't support such a controller.[7]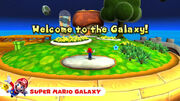 Galaxy has motion controls through the use of two detached Joy-Con controllers. The star cursor is now determined by the motion of a Joy-Con rather than requiring a sensor bar, as it was in the original. The cursor can also be interacted through the use of touchscreen if played in handheld mode. A secondary Joy-Con controller is required for co-op 2-player mode. Other features like the Wii Message Board messages and the Wii Remote speaker hasn't returned as it is not present with the Switch's current hardware and features.
Update history
Reception
3D All-Stars received positive reviews. Metacritic gave a score of 82 based on eighty-six reviews. Cubed3 mentioned 3D-All Stars "represents the pinnacle of platforming goodness and with perfect ports". GamingTrend refers the game as a must-have if the stakeholder never played them or have no means of playing the copies you own. GamingTrend mentioned that "the included soundtracks are not enough to make this 35th anniversary package feel special enough to warrant a buy."[8]
Kevin Knezevic on GameSpot rated the game as 8/10, saying, "despite their age, the games are still rife with inventive ideas and surprises, which more than makes up for the collection's presentational shortcomings."[9]
Trivia
There was controversy about the game when it was discovered to have a limited release and not feature Super Mario Galaxy 2. Because of that, people started making memes about Mario dying on March 31, 2021.
This was originally planned to be announced as an E3 presentation, but due to the COVID-19 pandemic, it became a Nintendo Direct.
All the three games were emulated on the Switch.
Gallery
| | |
| --- | --- |
| | To view Super Mario 3D All-Stars's |
External links
References
Characters
Playable Characters
Yoshi • Mario • Luigi • Wario
Supporting Characters
Toad • Bob-omb Buddy • Princess Peach • Rabbits • Ukiki
Bosses
King Bob-omb • Whomp King • Goomboss • Bowser#1 • Big Boo • Big Mr. I • King Boo • Big Bully • Eyerok • Bowser#2 • Chill Bully • Chief Chilly • Wiggler • Bowser#3
Enemies
Enemies
Goomba • Bob-omb • Chain Chomp • Big Steely • Koopa Troopa • Piranha Plant • Thwomp • Whomp • Unagi the Eel • Treasure chest • Cheep Cheep • Bubba • Mr. Blizzard • Amp • Boo • Mr. I • Bookend • Killer Chair • Mad Piano • Coffin • Scuttlebug • Flamethrower • Monty Mole • Snufit • Swooper • Boulder • Bully • Podoboo • Klepto • Tox Box • Grindel • Spindel • Pokey • Sushi • Manta Ray • Bub • Fire Chomp • Fire Spitter • Spindrift • Skeeter • Heave Ho • Chuckya • Fly Guy • Grand Goomba • Micro-Goomba • Venus Fire Trap • Big Venus Fire Trap
Courses
First Floor
Bob-omb Battlefield • Whomp's Fortress • Jolly Roger Bay • Cool, Cool Mountain • Goomboss Battle • Bowser in the Dark World
Courtyard
Big Boo's Haunt • Big Boo Battle
Basement
Hazy Maze Cave • Lethal Lava Land • Shifting Sand Land • Dire, Dire Docks • Bowser in the Fire Sea
Second Floor
Chief Chilly Challenge • Snowman's Land • Wet-Dry World • Tall, Tall Mountain • Tiny-Huge Island
Third Floor
Tick Tock Clock • Rainbow Ride • Bowser in the Sky
Stars
Bob-omb Battlefield
Big Bob-omb on the the Summit • Footrace with Koopa the Quick • Shoot to the Island in the Sky (N64) •

5 Silver Stars

(DS) •

Big Bob-omb's Revenge

(DS) •

Find the 8 Red Coins

•

Mario Wings to the Sky

•

Behind Chain Chomp's Gate

(N64)/

Behind Chain-Chomp's Gate

(DS)
Whomp's Fortress

Chip Off Whomp's Block

•

To The Top Of The Fortress

•

Shoot into the Wild Blue

•

Red Coins on the Floating Isle

•

Fall onto the Caged Island

•

Blast Away the Wall

•

Switch Star of the Fortress

(DS)
Jolly Roger Bay

Plunder in the Sunken Ship

•

Can the Eel Come Out to Play?

•

Treasure in the the Ocean Cave

•

Red Coins on the Ship Afloat

•

Blast to the Stone Pillar

•

Through the Jet Stream

•

Switch Star of the Bay

(DS)
Cool, Cool Mountain

Slip Slidin' Away

•

Lil' Penguin Lost

•

Big Penguin Race

•

Frosty Slide for 8 Red Coins

•

Snowman's Lost His Head

•

Wall Kicks Will Work

(N64)/

Mario's Super Wall Kick

(DS) •

Switch Star of Cool, Cool Mountain

(DS)
Big Boo's Haunt

Go on a Ghost Hunt

•

Ride Big Boo's Merry Go Round

•

Secret of the Haunted Books

•

Seek the 8 Red Coins

•

Big Boo's Balcony

•

Eye to Eye in the Secret Room

•

Switch Star of the Basement

Hazy Maze Cave

Swimming Beast in the Cavern

•

Elevate for 8 Red Coins

•

Metal-Head Mario Can Move!

(N64)/

Metal-Head Wario Can Move

(DS) •

Navigating the Toxic Maze

•

A-Maze-Ing Emergency Exit

•

Watch for Rolling Rocks

•

Underground Switch Star

Lethal Lava Land

Boil the Big Bully

•

Bully the Bullies

•

8-Coin Puzzle with 15 Pieces

•

Red-Hot Log Rolling

•

Hot-Foot-it into the Volcano

•

Elevator Tour In the Volcano

(N64)/

Inside the Volcano

•

Flaming Silver Stars

(DS)
Shifting Sand Land

In the Talons of the Big Bird

•

Shining Atop the Pyramid

•

Inside the Ancient Pyramid

•

Stand Tall On the Four Pillars

•

Free Flying For 8 Red Coins

(5th Star, N64) (7th Star, DS) •

Tox Box Switch Star

(DS) •

Pyramid Puzzle

Dire, Dire Docks

Board Bowser's Sub

•

Chests in the Current

•

Pole-Jumping for Red Coins

•

Through the Jet Stream

•

The Manta Ray's Reward

(5th Star, N64) (7th Star, DS) •

Koopa Surfin' Switch Star

(DS) •

Collect the Caps...

(N64)/

Inside the Cage

(DS)
Snowman's Land

Snowman's Big Head

•

Chill with the Bully

•

In the Deep Freeze

(N64) •

Yoshi's Ice Sculpture

(DS) •

Whirl from the Freezing Pond

•

Shell Shreddin' for Red Coins

(N64) •

Snowman's Silver Star

(DS) •

Into the Igloo

•

Red Coins in the House

(DS)
Wet-Dry World

Shocking Arrow Lifts!

•

Top o' the Town

•

Secrets in the Shallows and Sky

(N64)/

5 Secrets in the Shallows and Sky

(DS) •

Express Elevator--Hurry Up!

•

Go to Town for Red Coins

(N64)/

Go to Town for the Red Coins

(DS) •

Quick Race Through Downtown!

•

Soaked Silver Stars

(DS)
Tall, Tall Mountain

Scale the Mountain

•

Mystery of the Monkey Cage

•

Scary 'Shrooms, Red Coins

•

Mysterious Mountainside

•

Breathtaking View from Bridge

(Star 5, N64)/

Breathtaking View from the Bridge

(Star 7, DS) •

Blast to the Lonely Mushroom

(Star 6, N64) (Star 5, DS) •

5 Secrets of the Mountain

Tiny-Huge Island

Pluck the Piranha Flower

•

The Tip Top of the Huge Island

•

Rematch with Koopa the Quick

•

Five Itty Bitty Secrets

(N64) •

Klepto the Condor

•

Wiggler's Red Coins

•

Make Wiggler Squirm

•

Switch Star of the Island

(DS)
Tick Tock Clock

Roll into the Cage

(N64) •

Luigi in the Cage

(DS) •

The Pit and the Pendulums

(N64) •

The Pendulum Switch Star

(DS) •

Get a Hand

•

Stomp on the Thwomp

•

Timed Jumps on Moving Bars

•

Stop Time for Red Coins

•

Tick Tock Silver Stars

Rainbow Ride

Cruiser Crossing the Rainbow

•

The Big House in the Sky

•

Coins Amassed in a Maze

•

Swingin' in the Breeze

•

Tricky Triangles!

•

Somewhere over the Rainbow

•

Switch Star of the Manor

Items and Objects
Items
Power Flower • Vanish Cap • Metal Cap • Key • Power Star • Koopa Shell • Silver Star • Wing Cap
Objects
Mario's Cap •

Luigi Cap

•

Wario Cap

• ! Block •

Star Switch

• Red Switch • Cannon • Coin • Red Coin • Blue Coin • Bowser Key