"Can everyone please stop telling jokes and start actually helping?!"
Wendy O. Koopa is not happy. She has spotted broken links on this article. You can make her proud by helping MarioWiki editors create pages!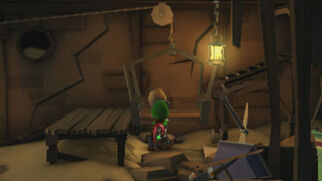 The Storm Cellar is a room in Luigi's Mansion: Dark Moon located in the Old Clockworks mansion. It is only accessible in mission C-2: Underground Expedition. One Gem can be found in the Storm Cellar.
Information
Once Luigi uses the Special Compass to activate a door on the ground in Clockworks Court, he falls through a chute that leads to the Storm Cellar. It has a door leading to the Canyon Hall. The Gem is located behind some curtains above the bed in the left corner. Once the room is cleared of ghosts, Luigi must pick up the rock a ghost was holding and drop it in a tray to raise the gate blocking the door.
Community content is available under
CC-BY-SA
unless otherwise noted.