The Standard YS is a kart for Yoshi in Mario Kart DS. Yoshi's other karts are the Egg 1 and the Cucumber.
Description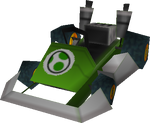 With great speed, great acceleration, extremely good handling, yet fairly low drift, this kart is considered the best standard kart in the game. The only flaw is the weight. The YS stands for Yoshi. It is green and has a Yoshi egg on the front. The Standard YS shares all of its stats with Shy Guy's Standard SG.
Once all cups in the Mirror Class have been completed, any racer can use this kart. Yoshi later got a Standard Kart M in Mario Kart Wii.
Statistics
Standard YS

Information
Class
Light
Speed
55
Acceleration
90
Weight
52
Handling
84
Drift
39
Items
66
See also:
External links
Community content is available under
CC-BY-SA
unless otherwise noted.