Standard WL is one of Waluigi's kart in Mario Kart DS. The other two being the Gold Mantis and the Zipper.
Description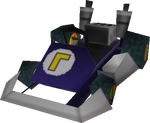 The Standard WL is a dark violet kart, which is the same color as Waluigi's hat and shirt.
The Standard WL's stats are average and are extremely close to the same as Mario and Luigi's standard karts, which averagely balanced stats. It shares its speed with Luigi's Standard LG, its weight is equivalent to Princess Peach's Royale and Wario's Brute and it shares its handling and drift with Mario's Standard MR. It shares its items stat with all other characters' standard karts.
Once Waluigi is unlocked, only he can use the Standard WL. Once the player completes all cups in the Mirror Class, all other racers can use the Standard WL.
The Standard WL's successor is Waluigi's Standard Kart L in Mario Kart Wii.
Statistics
Standard WL

Information
Class
Medium
Speed
71
Acceleration
62
Weight
67
Handling
56
Drift
57
Items
66
See also:
External links
Community content is available under
CC-BY-SA
unless otherwise noted.