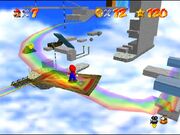 Stages, levels, or locations with a 
sky theme
are area that takes place in the sky. This is one of the reoccurring themes of the series.
Other Traits and Features
One of the main features of sky-themed stages is that the area takes place high in the sky usually above the clouds. This make bottomless pits one of the most common hazards of these stages. In some places, it is very easy to fall into one resulting in a loss life. More hazards of sky-themed stages include the enemies themselves. Paratroopas are very commom enemies of sky-themed stages as they can fly in place usually moving vertically or horizontally.
Sky-themed stages tend not to associate with the other themes due to the nature of the sky-themed stages. Bowser's Castle is commonly lifted into the sky but, in some cases, it is not classified as a sky-themed stage. A good example of this is in Paper Mario.
Examples
Community content is available under
CC-BY-SA
unless otherwise noted.