A Shy Guy (ヘイホー?) is a recurring enemy seen in many Mario games, beginning with the American version of Super Mario Bros. 2, but not reappearing until Super Mario World 2: Yoshi's Island. There are several different variations of Shy Guys that are found in an assortment of Mario games. There are various subspecies of Shy Guys as well.
Profile
Physical description
A regular Shy Guy wears a red robe, brown belt and white mask. Shy Guys can wear different robes. In video games, their robes indicate the Shy Guys' different behaviors.
Behavior
Their robe color indicates their behavior in video games. The colors are seen in Super Mario Advance, which red Shy Guys walk off the ledge but turn around when they touch an obstacle and blue Shy Guys turn around when they are close to the ledge or obstacle.
Despite the regular Shy Guys' basic movement in the game. The Shy Guy's subspecies (i.e. Snifit and Bandit) have different behaviors.
Yume Kōjō: Doki Doki Panic / Super Mario Bros. 2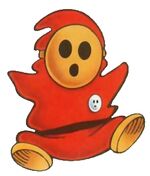 Shy Guys first appear in Yume Kōjō: Doki Doki Panic and later reappear in the Western remake Super Mario Bros. 2. They served as very basic enemies that were easily defeated.
Super Mario World 2: Yoshi's Island
In Super Mario World 2: Yoshi's Island, Shy Guys served Kamek. Several new variations appeared, including Fly Guys, Spear Guys, and Boo Guys.
New Super Mario Bros.
In New Super Mario Bros., Shy Guys appear in only one mini-game.
New Super Mario Bros. Wii
Shy Guys were once going to appear in New Super Mario Bros. Wii, but they were left unused.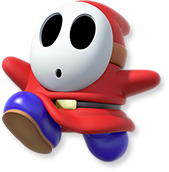 Shy Guys appear in Captain Toad: Treasure Tracker. If a Shy Guy spots Toad or Toadette, it chases after them.
A Shy Guy made a cameo as a news reporter in Mario vs. Donkey Kong.
A Shy Guy made a cameo in Level B-21 as a painting.
Mario Superstar Baseball
Shy Guy is a playable character. In challenge mode, if the player chooses Yoshi's team, he will get a team of Shy Guys.
Mario Tennis
In Mario Tennis, Shy Guy is an unlockable character who can be unlocked by beating the final cup - Star Cup. Shy Guy is wearing the normal red outfit it usually wears and has a red racket with a picture of the Shy Guy's mask on it. His special ability is "Tricky."
Mario Strikers Charged
In Mario Strikers Charged, Shy Guy is a playable sidekick. He brings a balanced approach to game, with average skills in all areas. If he gets the space, he can hitch-a-ride on a Bullet Bill and create a great scoring chance.
Mario Super Sluggers
Shy Guy is on Yoshi's team. Five colors (red, blue, yellow, green, and gray) are available.
Mario Kart DS
In Mario Kart DS, in DS Download, the player who chooses "Join Game" is always a Shy Guy.
Mario Kart Wii
In Mario Kart Wii, Shy Guys are seen in the Retro Course, Shy Guy Beach on pirate ships, which fire cannonballs that explode, often flipping a player's kart over. They also appear on the sides of various other tracks as well.
Mario Kart 7
Shy Guy is a playable character in Mario Kart 7. This marks the first time that Shy Guy is playable without having to go into DS Download Play. He also has a course named after him, Shy Guy Bazaar.
Mario Kart 8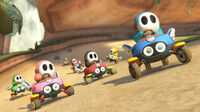 Shy Guy reappears as a playable character in Mario Kart 8. Shy Guys also make an appearance in the course, Shy Guy Falls. They later have their colors made available as DLC.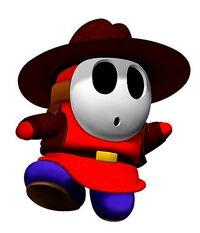 Shy Guys and their many subspecies have been appearing Mario Party games as early as the original Mario Party, mainly appearing in mini-games and on board maps. In Mario Party 4, however, Shy Guy was temporarily upgraded to host alongside Koopa, Boo, Toad, and Goomba and hosted his own board.
Boards
Shy Guy's Jungle Jam - Shy Guy hosted his first-ever board map in Mario Party 4. In this jungle-themed board map, various Shy Guys are scattered around the board and own the various shops and events. There are two different shrines on the board that contain stone statues of Shy Guys. If a player lands on the happening space in front of the shrine, they will be asked to offer a gift to it. At the top of the board, there is a giant rock engraved like a Shy Guy.
Shy Guy's Perplex Express - Shy Guy owns his own board map once again in Mario Party 8. On this board, Shy Guy owns a train that contains various different train cars. On this train, different Shy Guys can be seen working on conductors and chefs.
Shy Guy's Shuffle City - This a board map in Mario Party: Island Tour. Players need to move with their cards, but beware if the Bowser Card! Every 3 turns, Bowser will do bad things to the player with the Bowser Card. At the end, some Shy Guys will appear. Then the Shy Guy gives the player some cards and needs the player to pick a champion card.
Mini-game appearances
Bumper Balls - A lone Shy Guy appears in the Mario Party 2 version of the game inside of a frozen volcano, but does not affect gameplay.
Shy Guy Says - Shy Guy appears as the host of this mini-game that acts similar to the childhood game "Simon Says". Shy Guy will hold up a different color flag that has either the letter "A" or "B" on it. The characters must press the corresponding buttons, or Shy Guy will eliminate them.
Bus Buffers - At the start of the mini-game, a Shy Guy knocks down the bucket of slime that makes the buses dirty. Also, various Shy Guys can be seen cleaning the buses during the mini-game.
Chomp Romp - A lone Shy Guy can be found swinging on a swing in the park. If the player's Chain Chomp crashes into the swing, Shy Guy will rotate faster for a brief moment.
Curvy Curbs - Various Shy Guys can be seen waving at the characters from the edge of the tracks.
Dinger Derby - Various Shy Guys can be seen in the crowd, along with Koopas and Goombas. A player can hit one of the Shy Guys with a ball.
Fish Upon A Star - A Shy Guy can be seen flying around in a blimp while the players are battling on the floating island. The logo on the blimp depicts the Shy Guy's face.
Moped Mayhem - A Shy Guy can be seen racing on a moped along with the other racers.
Shy Guy Showdown - Shy Guy becomes the host of this mini-game, where he is wearing an old western outfit. In this mini-game, two characters will face-off against each other and must pay attention to the sign that Shy Guy is holding. The sign that he holds up will contain a button that the player must press quickly in order to shoot ink at their opponent. However, Shy Guy will hold up a fake sign to deceive the players.
Flagging Rights - A Pirate Guy, accompanied by two other Shy Guys appear in this mini-game. The Pirate Guy has two flags. You have to follow which one he holds ups. If you fail to do this, by simply not doing it, or doing the wrong flag, a Shy Guy will untie your plank and you will fall. This mini-game is similar to Shy Guy Says. And it's named after a game called "Bragging Rights.
Mario Party 9
This is one of Shy Guy's most significant roles due to the fact he has become a playable character after beating the story mode once. In story mode he plays for Bowser so if he wins he will return the mini stars collected to Bowser resulting in the player going through the party board again.
Paper Mario
Shy Guys appear in Paper Mario during Chapter 4: Trials in the Toy Box. They are seen causing a ruckus in Toad Town, stealing various townsfolk's items. After going to East Toad Town, Mario enters a house and must use Bow to hide himself to see Shy Guy jump through the wall. After the Shy Guy has gone, Mario must do the same by jumping through the wall.
After jumping through the wall, Mario comes in contact with a springboard and a Toy Box. Once Mario jumps on the springboard, he is transported into the Toy Box. This starts the fourth chapter in the game.
Sub-species
There are many sub-species of Shy Guys found in the Toy Box.
Paper Mario: The Thousand-Year-Door
Shy Guys would consistently appear in the audience watching Mario and co. fight enemies and cheer for them, giving them star power. At least one Shy Guy will usually leap up on the stage and run towards the right or left side of it to drop a bucket on either Mario or the enemies.
Super Paper Mario
Shy Guys reprise their role as audience members whenever Mario, Peach, Bowser or Luigi perform a Stylish Move after jumping on an enemy. Shy Guys were also planned to be enemies in the game but were scrapped for unknown reasons. Fly Guys and Stilt Guys were also planned but were scrapped.
Paper Mario: Sticker Star
Shy Guys return in Paper Mario: Sticker Star as common enemies. Regular Shy Guys are found in Bowser's Snow Fort where most can be fought and one is running the mine cart ride. Versions of Shy Guys known as Sombrero Guys also appear in levels of World 2. They have a habit of jumping into a fight alongside another enemy. Two other Shy Guys appear in World 3 are Clip Guys and Paint Guys only in battle with other enemies. After they are successful in their respective attacks, they throw away their items and become regular Shy Guys. Spear Guys appear in World 5 and throw or stab Mario with their spears.
Paper Mario: Color Splash
In Paper Mario: Color Splash, Shy Guys are common enemies. A subspecies called Slurp Guys also appear and attack Mario by sucking out his paint reserves; these ones sucked the color out of Prism Island as well. There is also a variation of Slurp Guys called a Shunned Guy.
Shy Guys appear once again in Paper Mario: The Origami King. Regular Shy Guys and Sniffits only appear as NPCs. They don't cause harm to Mario and often help him. However, the Folded Soldier versions of Shy Guys and Sniffits are enemies and will attack Mario. Paper Machos based on Shy Guys also appear, and King Olly disguises himself as a yellow Shy Guy.
Shy Guys are obtainable troopers of the Ranged type. Their Special Skill is Throw the Fight, and they are strong against Lakitus and Lakipeas.
Shy Guys reappear as obtainable Ranged troopers. Their Special Skill remains the same. There are four differently colored Shy Guys: red (has more Power), blue (has better Speed), yellow (weak to Goombas), and pink (weak to Koopa Troopas).
Non-canonical appearances
Non-canon warning: This article or section contains non-canonical information that is not considered to be an official part of the Mario series and/or isn't considered to be part of the series' overall storyline.
The Legend of Zelda: Link's Awakening
Shy Guys appear as enemies in The Legend of Zelda: Link's Awakening under the name of Mask-Mimic. In order to defeat them you must attack them on the back.
The Super Mario Bros. Supers Show!
Shyguys appear in The Super Mario Bros. Super Show!. Shy Guys work for King Koopa.
Gallery
Trivia
Shy Guys originally looked very different, considering they were slightly taller and had a strange logo on the side of them.
In Mario Kart Double Dash!!, Shy guy appears in Sherbet Land as obstacles to avoid. They can be knocked in the frozen lake by using a Gold Star.
In Mario & Luigi: Bowser's Inside Story, there are Shy Guys that are called Fawful Guys. They wear Fawful-like masks, which means that they might have been brainwashed by Fawful.
It is currently unknown what a Shy Guy's face looks like under his mask, but Luigi is the only known character who has seen a Shy Guy's face (from Mario Power Tennis).
Shy Guy is one of the handful of characters who stayed in the Mario series from Super Mario Bros. 2.
Shy Guys come in many colors similar to Yoshis, but their common coloration is red.
Shy Guys mark their first appearance as a driver in Mario Kart DS. They also reappeared as drivers in Mario Kart 7 and Mario Kart 8 Deluxe.
Navigation
Characters
Protagonists
Mario • Princess Peach • Luigi • Twink • Star Spirits (Eldstar, Mamar, Skolar, Muskular, Misstar, Klevar, Kalmar)
Antagonists
Bowser • Kammy Koopa • Koopa Troop • Jr. Troopa
Partners
Goombario • Kooper • Bombette • Parakarry • Lady Bow • Watt • Sushie • Lakilester
Other Characters
Albino Dino • Audience • Bootler • Bruce • Bubble Plant • Chanterelle • Chet Rippo • Chuck Quizmo • Club 64 Bartender • Dane T. • DJ Toad • Fearsome 5 • Fice T. • Fishmael • Flight • Franky • Frost T. • Gooma • Goomama • Goombaria • Goompa • Goompapa • Gourmet Guy • Guard Door • Harry T. • Herbert • Herringway • Igor • King Mousta • Kooper's mother • Kolorado • Kolorado's Wife • Koopa Koot • Koover • Lakilulu • Lily • Little Mouser • Little T. • Luigi • Madam Merlar • Master Poet • Mayor Penguin • Mayor Penguin's Wife • Merle • Merlee • Merlon • Merlow • Merluvlee • Minh T. • Mini T. • Moustafa • Mort T. • Mr. E • Mr. Hammer • Muss T. • Nomadimouse • Oaklie • Penguin Patrol • Petunia • Posie • Postmaster • Raphael the Raven • Rip Cheato • Rosie • Rowf • Rhuff • Russ T. • Sashimie • Spiky John • Spiky Tom • Stanley • Sun • Tayce T. • Three Beautiful Sisters • Toad in the Desert • Toad Minister • Tolielip • Trading Event Toad • Vanna T. • Village Leader • Watt's mother • Whacka • Whale • Wise Wisterwood • Yakkey
Species
Baby Yoshi • Bellbell Plant • Boo • Bub-ulb • Bulb Bush • Bumpty • Candy Cane • Cymbal Bush • Doogan • Dryite • Heart Plant • Human • Li'l Oink • Munchlesia • Nomadimouse • Raven • Snowman • Spinning Flower • Star Kid • Toad • Trumpet Plant • Yoshi
Locations
Areas
Boo's Mansion • Boo's Shop • Bowser's Castle • Cloudy Climb • Club 64 • Crystal Palace • Dry Dry Desert • Dry Dry Outpost • Dry Dry Railroad • Dry Dry Ruins • Flower Fields • Forever Forest • Goomba King's Fortress • Goomba Road • Goomba Village • Gusty Gulch • Harry's Shop • Item Shop • Jade Jungle • Koopa Bros. Fortress • Koopa Village • Koopa's Shop • Lavalava Island • Li'l-Oink Farm • Little Mouser's Shop • Mario's House • Mt. Lavalava • Mt. Rugged • Peach's Bedroom • Peach's Castle • Playroom • Pleasant Path • Post Office • Shiver City • Shiver Mountain • Shiver Region • Shiver Shop • Shiver Snowfield • Shooting Star Summit • Shroom Grocery • Shy Guy's Toy Box • Starborn Valley • Star Haven • Star Haven Shop • Star Way • Storehouse • Sun Tower • Toad House • Toad Town • Toad Town Dojo • Toad Town Tunnels • Tubba Blubba's Castle • Windy Mill • Yoshi's Cabana • Yoshi's Village
Bosses
Main/Recurring Bosses
Bowser • Kammy Koopa • Jr. Troopa
Chapter Bosses
Goomba King • Bowser??? • Koopa Bros. (Red Ninjakoopa, Black Ninjakoopa, Yellow Ninjakoopa, Green Ninjakoopa) • Tutankoopa • Tubba Blubba/Tubba Blubba's Heart • General Guy • Lava Piranha/Lava Bud • Huff N. Puff • Crystal King/Crystal Bit • Bowser
Mini Bosses
Red and Blue Goombas • Buzzar • Anti Guy • Blooper • Super Blooper • Electro Blooper • Spike??? • Kent C. Koopa • The Master • Monstar
Enemies
Enemies
Amazy Dayzee • Bandit • Bill Blaster • Bob-omb • Bombshell Bill • Bombshell Bill Blaster • Bony Beetle • Bullet Bill • Buzzy Beetle • Bzzap! • Cleft • Clubba • Crazee Dayzee • Dark Koopa • Dry Bones • Duplighost • Ember • Forest Fuzzy • Frost Piranha • Fuzzy • Gloomba • Goomba • Gray Magikoopa • Green Magikoopa • Groove Guy • Gulpit • Hammer Bros. • Hurt Plant • Hyper Cleft • Hyper Goomba • Hyper Paragoomba • Jungle Fuzzy • Koopatrol • Koopa Troopa • Lakitu • Lava Bubble • Magikoopa • M. Bush • Medi Guy • Monty Mole • Paragloomba • Paragoomba • Paratroopa • Piranha Plant • Pokey • Pokey Mummy • Putrid Piranha • Pyro Guy • Red Magikoopa • Ruff Puff • Shy Guy • Shy Squad • Shy Stack • Spear Guy • Spiked Gloomba • Spiked Goomba • Spike Top • Spiny • Spy Guy • Swooper • Swoopula • White Clubba • White Magikoopa • Yellow Magikoopa
Items
Regular Items
Apple • Blue Berry • Bubble Berry • Coconut • Dizzy Dial • Dried Fruit • Dried Shroom • Dusty Hammer • Egg • Fire Flower • Fright Jar • Goomnut • Honey Syrup • Iced Potato • Jammin' Jelly • Koopa Leaf • Lemon • Life Shroom • Lime • Maple Syrup • Melon • Mushroom • Mystery? • Pebble • POW Block • Red Berry • Repel Gel • Shooting Star • Sleepy Sheep • Snowman Doll • Stinky Herb • Stone Cap • Strange Leaf • Stop Watch • Super Shroom • Super Soda • Tasty Tonic • Thunder Bolt • Thunder Rage • Ultra Shroom • Volt Shroom • Whacka Bump • Yellow Berry
Key Items
Artifact • Autograph • Blue Key • Boo's Portrait • Bucket • Butter • Calculator • Castle Key • Cleanser • Cookbook • Cream • Crystal Ball • Crystal Berry • Diamond Stone • Dictionary • Diploma • Dolly • Egg • Empty Wallet • Fertile Soil • First-Degree Card • Flour • Fortress Key • Fourth-Degree Card • Frying Pan • Glasses • Gold Credit • Jade Raven • Koopa Legends • Kooper's Shell • Letter • Lucky Star • Lunar Stone • Lyrics • Magical Bean • Magical Seed • Mailbag • Melody • Milk • Miracle Water • Mystery Note • Odd Key • Old Photo • Package • Palace Key • Prison Key • Pulse Stone • Pyramid Stone • Record • Red Jar • Red Key • Ruins Key • Salt • Scarf • Second-Degree Card • Silver Credit • Sneaky Parasol • Star Piece • Star Rod • Star Stone • Storeroom Key • Strawberry • Sugar • Tape • Third-Degree Card • Toy Train • Ultra Stone • Volcano Vase • Warehouse Key • Water • Water Stone • Weight • Yakkey
Recipes
Apple Pie • Big Cookie • Bland Meal • Boiled Egg • Cake • Coco Pop • Deluxe Feast • Dizzy Dial • Egg Missile • Electro Pop • Fire Flower • Fire Pop • Fried Egg • Fried Shroom • Frozen Fries • Healthy Juice • Honey Shroom • Honey Super • Honey Ultra • Hot Shroom • Jelly Pop • Jelly Shroom • Jelly Super • Jelly Ultra • Kooky Cookie • Koopa Tea • Koopasta • Lemon Candy • Life Shroom • Lime Candy • Maple Shroom • Maple Super • Maple Ultra • Nutty Cake • Potato Salad • Shroom Cake • Shroom Steak • Sleepy Sheep • Spaghetti • Special Shake • Spicy Soup • Strange Cake • Super Soda • Sweet Shroom • Tasty Tonic • Thunder Rage • Volt Shroom • Yoshi Cookie • Yummy Meal
Badges
All or Nothing • Attack FX A • Attack FX B • Attack FX C • Attack FX D • Attack FX E • Bump Attack • Chill Out • Close Call • D-Down Jump • D-Down Pound • Damage Dodge • Deep Focus • Defend Plus • Dizzy Attack • Dizzy Stomp • Dodge Master • Double Dip • Feeling Fine • Fire Shield • First Attack • Flower Finder • Flower Saver • FP Plus • Group Focus • Hammer Throw • Happy Flower • Happy Heart • Heart Finder • HP Drain • HP Plus • I Spy • Ice Power • Jump Charge • Last Stand • Lucky Day • Mega Jump • Mega Quake • Mega Rush • Mega Smash • Money Money • Multibounce • P-Down, D-Up • P-Up, D-Down • Pay-Off • Peekaboo • Power Bounce • Power Jump • Power Plus • Power Quake • Power Rush • Power Smash • Pretty Lucky • Quake Hammer • Quick Change • Refund • Runaway Pay • S. Jump Chg. • S. Smash Chg. • Shrink Stomp • Sleep Stomp • Slow Go • Smash Charge • Speedy Spin • Spike Shield • Spin Attack • Spin Smash • Triple Dip • Zap Tap
Techniques
Partner Moves
Headbonk • Tattle • Charge • Multibonk • Shell Toss • Power Shell • Dizzy Shell • Fire Shell • Sky Dive • Shell Shot • Air Lift • Air Raid • Body Slam • Bomb • Power Bomb • Mega Bomb • Smack • Outta Sight • Spook • Fan Smack • Electro Dash • Power Shock • Turbo Charge • Mega Shock • Belly Flop • Squirt • Water Block • Tidal Wave • Spiny Flip • Spiny Surge • Cloud Nine • Hurricane
Special Moves
Refresh • Lullaby • Star Storm • Chill Out • Smooch • Time Out • Up & Away • Star Beam/Peach Beam
Enemy/Boss Moves
Charge • Divide and Conquer
Miscellaneous
Object and Features
! Switch • ? Block • Badge • Blue Pipe • Blue Switch • Bowser's Diary • Brick Block • Bubble • Chomp Rock • Cracked Wall • Dock • Fire Bar • Floor Switch • Hidden Block • Jack-in-the-Box • Jump Pad • K64 • Koopa Clown Car • Lakitu's Cloud • Lever • Metal Block • Power Platform • Puff-Puff Machine • Recovery Block • Red ? Block • Save Block • Star Cruiser • Stilts • Stone Block • Super Block • Treasure Chest (Mysterious) • Toy Tank • Warp Pipe • Yellow Block
Terms/Ailments
Badge Point • Danger • Dizzy • Electrified • Flower Point • Frozen • Heart Point • Immobilized • Injured • Invisible • No Skills • Peril • Poison • POW-Down • POW-Up • Sleep • Star Point • Star Power • Stone • Super Rank • Tiny • Ultra Rank
Other
Soundtrack • Tattle List • Walkthrough
Community content is available under
CC-BY-SA
unless otherwise noted.