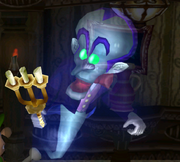 Shivers, the Wandering Butler is a portrait ghost found in Luigi's Mansion, located in Area Two. Once you find the Fire Elemental Ghost, you can shoot flames from the Poltergust 3000. The Fire Elemental Ghosts can be found near hot places, like lamps or fireplaces. When you find Shivers, shoot the flames out of the Poltergust, onto his candelabra. Shivers will panic and scurry away to his room, The Butler's Room. You can the find Shivers sitting, in which you accidently puts a candle on his chair and sits on it. He screams and scurries around the chair. This makes him vulnerable, so quickly suck him up! If you fail at doing this, you must go back to the hall and try again.
Community content is available under
CC-BY-SA
unless otherwise noted.