Pure Hearts are the Purity Heart divided into eighths that was created by the Ancients to counteract the devastating power of the Chaos Heart and the Void. During the events of Super Paper Mario, Mario, Peach, Luigi, and Bowser have to recover them in order to challenge Count Bleck.
After locating each of the pure hearts, Mario and his allies have to deposit them in heart pillars, white oblong towers that appear in both
Flipside
and its counterpart
Flopside
. Whenever Mario puts another pure heart in its tour, it opens up another world in Flipside, and another chapter of the game.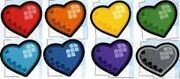 Locations
Community content is available under
CC-BY-SA
unless otherwise noted.