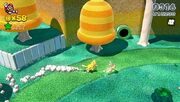 Stages, levels, or locations with a 
plains theme
are areas associated with grassy plains. This is one of the reoccurring themes of the series.
Other Traits in Features
Most of the most notable things about plains-themed stages is that it usually begins an entire game. World 1-1 from Super Mario Bros. is the very first plains-themed stage in the entire series. As for the landscape, plains-themed stages tend just to be grassy areas with simple platforms to jump on. This makes plains-themed stages one of the most easiest stages to play on. Plains-themed stages can also be areas with many flowers and gimmicks such as Flower Fields from Paper Mario.
As for enemies, almost every type of enemy can be found on a plains-themed stages. However, Goombas and Koopa Troopas are, by far, the most common enemies to appear in these type of stages.
Hazard-wise, the only one that tends to be a reoccurring nuisance are bottomless pits. They tend to be around other enemies forcing the player to time when and where to jump so they won't either hit the enemy or fall into the pit.
Examples
Trivia
This is the most common and reoccurring theme in the entire series.
Community content is available under
CC-BY-SA
unless otherwise noted.