Peach Circuit, (called ピーチサーキット Piichi Saakitto in Japan), is the first course of Mario Kart: Super Circuit and reappeared as a retro stage in Mario Kart DS.
Games
Mario Kart: Super Circuit
Peach Circuit appears in this game being the first course in Mushroom Cup. This course belongs to Princess Peach in this game. This course is short and easy, having practically no obstacles. There are two sets of item boxes and many coins all over the track. There are six item boxes and fifty coins total. There is also many areas for players to drift on.
Mario Kart DS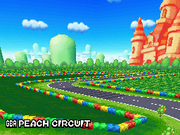 Peach Circuit reappeared in Mario Kart DS where it was ported from Mario Kart: Super Circuit as the third course in the Shell Cup with updated graphics in 3D graphics rather than 2D graphics in the original. On Mission 1-2, the events take place in this area. The playable character is Princess Peach who must collect fifteen coins in a certain section of the track in within thirty seconds.
Staff Ghost
When playing this course, the player must win against the Staff Ghost, with his time being 1:12.011 with Princess Peach in the Royale.
Gallery