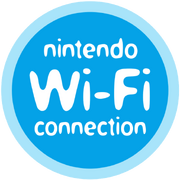 Nintendo Wi-Fi Connection is one of the features for the Wii and Nintendo DS. As the name applies, it uses Wi-Fi Connection, so that players can play specific games (made to use Wi-Fi Connection) online. Two of the most notable Mario games using this feature are Mario Kart DS and Mario Kart Wii. Super Smash Bros. Brawl also uses this feature.
Nintendo Network is the successor of Nintendo Wi-Fi Connection, and is compatible with the Nintendo 3DS and the Wii U. Although it is for the 3DS, 9 games released for the 3DS when it was still Nintendo Wi-Fi Connection.
Unfortunately, the Nintendo Wi-Fi Connection has been discontinued as of May 20, 2014. The Wii Shop channel is still accessible, however, but it is planned to be discontinued soon as well. The purchase of Wii points will end on March 26, 2018 and the Wii Shop Channel will be discontinued on January 31, 2019.
Mario Wii Games including Nintendo Wi-Fi Connection
Mario DS Games including Nintendo Wi-Fi Connection
Community content is available under
CC-BY-SA
unless otherwise noted.