The Nintendo Switch (codenamed the NX in development[5]) is an eighth generation hybrid video game console released by Nintendo, and its seventh major home game console as the successor to the Wii U.
Despite this classification, Nintendo markets the system mostly as a home console that can be played on the go rather than a dedicated portable handheld system.[6] It was officially announced on October 20, 2016[7] and was released simultaneously on March 3, 2017 in Japan, America, Europe, Hong Kong, and other territories.[8] It costs US $299.99 in America, JP ¥29,980 in Japan and £279.99 in the UK. A Nintendo Switch presentation containing more information about the system was live-streamed from January 12, 2017 at 11:00 PM to January 13, 2017 at 12:05 AM (EST).[9] The Nintendo Switch had a hands-on event on six separate Sundays in six different cities across America prior to its release date,[10] along with Tokyo Big Sight, Japan. Pre-order retail reservations started on January 21, 2017 in Japan. As of January 12, 2017, 50 companies have collaborated with Nintendo and 80 games are currently in development for the Nintendo Switch. On January 4, 2018, Nintendo announced that the Nintendo Switch has sold over ten million units and became the fastest-selling video game console in America within a time frame of the first ten months.[11] As of 1 Jan 2022, the Nintendo Switch has sold 99.41 million units worldwide, making it Nintendo's second highest-selling home console after the Wii.[12] and seventh highest-selling console overall after Wii, original PlayStation, PlayStation 4, Game Boy, Nintendo DS and PlayStation 2. The Nintendo Switch outsold Wii U in only nine months after launch of Nintendo Switch.
Features
The Nintendo Switch an LCD tablet-like console that is designed to be a hybrid between home and handheld systems, though it is primarily referred to as a home console. The Switch can be played in three different styles; TV Mode, Tabletop Mode, and Handheld Mode. In TV Mode, the system is plugged into a Nintendo Switch Dock.[13] With the system docked, gameplay footage is displayed on the TV screen. With the console detached, the footage is displayed on the console's screen. When using Tabletop Mode, the console uses a built-in kickstand to prop the system up. When in Handheld Mode, the two Joy-Con controller pods are attached to the sides of the console, giving it a similar design to the Wii U's GamePad. The Joy-Con can also be removed and used either as separate controllers, similar to small NES and SNES controllers, used as one controller together, or optionally docked into the Joy-Con Grip to give a more traditional experience.
The Nintendo Switch console uses Game Card cartridges, similar to the Nintendo DS line. The Nintendo Switch Dock also has two USB 2.0 ports,[14] an HDMI output, an AC adapter port, and a TV output LED light. The Nintendo Switch has built in Wi-Fi, Bluetooth 4.1 connectivity,[15] a multi-touch capacitive touchscreen of 6.2-inch diagonally, a resolution of 1080p on TV Mode and 720p on Tabletop and Handheld mode, a USB Type-C connector, internal memory of 32 GB, a microSD slot (upgradable with microSDHC/SDXC cards), a 3.5mm headphone jack, a brightness sensor, two speakers in the bottom, and a battery life ranging anywhere between 2.5-6.5 hours. For example, battery life during The Legend of Zelda: Breath of the Wild gameplay is 3 hours.
Players can also link up to 8 multiple consoles to play against each other via local multiplayer. Each Joy-Con can be used for 2 player co-op, dubbed by Nintendo as sharing the joy.
Language and region support
Nintendo Switch does not have region locking, similar to Nintendo handhelds prior to the Nintendo DSi, and features enhanced language and region accessibility. The system can be changed to any of the nine languages: English, French, German, Spanish, Italian, Dutch, Portuguese, Russian, and Japanese. As of January 29, 2019, it can also be changed to Traditional Chinese, Simplified Chinese, and Korean.[16]
There are four different regions that the user can select from: Japan, the Americas, Europe, and Australia/New Zealand.[17] As of April 15, 2019, it can also be changed to Hong Kong/Taiwan/South Korea. Depending on the region chosen, the dialect for the English, French, and Spanish languages will also change (e.g. setting the region code to Europe or Australia/New Zealand and the language to English will set the overall language to British English).
Hardware revisions
Nintendo Switch Lite (HDH-001)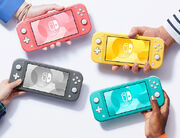 The Nintendo Switch Lite (model number HDH-001) is the second version of the Nintendo Switch announced on July 10, 2019. This version was released worldwide on September 20, 2019. Unlike the original, this console is smaller and is handheld only (meaning that it cannot be docked to play on a TV screen). This console can only play games that support handheld mode. Games that require use of motion controls (e.g. Super Mario Party) are not supported due to absence of the IR Motion Camera (though regular Joy-Con controllers can be connected to play these games). The arrow buttons are also replaced by a single D-pad. Due to being handheld only, the Nintendo Switch Lite features only 720p HD resolution. It has a 3000 mAh battery.
Nintendo Switch Version 2 HAC-001(-01)
The Nintendo Switch Version 2 revision is a very slightly enhanced version of the Nintendo Switch with the model number HAC-001(-01), even looking the same as the original. The main enhancement Version 2 sports is a substantially longer battery life: Version 1 has 3500 mAh battery, Version 2 has 5000 mAh battery; whereas a regular Nintendo Switch has only 3.5 through 6 hours of battery life, Version 2 has 4.5 through 9 hours of battery life.
OLED model (HEG-001)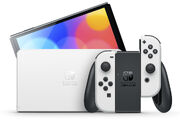 The OLED model features an improved 7-inch (17.8-cm) display, bigger 64 GB storage and more adjustable kickstand. It was released in 8 Oct 2021 at a price at $349 (£309).
Peripherals
Joy-Con
The two Joy-Con have an Accelerometer and Gyro sensor. The Joy-Con (R) has an IR motion camera that can sense and measure the real-time shape, motion, and distance of objects. Two SL and SR shoulder buttons are on each Joy-Con. The Joy-Con can be slid into the Joy-Con Grip on the controllers' rails. The Joy-Con launched with two color sets: the standard gray, along with neon blue and neon red. Neon yellow Joy-Con were released on June 16, 2017, and neon pink and neon green Joy-Con were released on January 5, 2018.[18] Much like the Wii Remote, each Joy-Con has gray wrist straps with slide locks, and other wrist strap colors are sold separately. Neon purple and neon orange Joy-Con were released on October 4, 2019.[19] Aside from just neon colors and gray, Joy-Con are available in standard blue, Mario-themed red, and Luigi-themed green colors.[20]
An HD Rumble feature for high definition haptic feedback is included in the Joy-Con, which can convey realistic effects. For example, a demo for the January 2017 presentation showed that shaking the Joy-Con can give the illusion of ice cubes being shaken within a glass cup. The HD Rumble also helps move certain Nintendo Labo Toy-Con cardboard builds, such as a race car acting much like a toy remote-controlled car when connected to the Joy-Con. The minigame-based game 1-2 Switch, which was released as a launch title, and the wrestling game ARMS, released on June 16, 2017, are two games that heavily utilize the Joy-Con HD Rumble and motion control features.
The Joy-Con (L) has a capture button that can take a screenshot of gameplay, which can be saved onto the system's Album, and can later be edited and uploaded to social media. A Nintendo Switch 4.0.0 update on October 19, 2017, added the capacity to record real-time gameplay of up to 30 seconds and allow that to also be uploaded to social media, though it has been discussed that another update in the near future will allow for longer recording times. The Joy-Con (R) contains a built-in camera for taking pictures and recording videos. Both of the Joy-Con have Bluetooth 3.0 connectivity, and each has a charging time of 3.5 hours and a battery life of up to 20 hours.[21]
Buttons
A
B
X
Y
L
R
ZL
ZR
SL
SR
Minus
Plus
Release buttons
Sync buttons
Volume buttons
Right
Down
Up
Left
Capture
Left stick
Right stick
Home
Power
Nintendo Switch Pro Controller
A traditional controller, simply called the Nintendo Switch Pro Controller, also has a D-pad, replacing one set of the directional buttons on the Joy-Con (L). The Pro Controller features the same set-up as the Nintendo GameCube Controller, with the second analog stick set below the face buttons. The Nintendo Switch Pro Controller has a charging time of 6 hours and a battery life of up to 40 hours,[22] includes an NFC sensor for scanning and writing amiibo figures, and is sold separately.
amiibo
Nintendo Labo
Nintendo Labo is a do-it-yourself cardboard toy platform for the Nintendo Switch, primarily targeted at children.[25] Players insert the Switch console and Joy-Con in cardboard constructions (collectively referred to as Toy-Cons), which are compatible with certain games.[26] First shown in January 2018, the Toy-Cons themselves were released on April 20, 2018 as either a variety kit for US $69.99[27] or a stand alone robot suit for US $79.99[28]. The customization set for Nintendo Labo includes stickers of eyes of various Nintendo characters, including, but not limited to Mario, Peach, Goomba, Boo, Bowser, and Toad.[29]
As of the version 1.5.0 update on June 26, 2018, Mario Kart 8 Deluxe can be played with the Toy-Con Motorbike.[30] Mario Kart 8 Deluxe can also be played with the Toy-Con Car as of the game's version 1.7.0 update.
Through the version 1.3.0 update, Super Mario Odyssey includes a VR experience of the game which uses the Nintendo Labo Toy-Con VR Goggles. The experience features three mini-missions set in the Cap Kingdom, Seaside Kingdom, and Luncheon Kingdom.[31]
In Super Smash Bros. Ultimate in versions 3.1.0 and later, a single player can play or spectate regular Time matches in virtual reality using the Toy-Con VR Goggles.[32]
The Nintendo Switch version of Captain Toad: Treasure Tracker became compatible with the Toy-Con VR Goggles through the version 1.3.0 update, which features a mode where the player can play VR versions of four of the game's levels: Episode 1 Prologue, Walleye Tumble Temple, Briny Bowl Swimming Hole, and Mine Cart Tunnel Throwdown.[33]
Software
Software for Nintendo Switch can be purchased from retail and/or Nintendo eShop (in addition, some software can be downloaded from eShop for free). The Switch is the first major home console since the Nintendo 64 to have retail software stored on cartridges rather than discs.
Nintendo Switch Online
Nintendo Switch Online is a membership service that grants players online play for compatible Nintendo Switch games, which launched on September 18, 2018 in North America,[34] and on September 19, 2018 in Japan, Europe, and Oceania.[35][36][37] Prior to its launch, players were able to play online at no charge during a free trial period, after which they must pay a subscription fee for a plan lasting in increments of one month, three months, or 12 months. The Nintendo Switch is also able to synchronize with smartphones via an application of the same name; this allows for online capability to invite friends to play online, set play appointments, and voice chat with friends on online matches. Standard online features such as the Nintendo eShop and system updates do not require a Nintendo Switch Online subscription to access. A Nintendo Account is necessary to access any online features.
The Nintendo Switch Online service also includes an application called Nintendo Entertainment System - Nintendo Switch Online, which gives members access to a selection of NES/Famicom games that can be played cooperatively or competitively with other players online. The Nintendo Switch Online service also includes a cloud backup feature that allows the player to save their data online for easy access. When playing NES/Famicom games online, other players can display a cursor on-screen to point out hints and secrets.[38] Donkey Kong, Mario Bros., Super Mario Bros., Dr. Mario, Super Mario Bros. 3, and Yoshi were among the 20 NES titles made available at the service's launch,[39] with new titles added in the following months.
As part of the service's exclusive offers, members can also purchase a pair of Joy-Con controllers styled after NES controllers, which feature extra L and R shoulder buttons similar to the Joy-Con's SL and SR buttons and can be connected to the console itself to recharge in a similar fashion. While both NES controllers are identical, as with the original Famicom controllers, the Famicom Joy-Con exclusive to Japanese members are slightly different from each other, with the left controller featuring the select and start buttons, and the right controller featuring the volume slider and microphone.[40]
During the September 2019 Nintendo Direct, Nintendo announced Super Nintendo Entertainment System - Nintendo Switch Online, a follow-up to the previous application featuring a selection of SNES/Super Famicom titles, which launched on September 5, 2019 in North America, and on September 6, 2019 in Japan, Europe, and Oceania.[41][42] Super Mario Kart, Super Mario World, and Super Mario World 2: Yoshi's Island were among the 20 SNES titles made available at the service's launch, with additional titles to be added in the future. SNES/Super Famicom-styled Joy-Con controllers will also be available.[43][44]
Compatible games
The following games require a subscription to play online:
Super Mario Odyssey (2017) does not require a subscription for online services.
Pricing
Subscription length
Japan[48]
North America[49][50]
Europe[51]
Oceania[52]
1 month
¥300
US $3.99
CA $4.99
£3.49
€3.99
AU $5.95
NZ $6.55
3 months
¥800
US $7.99
CA $9.99
£6.99
€7.99
AU $11.95
NZ $13.15
12 months
¥2,400
US $19.99
CA $24.99
£17.99
€19.99
AU $29.95
NZ $32.95
12 months (family membership)*
¥4,500
US $34.99
CA $44.99
£31.49
€34.99
AU $54.95
NZ $60.45
* Up to eight Nintendo Accounts can use the same Nintendo Switch Online service.
Nintendo Switch Parental Controls
The Nintendo Switch also uses optional parental controls, being controlled from a smartphone via an application named Nintendo Switch Parental Controls, in order to control and monitor a minor's playing time, as well as restricting certain features of the Nintendo Switch. Nintendo has released a video featuring Bowser and Bowser Jr. detailing the functions of the application in multiple languages, with the former monitoring the latter's playing of Mario Kart 8 Deluxe. Boos also appear in the video and Bowser is shown to have a picture of Princess Peach as his phone's wallpaper.[53][54]
Nintendo eShop
The Nintendo eShop returns, during a small footage depicting the Nintendo Switch's system menu, which is available after a system update.[55]
It features 1500 games downloadable, of which 40 are free.
Nintendo Switch HOME Menu
At the top of the Nintendo Switch's system menu, referred to as the HOME Menu,[56] there are profile icons, a time display, a Wi-Fi/airplane mode status display, and a battery display. The middle portion includes grids for displaying games' icons, and the bottom has icons for applets including News, Nintendo eShop, Album, Controllers, System Settings, and Sleep Mode, along with a controller display in the lower left.
Development
The Nintendo Switch was originally codenamed the NX during development, which was not believed to have meaning in particular.[57] The development of the NX was first mentioned by Satoru Iwata on March 15, 2015 during Nintendo and DeNA's Business and Capital Alliance Announcement, where it was discussed how Nintendo was aiming to construct a bridge between smart devices and dedicated video game hardware. Later that year, the new Nintendo president Tatsumi Kimishima elaborated by saying that the NX would not be another version of the Wii or Wii U platforms, rather unique and different.
In 2013, Nintendo chose to merge the handheld and home console development teams into a single Research & Development division,[58] due to the emerging possibility of integrating the software used by both platforms. Satoru Iwata said that taking advantage of the established architecture of the Wii U while developing a future system was important because of the ability to use common ways to program a handheld display and a full-size television display. At the time, Iwata stated that Nintendo was aiming to change the situation of developing separate versions of games for both handheld and console versions. He expressed interest in developing new hardware using the common programming of Android software, which would help alleviate the time taken to port the same game between separate handheld and home console releases.
Yoshiaki Koizumi, the general producer of the Nintendo Switch console, made sure that the hardware development team included experience from various different sections and disciplines, including both handheld and home console design.[59] He wanted to make sure sure that there was a high potential of mixing and matching those different areas of experience, to reach a single product. Many different hardware designs were proposed and considered, including a patented elliptical touch-screen controller capable of 3D display,[60] as well as a controller which uses a camera to sense the player's hand actions. The NX's vision was to appeal to the on-the-go lifestyle of today's consumers, and adapt to their needs. This lead to the concept of switching between a home console and a handheld.
Shinya Takahashi, the general manager of the Entertainment Planning & Development Division at Nintendo, described how the early brainstorming stages focused on the essential functions of a portable home console. The team also looked back at the accessibility and popularity of the Wii when developing the Switch, while still retaining features from other past Nintendo consoles, such as the handheld screen of the Wii U. Early on, it was also considered important for the system to come with two controllers that can be attached and brought on the go for two players to easily play together (in a similar way to how the Famicom docked two controllers on the system), although still providing a full and satisfying single-player experience. Reggie Fils-Aimé stressed the concept of constant engagement during Nintendo Switch planning, and appeal to an anywhere, anytime, any way approach.[61] The use of color was recognized to have been emphasized by Nintendo's systems in the past, notably with the Nintendo GameCube and Super Nintendo's multi-colored buttons. This inspired the use of red and blue Joy-Con for the Nintendo Switch, whereas the alternative grey design was made to appeal more to a core gamer who is looking for sleek technology.
A notable challenge during development was packing all of the required technology and features into the Joy-Con's desired weight and size, such as the IR Motion Camera, while still focusing on communicating the value of that technology through the software. The HD Rumble, described by Yoshiaki Koizumi as a form of virtual reality, required a lot of collaboration and trials between the hardware and software teams in order to utilize it within game design.
In 2015, Satoru Iwata spoke about how the need for region locking was not entirely due to consumer actions, but of the seller in global vendor licenses and different circumstances between countries. Iwata acknowledged that there were advantages for both the consumers and Nintendo in lifting region restrictions, and if future hardware were to use region-free games, then such problems would need to be pre-determined and subsequently solved.[62] On January 12, 2017, Nintendo announced during a livestream presentation that the Nintendo Switch's games will be region-free.[63]
The name Nintendo Switch was decided due to the ability to easily switch from a television screen to a handheld screen as well as the console being akin to flipping a switch to change the way people experience entertainment in their daily lives.[64]
Mario Related Games
Non-Mario Related Games
The following list contains the games that are compatible for the Nintendo Switch (some that are yet to be titled):
Nintendo eShop exclusive games
Minecraft: Nintendo Switch Edition (2018)
Arcade Archives: Mario Bros. (2017)
Arcade Archives: VS. Super Mario Bros. (2017)
Arcade Archives: Donkey Kong (2018)
Nintendo Entertainment System - Nintendo Switch Online (2018)
Mario Tennis Aces: Online Tournament Demo (2019)
Mario Tennis Aces: Special Online Demo (2019)
Arcade Archives: Pinball (2019)
Super Nintendo Entertainment System - Nintendo Switch Online (2019)
Appearances in the Mario series
The Nintendo Switch console and its peripherals have made multiple appearances in the Mario series.
Super Mario Run
A docked Nintendo Switch with red and blue Joy-Con attached appears as a statue in Super Mario Run's Kingdom Builder mode. Tapping it shows the console being removed from the dock which the screen displays the key artwork from Mario Kart 8 Deluxe.
WarioWare Gold
The Nintendo Switch and two Joy-Con appear in the WarioWare Gold microgame Joy-Con Slide, in which the player must slide Joy-Con into the Nintendo Switch.
Donkey Kong Country: Tropical Freeze
In the Nintendo Switch version of Donkey Kong Country: Tropical Freeze, exclusively in Funky Mode, Donkey Kong may pick up a Nintendo Switch system and play it for a short while if the player leaves him idle. If Diddy Kong or Dixie Kong are mounted on his back, they will play together with DK, but Cranky Kong will refuse to. In Original Mode, Donkey Kong plays on a Nintendo 3DS instead.
Super Smash Bros. Ultimate
The Toy-Con Robot, Toy-Con Car, and Toy-Con VR Goggles attached to a Nintendo Switch appear as spirits in Super Smash Bros. Ultimate, originally obtainable only during the Nintendo Labo: Smash Kit spirit event that ran from April 25, 2019 to April 30, 2019.
New Super Mario Bros. U Deluxe
In New Super Mario Bros. U Deluxe, a Nintendo Switch console with red and blue Joy-Con attached to it appears in the Records Toad House. Said console plays a music box version of the credits music while the credits are displayed.
Yoshi's Crafted World
In Yoshi's Crafted World, the player can unlock costumes based on the Nintendo Labo's Toy-Con RC Car, Piano, and Robot.
Waiting confirmation
NBA 2K17 (Take-Two states they have no present plans to release it on the Switch. Source: Wikipedia)
Steven Universe: Save the Light (Grumpyface Studios wants to release the game on the Switch, but there are logistic problems. It is unknown if or when the game will release on the Switch, but the developers are trying to fix the problem)
Trivia
Nintendo Switch helped regained Nintendo's third party publishers that they failed to gain despite the commercial performance of the Wii.
If one keeps on moving the dock from place to place, it will break and no longer be usable.
The phrase "THANKS2 ALLGAMEFANS!" can be found written on the Pro Controller's motherboard, just above rightstick; the message is viewable by holding down rightstick and peering through the transparent plastic in the surrounding socket.[65]
A copy of 1984's Golf is embedded in the Nintendo Switch firmware. Activating it requires the internal system clock to be set to July 11 – Satoru Iwata's Death Anniversary – and performing his iconic directly to you hand gesture with both Joy-Con controllers on the main menu. If successful, a voice clip of Iwata from a Japanese 2012 presentation will confirm the input, and an emulation of Golf with added motion control support will promptly boot up.[66] Golf has significance as one of the first video games Iwata programmed himself for Nintendo while working at HAL Laboratory.[67] This version of Golf was overwritten as of the 4.0.0 update, making it unplayable.
Even after the release of the original Switch and the Switch Lite and the discontinuation of the Wii U in some parts of the world, Wii games are still being made.
Unsurprisingly, the Nintendo Switch is 220 MHz slower than Wii U.
References
External links