The Nintendo Switch is a home console-handheld hybrid system by Nintendo. It was announced on October 20, 2016, and released on March 3, 2017 worldwide. In America, its average cost is $299.99. But in Australia, the price is $469.95.
Features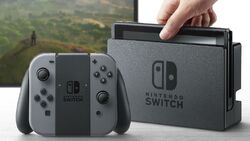 The Nintendo Switch got its name from switching from console into handheld. and it also includes a joycon.
Mario Related Games
Non-Mario Related Games
The following list contains the games that will be compatible for the Nintendo Switch (some that are yet to be titled):
1-2 Switch!
Arms
Fire Emblem Warriors
The Legend of Zelda: The Breath of The Wild
Splatoon 2
Sonic Mania
Skyrim Remastered
Dragon Quest X and XI
Dragon Quest Heroes I and II
Just Dance 2017
Xenoblade 2
An untitled FIFA game
LEGO City Undercover
Yooka-Laylee
Stardew Valley
Sonic Forces
Octopath Traveler
Puyo Puyo Tetris
Pokkén Tournament DX
A Hat in Time 
and heaps more...
Waiting confirmation
NBA 2K17 (Take-Two states they have no present plans to release it on the Switch. Source: Wikipedia)
Steven Universe: Save the Light (Grumpyface Studios wants to release the game on the Switch but there are logistic problems. It is unknown if or when the game will release on the Switch but the developers are trying to fix the problem)
Trivia
Nintendo states that the Switch is not a successor of the Wii U or 3DS.
Nintendo Switch helped regained Nintendo's 3rd party publishers that they failed to gain despite the commercial performance of the Wii.
If one keeps on moving the dock from place to place, it will break and no longer be usable.
Community content is available under
CC-BY-SA
unless otherwise noted.