The Nintendo 3DS is a handheld system from Nintendo, being the fourth generation of Nintendo handheld systems. It has all of the features of the Nintendo DSi, plus graphics greatly improved from the DS Lite, and screens that allow you to see in 3D that appears to go into the screen without special glasses. It also has a bigger screen, and an analog stick. The Nintendo 3DS was released on March 27, 2011. There was also an XL version thet has more features.
Development
Satoru Iwata, current presidents of Nintendo, announced the Nintendo 3DS at E3 2010. He announced that the 3DS would have a slider bar that would allow players to change the depth of the 3D. Along with the 3DS, Iwata announced that several top companies are already producing games specifically for the 3DS, including: Square Enix and Konami. Iwata also elaborated that the 3DS' camera could take pictures in 3D.
Nintendo 3DS XL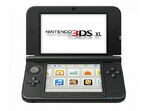 The
Nintendo 3DS XL
is a larger model of the 3DS. Just like the Nintendo DSI XL, it has bigger screens. The 3DS XL has a battery that last longer than the original 3DS, but the speakers of 3DS XL are less loud. It is also 6.81 inches large and 6.14 inches wide.
Nintendo 2DS
On October 12, 2013, Nintendo released the new Nintendo 2DS which was made for the younger age group so that they can still play Nintendo 3DS games to avoid health concerns from the 3-D effects.
New Nintendo 3DS XL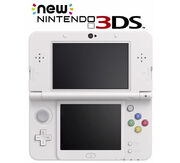 The New Nintendo 3DS XL is a newer version of the 3DS. It brings an upgrade to most games, and will allow the usage of
amiibos
in newer games. It also features a second circle pad above the buttons and the ZL and ZR buttons. The power button is now located at the bottom right front of the system (just below the Select button) with the stylus located just beside it. The Home button is located directly below the touch screen and the volume button is now located on the top left side of the system opposite of the 3-D button. The 3-D effects are much more enhanced from the previous systems. However, the New 3DS XL uses a micro SD card that can only be accessed by opening the system from the bottom. Also, all new systems do not come with a charger.
Mario Games
Colors
Aqua Blue (discontinued)
Cosmo Black
Flame Red (discontinued)
Pearl Pink
Ice White (Europe & Japan only)
Cobalt Blue (Japan only)
Midnight Purple (North America only)
3DS XL Colors
Trivia
Community content is available under
CC-BY-SA
unless otherwise noted.