Moustafa (also known as Sheek) is a character in the game Paper Mario.
History

Moustafa is a green Little Mouser. Moustafa which he has a great deal of control over, being the leader of a secret group of honorable thieves that dwell within it.
Upon arriving in Dry Dry Outpost, Mario learned he would need to have to meet with Moustafa in order to learn the location of the lost Dry Dry Ruins. Mamar, the second Star Spirit was held in these ruins, but they were not seen in the desert when Mario looked. Mario would need to gain information from Sheek, an informant located on the eastern side of town, about how to see Moustafa.
Sheek will only give information to those who are considered "nice". To be nice, Mario must find the nicest
of nice things and give it to him. Mario looks as hard as he can for something but nothing comes up to be nice. Eventually, he finds the oasis located south of Dry Dry Outpost. Here, Mario finds a delicious and sour Lemon.
Once Sheek received this Lemon, he would tell him that in order to learn of where Moustafa was, he would need to go to the local shop and buy a Dried Shroom, then a Dusty Hammer, in that order. Mario, upon doing so, would be informed by the shop's manager, a member of Moustafa's organization, that Moustafa was located on the highest place in Dry Dry Outpost.
It turned out that Moustafa inhabited a room above a door-less building and that Sheek the information broker was in actuality, Moustafa. Having a conversation with Mario, Moustafa revealed to him that he was a guardian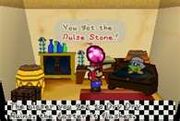 of Dry Dry Ruins, before deciding to trust Mario with the Pulse Stone, which would lead him to the Dry Dry Ruins.
Talking to Moustafa after Chapter 2 has been completed will result in unique dialogue with him. Moustafa will ask Mario of the battle with Tutankoopa and, in shock of Bowser's arrival, thanks Mario for his good deeds toward the people of Dry Dry Outpost.
Trivia
Characters
Protagonists
Mario • Princess Peach • Luigi • Twink • Star Spirits (Eldstar, Mamar, Skolar, Muskular, Misstar, Klevar, Kalmar)
Antagonists
Bowser • Kammy Koopa • Koopa Troop • Jr. Troopa
Partners
Goombario • Kooper • Bombette • Parakarry • Lady Bow • Watt • Sushie • Lakilester
Other Characters
Albino Dino • Audience • Bootler • Bruce • Bubble Plant • Chanterelle • Chet Rippo • Chuck Quizmo • Club 64 Bartender • Dane T. • DJ Toad • Fearsome 5 • Fice T. • Fishmael • Flight • Franky • Frost T. • Gooma • Goomama • Goombaria • Goompa • Goompapa • Gourmet Guy • Guard Door • Harry T. • Herbert • Herringway • Igor • King Mousta • Kooper's mother • Kolorado • Kolorado's Wife • Koopa Koot • Koover • Lakilulu • Lily • Little Mouser • Little T. • Luigi • Madam Merlar • Master Poet • Mayor Penguin • Mayor Penguin's Wife • Merle • Merlee • Merlon • Merlow • Merluvlee • Minh T. • Mini T. • Moustafa • Mort T. • Mr. E • Mr. Hammer • Muss T. • Nomadimouse • Oaklie • Penguin Patrol • Petunia • Posie • Postmaster • Raphael the Raven • Rip Cheato • Rosie • Rowf • Rhuff • Russ T. • Sashimie • Spiky John • Spiky Tom • Stanley • Sun • Tayce T. • Three Beautiful Sisters • Toad in the Desert • Toad Minister • Tolielip • Trading Event Toad • Vanna T. • Village Leader • Watt's mother • Whacka • Whale • Wise Wisterwood • Yakkey
Species
Baby Yoshi • Bellbell Plant • Boo • Bub-ulb • Bulb Bush • Bumpty • Candy Cane • Cymbal Bush • Doogan • Dryite • Heart Plant • Human • Li'l Oink • Munchlesia • Nomadimouse • Raven • Snowman • Spinning Flower • Star Kid • Toad • Trumpet Plant • Yoshi
Locations
Areas
Boo's Mansion • Boo's Shop • Bowser's Castle • Cloudy Climb • Club 64 • Crystal Palace • Dry Dry Desert • Dry Dry Outpost • Dry Dry Railroad • Dry Dry Ruins • Flower Fields • Forever Forest • Goomba King's Fortress • Goomba Road • Goomba Village • Gusty Gulch • Harry's Shop • Item Shop • Jade Jungle • Koopa Bros. Fortress • Koopa Village • Koopa's Shop • Lavalava Island • Li'l-Oink Farm • Little Mouser's Shop • Mario's House • Mt. Lavalava • Mt. Rugged • Peach's Bedroom • Peach's Castle • Playroom • Pleasant Path • Post Office • Shiver City • Shiver Mountain • Shiver Region • Shiver Shop • Shiver Snowfield • Shooting Star Summit • Shroom Grocery • Shy Guy's Toy Box • Starborn Valley • Star Haven • Star Haven Shop • Star Way • Storehouse • Sun Tower • Toad House • Toad Town • Toad Town Dojo • Toad Town Tunnels • Tubba Blubba's Castle • Windy Mill • Yoshi's Cabana • Yoshi's Village
Bosses
Main/Recurring Bosses
Bowser • Kammy Koopa • Jr. Troopa
Chapter Bosses
Goomba King • Bowser??? • Koopa Bros. (Red Ninjakoopa, Black Ninjakoopa, Yellow Ninjakoopa, Green Ninjakoopa) • Tutankoopa • Tubba Blubba/Tubba Blubba's Heart • General Guy • Lava Piranha/Lava Bud • Huff N. Puff • Crystal King/Crystal Bit • Bowser
Mini Bosses
Red and Blue Goombas • Buzzar • Anti Guy • Blooper • Super Blooper • Electro Blooper • Spike??? • Kent C. Koopa • The Master • Monstar
Enemies
Enemies
Amazy Dayzee • Bandit • Bill Blaster • Bob-omb • Bombshell Bill • Bombshell Bill Blaster • Bony Beetle • Bullet Bill • Buzzy Beetle • Bzzap! • Cleft • Clubba • Crazee Dayzee • Dark Koopa • Dry Bones • Duplighost • Ember • Forest Fuzzy • Frost Piranha • Fuzzy • Gloomba • Goomba • Gray Magikoopa • Green Magikoopa • Groove Guy • Gulpit • Hammer Bros. • Hurt Plant • Hyper Cleft • Hyper Goomba • Hyper Paragoomba • Jungle Fuzzy • Koopatrol • Koopa Troopa • Lakitu • Lava Bubble • Magikoopa • M. Bush • Medi Guy • Monty Mole • Paragloomba • Paragoomba • Paratroopa • Piranha Plant • Pokey • Pokey Mummy • Putrid Piranha • Pyro Guy • Red Magikoopa • Ruff Puff • Shy Guy • Shy Squad • Shy Stack • Spear Guy • Spiked Gloomba • Spiked Goomba • Spike Top • Spiny • Spy Guy • Swooper • Swoopula • White Clubba • White Magikoopa • Yellow Magikoopa
Items
Regular Items
Apple • Blue Berry • Bubble Berry • Coconut • Dizzy Dial • Dried Fruit • Dried Shroom • Dusty Hammer • Egg • Fire Flower • Fright Jar • Goomnut • Honey Syrup • Iced Potato • Jammin' Jelly • Koopa Leaf • Lemon • Life Shroom • Lime • Maple Syrup • Melon • Mushroom • Mystery? • Pebble • POW Block • Red Berry • Repel Gel • Shooting Star • Sleepy Sheep • Snowman Doll • Stinky Herb • Stone Cap • Strange Leaf • Stop Watch • Super Shroom • Super Soda • Tasty Tonic • Thunder Bolt • Thunder Rage • Ultra Shroom • Volt Shroom • Whacka Bump • Yellow Berry
Key Items
Artifact • Autograph • Blue Key • Boo's Portrait • Bucket • Butter • Calculator • Castle Key • Cleanser • Cookbook • Cream • Crystal Ball • Crystal Berry • Diamond Stone • Dictionary • Diploma • Dolly • Egg • Empty Wallet • Fertile Soil • First-Degree Card • Flour • Fortress Key • Fourth-Degree Card • Frying Pan • Glasses • Gold Credit • Jade Raven • Koopa Legends • Kooper's Shell • Letter • Lucky Star • Lunar Stone • Lyrics • Magical Bean • Magical Seed • Mailbag • Melody • Milk • Miracle Water • Mystery Note • Odd Key • Old Photo • Package • Palace Key • Prison Key • Pulse Stone • Pyramid Stone • Record • Red Jar • Red Key • Ruins Key • Salt • Scarf • Second-Degree Card • Silver Credit • Sneaky Parasol • Star Piece • Star Rod • Star Stone • Storeroom Key • Strawberry • Sugar • Tape • Third-Degree Card • Toy Train • Ultra Stone • Volcano Vase • Warehouse Key • Water • Water Stone • Weight • Yakkey
Recipes
Apple Pie • Big Cookie • Bland Meal • Boiled Egg • Cake • Coco Pop • Deluxe Feast • Dizzy Dial • Egg Missile • Electro Pop • Fire Flower • Fire Pop • Fried Egg • Fried Shroom • Frozen Fries • Healthy Juice • Honey Shroom • Honey Super • Honey Ultra • Hot Shroom • Jelly Pop • Jelly Shroom • Jelly Super • Jelly Ultra • Kooky Cookie • Koopa Tea • Koopasta • Lemon Candy • Life Shroom • Lime Candy • Maple Shroom • Maple Super • Maple Ultra • Nutty Cake • Potato Salad • Shroom Cake • Shroom Steak • Sleepy Sheep • Spaghetti • Special Shake • Spicy Soup • Strange Cake • Super Soda • Sweet Shroom • Tasty Tonic • Thunder Rage • Volt Shroom • Yoshi Cookie • Yummy Meal
Badges
All or Nothing • Attack FX A • Attack FX B • Attack FX C • Attack FX D • Attack FX E • Bump Attack • Chill Out • Close Call • D-Down Jump • D-Down Pound • Damage Dodge • Deep Focus • Defend Plus • Dizzy Attack • Dizzy Stomp • Dodge Master • Double Dip • Feeling Fine • Fire Shield • First Attack • Flower Finder • Flower Saver • FP Plus • Group Focus • Hammer Throw • Happy Flower • Happy Heart • Heart Finder • HP Drain • HP Plus • I Spy • Ice Power • Jump Charge • Last Stand • Lucky Day • Mega Jump • Mega Quake • Mega Rush • Mega Smash • Money Money • Multibounce • P-Down, D-Up • P-Up, D-Down • Pay-Off • Peekaboo • Power Bounce • Power Jump • Power Plus • Power Quake • Power Rush • Power Smash • Pretty Lucky • Quake Hammer • Quick Change • Refund • Runaway Pay • S. Jump Chg. • S. Smash Chg. • Shrink Stomp • Sleep Stomp • Slow Go • Smash Charge • Speedy Spin • Spike Shield • Spin Attack • Spin Smash • Triple Dip • Zap Tap
Techniques
Partner Moves
Headbonk • Tattle • Charge • Multibonk • Shell Toss • Power Shell • Dizzy Shell • Fire Shell • Sky Dive • Shell Shot • Air Lift • Air Raid • Body Slam • Bomb • Power Bomb • Mega Bomb • Smack • Outta Sight • Spook • Fan Smack • Electro Dash • Power Shock • Turbo Charge • Mega Shock • Belly Flop • Squirt • Water Block • Tidal Wave • Spiny Flip • Spiny Surge • Cloud Nine • Hurricane
Special Moves
Refresh • Lullaby • Star Storm • Chill Out • Smooch • Time Out • Up & Away • Star Beam/Peach Beam
Enemy/Boss Moves
Charge • Divide and Conquer
Miscellaneous
Object and Features
! Switch • ? Block • Badge • Blue Pipe • Blue Switch • Bowser's Diary • Brick Block • Bubble • Chomp Rock • Cracked Wall • Dock • Fire Bar • Floor Switch • Hidden Block • Jack-in-the-Box • Jump Pad • K64 • Koopa Clown Car • Lakitu's Cloud • Lever • Metal Block • Power Platform • Puff-Puff Machine • Recovery Block • Red ? Block • Save Block • Star Cruiser • Stilts • Stone Block • Super Block • Treasure Chest (Mysterious) • Toy Tank • Warp Pipe • Yellow Block
Terms/Ailments
Badge Point • Danger • Dizzy • Electrified • Flower Point • Frozen • Heart Point • Immobilized • Injured • Invisible • No Skills • Peril • Poison • POW-Down • POW-Up • Sleep • Star Point • Star Power • Stone • Super Rank • Tiny • Ultra Rank
Other
Soundtrack • Tattle List • Walkthrough