"We're still missing something. Oh yeah—Wario!"
This article is missing an infobox. You may remove this template once an infobox has been added to the article.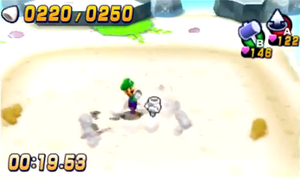 Mole Hunt is a mini-game that is played in the game Mario & Luigi: Dream Team. It can be played on Driftwood Shore and is hosted by the Mole Hunt Host who charges 10 coins every time to play. This game is known for frustrating players due to how exact they must be to dig up the hermit crabs.
Gameplay
In this game, Mario and Luigi must use the Mole Mario technique to go underground and pick up the hermit crab. The hermit crabs vary from red to silver to gold, with red giving the lowest amount of points and the gold ones giving the highest amount of points. Sometimes, special blocks appear which can be hit to make all of the hermit crabs seen dig out. Mario and Luigi must do this in the amount of time given to win. If they lose, the must play again by paying the Mole Hunt Host 10 more coins (much to his pleasure).
Community content is available under
CC-BY-SA
unless otherwise noted.