Raise a Floppa - The Loop
Play Sound
"Gee, lookee here! The girl you thought was a handmaid or a Merlee impostor... She's actually the faithful servant of Count Bleck, master impersonator Mimi!"
― Mimi, Merlee's Basement
Mimi (マネーラ Mimi?) appears as a girl with an aggressive and violent character, born on May 5, 1988.[1] Mimi's race is unknown due to her shapeshifting abilities, she also forgets who she was.[2]
Mimi appears as an antagonist (along with Count Bleck, Nastasia, O'Chunks, Dimentio and Mr. L) in Super Paper Mario.
Profile
Physical description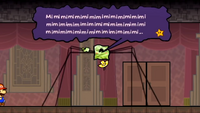 Mimi's true identity shrouds in mystery. According to Carson, he had mentioned that Mimi can shape-shift into any character she wants; sometimes she forgets who she is. There were two theories from other characters: She may be a failed Pixl created by the Ancients or an "unintended creation of a witch" who was "researching potions that would allow shape-shifting".[2]
In her girl form, she has lime green skin and pigtails. Her default clothes consists of a yellow dress with white polka dots and a pouch. She also wears a red bow. As Mimi transforms into a spider, she twists her head to her left, then spins her head clockwise after her pupils turn black. Then her head is upside-down as the bow loses its color. The legs grow out of the face and tears the bow.
Personality traits
Mimi is aggressive and violent. Mimi insults and yells at the character when they infuriate her. Mimi teased Peach for getting kidnapped that she needs to be rescued by her "boyfriends" (Mario and Luigi). Despite Peach willing to help Mimi, she rejects her kindness. She does not get along with O'Chunks. However, Mimi adjusted her friendship with O'Chunks when they met Count Bleck. Mimi has shown some kinds of affection for characters in Super Paper Mario. A cutscene in Castle Bleck Mimi states "That is my idea of a perfect world.♡", Living with Count Bleck. Later in the bathroom quiz in Merlee's Mansion, she claims that she cannot admit who she has a crush on because he is right there, hinting that Mimi may somewhat like Mario, and Count Bleck.
Mimi is interested Rubees. Mimi considers tangerines as the best food[3] and likes the old cheese smell.[4] Demons are her favorite animals.[5] Mimi likes to watch reruns of the "Super Ultra Goomba Bros."[6] Mimi is obsessed with boys which is known that she likes to have a boyfriend the most and has a crush on Count Bleck, Mario, and Dimentio.[7][8][note 1]
Powers and abilities
Powers
Abilities
Speech
Mimi speaks with a white shadow box along with other characters. Mimi's speaks with the purple shadow box along with the white text when she is in her true form; this goes the same with the Shadow Queen and Bonetail in The Thousand-Year Door. Mimi rephrases a few lines: "NYAAAAH!" and "Mimimimi...". There were plenty of times Mimi yells with words with uppercase letters and large words.
Biography
Spoiler warning
:
This article or section contains spoilers you are reading at your own risk. Plot and/or ending details follow.
(
Skip this section
)
Prologue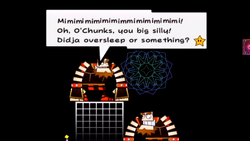 Mimi serves as Count Bleck's minion along with O'Chunks and Dimentio. Count Bleck plans to replace the destroyed worlds with a perfect world and grant his minions' wish, pleasing Mimi.
Sending Mimi
O'Chunks returned to the castle in shame. Nastasia sent Mimi to Merlee's Mansion to catch Mario. Count Bleck granted his powers to Mimi "to ensure that she will obliterate the hero".
Tricks, Treats, Traps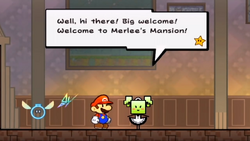 Mario met Mimi in Merlee's Mansion who claims to be Merlee's handmaid. Mimi tricked Mario and Tippi into falling into her traps. Within her traps, Mario and Tippi took the key and released Merlee's pet. Gnaw chased Mimi and chased her outside. The odd behavior questioned Tippi.
Breaking the Bank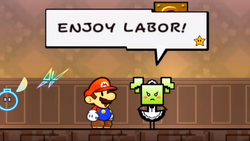 Mario broke Mimi's butterfly vase. She sentenced Mario and Tippi to labor to work for one million Rubees and placed a curse in the mansion. The curse does not allow Mario to return to Flipside. When Mario gave her the Rubees to pay his debt, she grew mad and exploded. Suspecting Mimi's behavior, Tippi assumed Mimi placed a curse on Merlee's Mansion.
The Basement Face-Off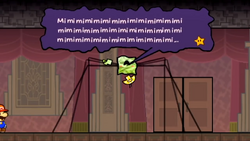 Mario found Mimi disguising as Merlee. "Merlee" bribed Mario and co. into thinking she was the real Merlee, Mario and co. rejected her offers for the Pure Heart. She revealed her identity as a girl and claimed that she is Count Bleck's servant. Mimi transformed into her true form and chased Mario and company in the basement. Mario and company found Merlee in the female toilet. However, Mimi mimics Merlee's appearance. The real Merlee hints the difference with each other, but the other "Merlee" tried to confuse Mario. Merlee and "Merlee" decided for Mario to pick the real Merlee and the show started. Mario asked five questions to Merlee and Mimi. Mario detected the real Merlee that pleased herself. Mimi angered and transforms into a spider. Merlee ran to the door and told Mario and company that she will cheer. Merlee casted a spell to make Mimi vulnerable. Mario defeated Mimi and she leaves the place.
In Castle Bleck
In Castle Bleck, Mimi gave Nastasia informed Count Bleck that Mimi failed to defeat Mario and company.
Between Chapter 4 and 5, Count Bleck ordered Mimi and O'Chunks to return to their posts. Later, Nastasia introduced Mr. L to the minions. When Mr. L insulted that they are like "junior" minions, Mimi insulted Mr. L back saying he was spanked.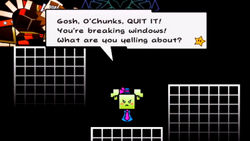 Between Chapter 5 and 6 at Castle Bleck, Mimi insulted O'Chunks for breaking one thousand windows by singing. Nastasia sentenced O'Chunks to sing one thousand times. Becoming impatient, Mimi assumed that they must wait until the four heroes get them and Nastasia demanded that Count Bleck ordered it. When Nastasia left, Mimi, Mr. L and Dimentio decided to leave the castle.
The End of a World
Mimi has disguised as King Sammer in the Sammer's Kingdom telling the heroes that the Pure Heart will be given to them after defeating the 100 Sammer Guys. Chapter 6-2, Mimi revealed herself, infuriating the heroes saying that King Sammer may be sleeping. She insulted the heroes after the spoke against her. After Mario's party defeated Mimi, she left the place and the heroes continued their journey.
In Castle Bleck again
Between Chapter 6 and 7, Nastasia told Count Bleck that Mimi, Mr. L and Dimentio left the castle. Mimi, Dimentio and O'Chunks prepared to battle against the heroes while the heroes were going after Castle Bleck.
The Crash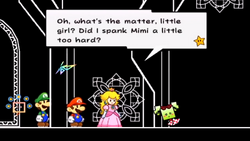 Mario and company found "Merlon" standing at the Castle Bleck Foyer, "Merlon" told Mario to hit the "totally unsuspicious block" in order to go to Castle Bleck. The ! Switch set a trap to fall into the pit. Mario and company came out of the trap and spotted "Merlee" standing next to the door. She told them to answer her questions honestly, after answering three questions, she left them. Suddenly, "Merlee" realized that they managed to come to pass the things they hate and assumed that they lied to her. Peach insulted Mimi and she insulted her back. Peach encouraged Mario and Luigi to leave the room, before battling. Peach and Mimi declared to battle each other. After Peach defeated Mimi, Peach consoled her although Mimi rejected her kindness. A tremor occurred that made a hole on the floor. Peach tried to help Mimi get back to the top of the ceiling, but they fell into the pit. Mario's party heard Peach's scream and realised the door will not barge. Mario, Luigi and Tippi continue the journey without Peach.
Tippi and Count Bleck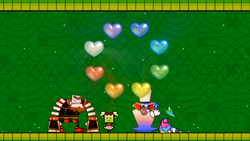 Mimi and O'Chunks shifted to Dimension D. Mimi and O'Chunks cheered Count Bleck that they will always stick to his side. The Pure Hearts appear and helped the hero revive their Heart Points while Tippi assisted Mario's party to defeat Super Dimentio. After Dimentio died from his laugh, Luigi was freed from brainwash. Mimi, Lord Count Bleck and O'Chunks appeared at the Castle Bleck Inner Sanctum. The group entered the next room to prevent the Chaos Heart summoning The Void. Mimi was sad when Count Bleck had to leave with Tippi, Count Bleck and Tippi stopped the Chaos Heart stopped The Void. Mimi claimed to hear the bells, that may imply that the worlds were restored.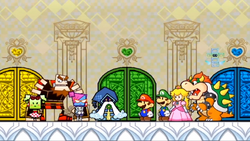 People at Castle Bleck moved back to Flipside. Nastasia told Merlon that Tippi and Count Bleck are happy. Nastasia became upset when she realized Bleck is not visible, Mimi and O'Chunks said they will create a better world. Merlon already told Saffron to prepare her "celebrated snacks" for them.
Merlee's Mansion maid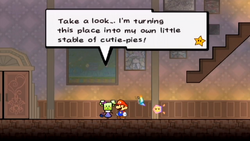 Mario and company met Mimi at Merlee's Mansion and she told them that Merlee hired Mimi to be her handmaid while Merlee hangs out at Flopside. While Merlee is away, she pretends the place to belong to herself and is turning this place into her little stable of cutie-pies, otherwise known as boys.
Spoiler warning: Plot and/or ending details ends here.
Mimi appeared in Super Paper Mario at chapter prologue. In Merlee's Mansion of Chapter 2-2, the player and Tippi meets Mimi. She claimed to be the housemaid. Despite Mimi not giving hints to the player, she set several traps in one of the two doors on the first floor. The player must find the House Key to release Gnaw; Mimi will leave with Gnaw and the player will be able to enter the next door.
In Chapter 2-3, Mimi scolds the player for breaking the vase. The player must give one million Rubees to Mimi to pay the debt. After gaining one million Rubees, the player must go to the Rubee Savings and Loan to progress through the story.
In Chapter 2-4, Mario meets Mimi disguising as "Merlee". The player must refuse her offers, and Merlee will appear and compliment the player. "Merlee" will revert to Mimi and she will transform into an invincible grotesque spider. The player must run to different rooms while Mimi chases and attacks the player. If the player stays in the room too long, Mimi will show up. While avoiding Mimi, the player must find the female bathroom. Merlee will show up, but Mimi will mimic Merlee's appearance. To determine the real Merlee, the player must ask one of the questions in the "That's My Merlee!" Show. Asking the questions may help the player to spot the real Merlee. Whether the player chose the real or fake Merlee, Mimi will begin her first battle. Upon defeat, Mimi will leave the mansion.
In Chapter 5-2, the player confronts Mimi. Depending on the character, Mimi will speak different quotes. Mimi will begin her second phase in battle. After defeating Mimi, she will leave and the player can progress the story.
In Chapter 8-2, Mimi disguises as "Merlon" to trick the player to hit the ! Block. However, it is mandatory to hit the ! Block. The player will meet Mimi impersonating "Merlon". She will ask the player what scares the player and she will set them as traps. However, the player can also lie to gain a better advantage. After passing the traps, Mimi will reveal herself. The player can only use Peach during Mimi's final battle. Defeating Mimi, Peach will help Mimi and the player will progress the story without Peach.
In Chapter 8-4, Mimi will appear along with O'Chunks to talk to Count Bleck. The Pure Hearts will help the Four Heroes of Light to fight Super Dimentio. Mimi appears at the ending after Dimentio disappears.
In the post-game, the player can revisit Chapter 2-2. The player can find Mimi at Merlee's mansion. Mimi informs the player that Merlee hired her as a maid.
Battles
First phase
Mimi fights Mario and company in the female bathroom. She was invincible, but Merlee helped Mario and company casting a spell to make her vulnerable thus Mimi was vulnerable during the whole battle. She can climb onto the ceiling and drop Rubees. Sometimes, Rubees pop up from the floor, they can be guarded by Peach's parasol or while Mario flips in 3-D.
Second battle
Mario, Peach and Bowser encounter Mimi in her girl form after she tricked them. Mimi only levitates in battle and creates a barrier. This is the only battle that Mimi has HP with a maximum of 25. Mimi can flip in 3-D. It is recommended to use Peach to protect the Rubees with her parasol and Thoreau to grab the Rubee and attack Mimi.
Last battle
Peach faces against Mimi whose attacks are stronger. Mimi in her spider form creates a barrier and moves around the place until she becomes helpless with the barrier no longer around her. Peach can stomp on her several times until she loses all of her legs.
Mimi appears in volume 37 of Super Mario Kun. Mimi has the same role as she did in Super Paper Mario.
Statistics
Etymology
Mimi is a female Hebrew name. Mimi is a pet form of Miryam. Mimi may mean bitter and rebellion. Bitter may refer to Mimi's aggressive and violent character. Mimi's name could also be based on the word mimic, which means to copy or imitate, referring to her shapeshifting abilities.
Trivia
Gallery
Notes
↑ Although Mimi did not directly mention the guy in the bathroom. She may be referring to The InterNed or Mario.
References
External links