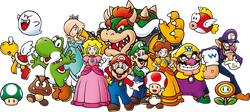 Hello, MarioWiki user! I am an admin for the MarioWiki community. Welcome and thank you for your edit to Mario!
If you would like to know more about this wiki, please visit MarioWiki:About. If you need help getting started, check out our help pages or contact me or another admin here. For general help, you could also stop by Community Central to explore the discussions and blogs.
Before you edit, make sure to check out our rules, policy, blocking policy and Manual of style to make sure you don't break the rules! Also, feel free to check out our community portal!
Also, please check out MarioWiki:What MarioWiki is not to consider what the community is not and what it expects from all users.
If you need any further advice, feel free to contact me on my message wall. Enjoy your time at MarioWiki!