This article is in need of an infobox.
Please remove this template once or when an infobox has been added.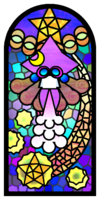 Merlimbis is one of the Four Sages of the Tribe of Ancients. Merlimbis is described as being loving and caring by Tippi and Tiptron. Not much is known about Merlimbis, since she does not appear in Super Paper Mario. The only way that you can learn about Merlimbis is by Tippi or Tiptron using the Tattle ability on her stain-glass picture in Mirror Hall. Merlimbis is said to be the creator of the Purity Heart, doing so to counter the Chaos Heart. It is assumed that Merlimbis also separated the Purity Heart into the eight Pure Hearts.
Merlimbis is shown to have an identical appearance to the fortune teller Merluvlee. This makes sense, for Merlimbis is the ancestor of Merluvlee. Merluvlee is also the ancestor of Merlee, too.
Community content is available under
CC-BY-SA
unless otherwise noted.