Attention: The Glitz Pit has been re-opened and ready for discussion!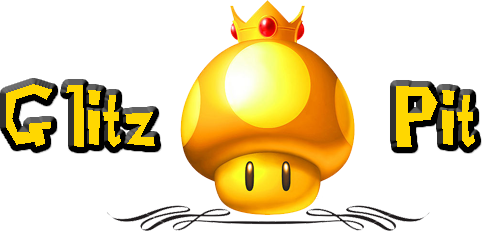 Welcome to the Glitz Pit, a head-on-head arena for Mario characters and enemies. This semi-weekly event pits two Mario characters against each other and it's up to YOU to decide who will win! If you would like to suggest a fight, please go to the suggestions page. For previous fights, please see the former fights.
Rules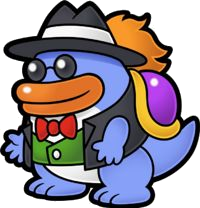 You may vote for only one contestant.
You may vote only once.
Votes made by anonymous users must be placed in the "Anonymous votes" section.
Please make sure that if you are a user to sign your votes with or --~~~~
Unsigned user votes will be moved to the "Anonymous votes" section.
Any rigging of the votes will face consequences.
Do not use talk templates.
If a fight is tied, it will run until a contestant gets in the lead.
 
5 < 2

Plumbers and Princesses, TONIGHT, we bring you to the MUSTACHED RIVALS!

On your left side, we have a mustachioed green plumber, the ghost slayer. They say he is green Mario. That interesting fellow is... LUIGI!!

On your left side, we have a mustachioed purple man, a fierce competitor in all manner of sports. You may say you are getting better, but nobody cheats better than him. The mysterious man is... WALUIGI!

Will the green or the purple win the competition? Now, get yourselves ready to… BAAAAAATTLE!

WOW! What a splendid fight! Luigi gains more fans than Waluigi! Poor Waluigi left out with two votes. It is a shame he did not join Super Smash Bros..

Votes for Luigi

I prefer Luigi, he is one of the well-known glass cannons. He may not be better than Waluigi in sports, but I never heard him cheat before. Luigi did more things than Waluigi; other than karting, partying or sports, he captures ghosts and rescues the princess. Derekblue1 (T B C) 11:35 Apr 2 2020 (UTC)
Okay, so I don't really like either of these, but I DESPISE Waluigi as a completely overrated character. Thus, this is mainly a vote against Waluigi.

Small things can make big differences.

Luigi is my favourite Mario character. Oh btw, I think Luigi is nicer than Waluigi. This is my first vote! TheElectricMarioFan296.
While i do love Waluigi, Luigi is just the best. The LM series shows that even faced with terrifying situations, he risks his life for Mario, for everyone. Point to you, sir. -Pnod666
OMG I like Luigi more than the bad guys and yes, I know I'm scared of his game over but SERIOUSLY HES BETTER THAN ANYONE (except Mario) Also my actual username is ShinyFighter3 Starry




Votes for Waluigi

I think this is where we submit votes right? PSI Seven (

talk

) 23:03, April 2, 2020 (UTC)
Waluigi for sure. He's been disrespected so much! I mean, in games like Mario Kart Wii he's in, and then in Mario Kart 7 he's not? Oh sure, you can try to tell me that there were time constraints that kept him from getting in, but then you go tell me Wiggler and even FREAKIN' QUEEN BEE (who absolutely NOBODY remembers) made it in. And that's just one of the times Waluigi was disrespected. He deserves the win for how much hate the Nintendo games themselves give him. He more than deserves the win. AWESOME CLASHER556 (

talk

) 13:29, April 3, 2020 (UTC)AWESOME CLASHER556
I like this guy a lot. While I prefer other characters, there's something about Waluigi that makes me obligated to vote for him. His personality is so bombastic and dynamic in comparison to most of the rest of the Mario cast, and he's overall a really fun character. Also I love the airswimming lol. - JowaPlays • Message Wall 00:06, 10 October 2020 (UTC)

    

Comments

I'm amazed that Luigi is getting more love than Waluigi. Derekblue1 (T B C) 04:03 Apr 4 2020 (UTC)

7 < 1

Plumbers and Princesses, TONIGHT, we bring you to the ELITE ENEMIES of the RPG battles!On your left side, we have the MASTER bullet shooter of the Shy Guys. It is hard to dodge when they follow you, even when they fire bullets. Everyone is jealous of their masks, and you'd admit it. There is... Snifit!!On your right side, we have a deadly Shy Guy. His attacks are ten times more POWERFUL than Shy Guys, that is inTENse! I heard that he loves lemon-flavored candy… and That is... Anti Guy!

Which enemy will reign elite and supreme? Now, get yourselves ready to… BAAAAAATTLE!

WOW! What an AMAZING fight! The Snifit reigned supreme! Anti Guy damaged as far as it could, but it fell to the ground!

Votes for Snifit

Snifit may not be as powerful as Anti Guy, but it just continued appearing in more games. I enjoy looking at these crreatures and I like its mask anyway. Derekblue1 (T B C) 06:39 Jul 17 2019 (UTC)
Per Derekblue1. Also, why do we have anonymous votes sections when you can't edit without an account and that this page is protected. —Preceding unsigned comment added by FanOfYoshi (

talk

• contribs)
Yeah. Anti-Guys only appear in one game and they're optional to fight while Snifits (while not the most reoccuring enemy in the series) do appear more. Also, FanOfYoshi does have a good point. You must have a sign-in account to even edit here and even if you don't sign, it's easy to check who posted their vote in the history.

Z

e

o

S

p

a

r

k

  

T

a

l

k

  

C

o

n

t

r

i

b

s

  

E

d

i

t

s

 

 12:13,7/19/2019 

While I haven't been here this long and I'm not active here, I do enjoy a good Snifit fight from time to time. Snifits seem much more memorable than Anti-Guys, as the former appears in several more games.

Small things can make big differences.

They seem to be a little bit like Birdo. I like Birdo a lot. Matthew Cenance (talk) 19:37, July 19, 2019 (UTC)

 LuigiMaster41   15:31, July 25, 2021 (UTC)  

Anti Guys only appear in Paper Mario. Besides, Snifits are adorable. Stampycat12345 AKA Berlioz 00:09, July 22, 2019 (UTC)
Me is voting snifits, but im really only here because im looking for the bean crystal. - Hiff the temmie
Snifit has strangely always been one of my favorite enemies, despite not liking Shy Guys very much. I think the dark mask and pea-shooting abilities add a lot. - JowaPlays • Message Wall 00:09, 10 October 2020 (UTC)

Votes for Anti Guy

Because he's a dark shy guy —Preceding unsigned comment added by PatRickStaR167 (

talk

• contribs)
I believe Anti guy will win, When resarching the topic I saw that with 5o hp 10-12 damage the snifit has no chance to win. With max health being 24. Besides the first Mario Rpg or seven stars where he has bullet bills help, making that disqualified. Additionaally, when the snifit shoots its bullet it stands still making it extremely vulnerable for the anti guy to attack.

Template:SINGED/Trueenigmagod

Comments
Archives
The Glitz Pit Archives
I · II · III