Welcome to the MarioWiki!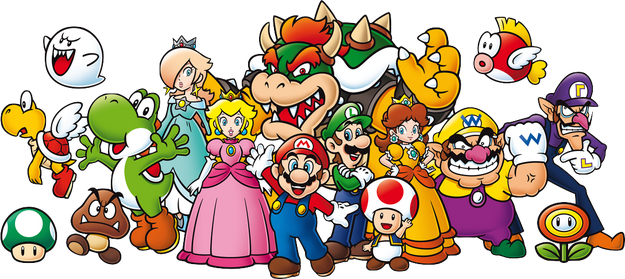 MarioWiki is a collaborative encyclopedia for everything related to the ever popular Mario series. There are 9,736 articles and growing since this wiki was founded in July 2007. The wiki format allows anyone to create or edit any article. MarioWiki encourages all users to create or edit articles, so we can all work together to create a comprehensive database for the Mario franchise.

Overview · Wiki tutorial · Policy · Help pages · Navigation
Featured Article
Mario Kart DS is a 2005 racing video game released for the Nintendo DS. It is a direct follow-up to the 2003 Nintendo GameCube game, Mario Kart: Double Dash!!, though it returns to the traditional single-driver kart racing elements. It is the first entry in the series to include Retro Tracks, single-player VS and Battle modes, and formerly online play. It is also the only entry in the series to include Missions Mode, a custom emblem maker and to have R.O.B. as a playable racer.
(Read more...)



Reviews
Date:11/04/19 Rating: 8/10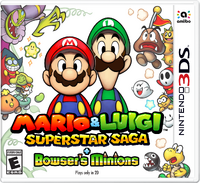 Mario & Luigi: Superstar Saga + Bowser's Minions is the 3DS remake of the 2003 original game on GBA! Without any further ado, let's get started!
The GBA classic reborn now runs at an immaculate 60 FPS all the way through! It has a save feature to save whenever you want and not just at a certain point, and the Simultaneous Jump uses the X button. Although they're still using Dream Team's art style, it makes the use of 3D models more convincing despite the lack of 3D. Still, the models are just not the same.
Minion Quest shows the other side of what happened during the adventure, and although it can get too passive at times, the fanbase of this side story is the best part of the game.
Past reviews... Super Mario Run... Mario Party DS... Mario Party 9...
Did You Know?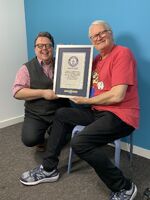 Reminders
Read more rules at the rules page.
Please do not bite newcomers. We must all make newcomers feel welcome here!
Please do not plagerize content from other wikis. While it is legal, we still have to write our own articles.
Don't bully or harass other users.
Don't upload off topic photos to gallaries, you can add them on your page.
There are many articles on the wiki that either lack information, have broken links, missing infoboxes and images and are unorganised. Please help with editing articles and always remember, MarioWiki is not a forum hosting site!
Welcome new users! We are an ever growing community, and new users need to feel welcomed!
Helping out
You can help out the wiki by checking those pages and editing them.