Chain Chomps were supposed to debut in The Legend of Zelda series, but ended up to debut in the Mario franchise. The Bow-Wow was based off the Chain Chomp to appear in the Zelda games.

May 14, 2019

LuigiMaster41 is promoted as an administrator while CoolKarim has retired.

April 26, 2019

Derekblue1 is promoted as a bureaucrat! There is a new page for walkthroughs.

April 17, 2019

Super Smash Bros. Ultimate has updated to Patch 3.0.0.

March 14, 2019

Captain Toad: Treasure Tracker has updated to the Patch 1.2.0.

February 22, 2019

The WAM log has been added by Derekblue1 and has been fixed.

February 13, 2019

Super Mario Maker 2 has been confirmed by Nintendo.

January 11, 2019

New Super Mario Bros. U Deluxe and Mario & Luigi: Bowser's Inside Story was released worldwide.

Which is the hardest Snifit or Whiffit challenge in Paper Mario: Color Splash?
Poll created and suggested by Derekblue1, make sure to request one and your poll could be picked! (polls are picked once a month)
Also, suggest a poll!
See previous poll results here!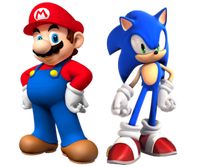 Language Wikis
The English Mario Wiki has other websites in different languages:
If you want to add some wikis to the directory, we will be happy to do so.
This template is shared with the other wikis as well.