This article is about Nintendo's mascot.You may be looking for Mario (series).You can also go to the disambiguation page, Mario (disambiguation).
"It's-a me, Mario!"
― Mario, Super Mario 64
Mario (マリオ Mario?) (originally called Mr. Video[1] and Jumpman and also called Super Mario or Mario Mario) is a former[5] plumber[3] who resides in Mushroom Kingdom. Mario also sometimes rules his own land, Mario Land.[6] Mario and his brother, Luigi used to live in Brooklyn as plumbers.
Mario is the overall protagonist of the long-running and highly successful Super Nintendo video game franchise series with the same name. Shigeru Miyamoto created Mario, who was based off Popeye. Mario mainly fulfills the role of rescuing Princess Peach from Bowser, the ever-persistent King of the Koopas, in Super Mario games, while in Super Princess Peach, the role is reversed for Mario and Peach, Bowser kidnaps Mario and Peach rescues him.
Profile
Physical description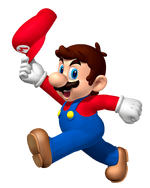 Mario is a twenty-five year old[7] Italian[4] human. Mario has fair skin, is short and stocky in stature, and is a bit portly. He has bright blue eyes, a big nose and a thick dark-brown mustache with six bumps. Mario has short brown hair with two sideburns, three large bangs pointing upwards, four short bangs point upward the back of his neck and a sprout-shaped cowlick.
He wears a red shirt and blue overalls with yellow buttons. He wears a red cap that has the "M" symbol for his name and wears white gloves and brown shoes.
Prior to Super Mario Sunshine, he wore a long-sleeved shirt (In Super Mario Sunshine he wore a short sleeved shirt). In the arcade version of Donkey Kong, He had a blue mustache, hair, and overalls, a red cap and shirt. In Mario Bros.'s arcade version, He had a brown mustache and hair. He wore a red shirt, a blue cap, and overalls. In Super Mario Bros., He had beige eyes, mustache, and shirt, red cap and overalls. In Super Mario Bros. 3, He wore the red cap and shirt, and black overalls.
Personality traits
Mario is known for being kind, cheerful, playful, courageous, and headstrong and is also eager and cocky in certain occasions. Officially, however, Nintendo producers have stated that Mario's biography is kept simple in order to make the character versatile and reusable in many different games and situations. As such, Mario is considered one of the most underdeveloped characters in the Mario series; in contrast, his brother, Luigi, has gained more of a personality over the years. In most media and some games, though, Mario is depicted as an Italian plumber from Brooklyn who stands for what is right and has a love for Italian food. Mario has proven himself to be a competent fighter, all-around sports player, and party lover in Mario spin-off titles.
Mario shows generally good sportsmanship, even complimenting his opponents, as shown in instances like Mario Kart 8 and Fortune Street, as well as smiling if he loses in Super Smash Bros. Ultimate. However, in other spin-offs, he is usually sad after a loss and sometimes sobs. For example, in Mario Kart 64, if he does not place on the podium, he is shown wiping a tear. In Mario Golf: Toadstool Tour, if he attains a Double Bogey, he throws a small fit. Finally, it has been said that Mario loves animals, especially the most unusual ones, and he also enjoys music, particularly opera or new-wave Europop, although there is no further comment for these statements. Mario Strikers Charged gives Mario a rock-n'-roll theme for his entrance and scoring animations and an orchestrated theme for his Super Ability. It is revealed that Mario can play the piano, guitar, synthesizer, timpani, xylophone, saxophone, and trumpet.
Mario has been shown on various occasions to have an almost overbearing attitude towards his brother, as displayed by certain cutscenes in Mario Power Tennis; this is shown most often in Super Mario-Kun. However, this could also just be Mario's outgoing "big brother" personality interacting with Luigi's more introverted nature. Additionally, Mario is much more impulsive and aggressive than his brother, Luigi, and is willing to enter dangerous situations all alone. In Super Mario RPG: Legend of the Seven Stars, Mallow even had to physically restrain Mario from brawling several times, such as before the battle with Bowyer, so that the heroes could figure out what exactly was happening to their world.
Mario has occasionally shown aggressive or vulgar tendencies throughout his appearances, albeit in a lighthearted and comic-relief manner; a notable exception is in Super Mario Momotarō, when Mario is shown holding a gun and aiming at Bowser, albeit to intimidate him. In Super Mario-Kun, Mario is short-tempered and resorts to yelling at his friends for failing or taking uncalled-for actions; Mario himself is not above certain vulgar actions, such as farting to taunt his opponents or urinating on Yoshi, and he also cross-dresses several times. The title itself and the art style of the Super Mario-Kun manga also depict Mario with a childish personality. "Kun" is a generally masculine Japanese honorific for juniors such as boys or teenagers.
In a virtual magazine for the Japan-exclusive Satellaview, his vulgar and aggressive tendencies are exaggerated for the purpose of adult-oriented humor. Mario is shown smoking a cigarette and abusing his friends and love interest; he abuses Toad in particular often due to the latter's own perverse behavior in the magazine (or else for no reason at all), stomps on both Toad and Peach repeatedly for having oral sex behind Mario's back, and kills the former character with a gun.
The Super Smash Bros. series makes Mario a much more serious character in comparison to his typical playful depiction, whereas his younger brother is made into somewhat of a "comical and childish, yet depressive" character. This is evident in Mario's actions, since all of his attacks are "straightforward and serious," while his brother looks unwilling, hesitant, or too drowsy to be on the offense. Mario also keeps a straight face or firm expression when battling, unlike Luigi. Mario's other facial expressions are not wild or gloomy like his brother's, since he will appropriately smile during his side taunt and victory poses; appear surprised or shocked when grabbed, pummeled, or launched; or appear angry when hanging on to ledges or attacking. However, Mario's personality does not change drastically, since he is still a person who values fairness. This is evident in his losing animation, where he claps for his opponent with a smile. In The Subspace Emissary, Mario assumes a leadership role, since he makes it his job to unite the playable roster of Brawl to combat the evil Tabuu and the Subspace Army. Mario is friendly, since he is able to bond with most characters, including Kirby and Pit, and is very happy to cooperate with them. However, one of Mario's aggressive tendencies arises, where he and Pit witness Link and Yoshi defeating the False Peach (thinking she is the real Peach), and Mario decides to fight them. In Super Smash Bros. Ultimate, Mario is more whimsical and lighthearted during battle. One of his new taunts has him flash a thumbs-up.
Mario seems to have a fixation with food. This is most notably seen in the DiC cartoon trilogy, which may also be the origin of this trait, where Mario is almost constantly hungry and fascinated with Italian food (mostly pizza and pasta), typically wanting to stop Bowser's latest scheme simply so he can eat and going to nearly any length to do so. In fact, in the The Super Mario Bros. Super Show! episode "Koopenstein," when Princess Peach asked him if he ever thought about anything besides food, Mario, with pure honesty, replied, "What else is there?" As in Super Mario 64 and its remake, the original reason Mario came to the castle is that Peach was baking him a cake, which becomes a recurring trend in future games, such as Super Mario Galaxy 2 and New Super Mario Bros. Wii, although Mario, as well as his friends, has also fallen for false invitations to a big feast, shown in Mario Party DS. Mario also dreams of pasta when he falls asleep in Super Mario 64, in Super Mario Odyssey, and in the Game Over screen of Mario vs. Donkey Kong. In the opening of Super Mario Sunshine, Mario is apparently daydreaming about seafood. In Fortune Street, he offers Yoshi to help by finding Yoshi's cookies but before playfully saying, "Just give me a second to brush these cookie crumbs out of my mustache!" Quite a few characters in other games also advised Mario to refrain from eating much. For instance, when Mario holds on to Hoot for too long, Hoot may complain about Mario's eating habits before getting exhausted and letting him go. Additionally, the Star Gate from Mario & Luigi: Partners in Time, while praising Mario for his pure heart, has criticized his diet, advising him to limit the Alfredo sauce and carbonara in tandem with more exercising.
Powers and abilities
Powers
Superhuman Strength - Mario can lift and press objects that are several times his weight. The exact upper limits of his strength are unknown, but in Super Mario World, Mario can easily lift a castle, as shown after defeating Larry Koopa. In Super Mario 64, Mario is shown to lift King Bob-omb. He demonstrates his skill when fighting against Bowser.
Superhuman Leap and Jumping - Mario's strength also extends to his legs, allowing him to perform his signature jumping. Mario is extremely good at jumping and is capable of leaping two stories high.
Superhuman Durability - Mario can endure great impacts, such as falling from a height of several stories or being struck by an opponent with superhuman strength. Mario can also endure extreme environments, such as volcanoes and tundras. Also, he can withstand fire, electricity, and ice.
Superhuman Stamina - Mario can maintain continuous physical activity for an indefinite time.
Superhuman Speed - Mario is capable of running up walls in Super Mario World, and is capable of outpacing sound in Super Paper Mario. Koopa the Quick has referred to Mario as a "human blur".
Superhuman Reflexes and Agility - Mario has shown himself time and time again to be very agile and nimble. This power allowed him to survive many dangerous situations that would kill a normal human.
Enhanced/Master Combatant - Mario has his fighting style as shown in Super Mario RPG: Legend of the Seven Stars.
Indomitable Will - Mario is shown to have a powerful force of will, completely free of evil or temptation.
Weapon Proficiency - Despite not usually using guns, Mario has shown that he is very skilled with weapons. In Yoshi's Safari, Mario has shown he is competent and skilled with guns.
Expert Vehicular Driver - As shown in the Mario Kart series, Mario is skilled in driving vehicles, such as karts and motorbikes. As shown on Mario and Sonic at the Olympics series, Mario is good in all-around type.
Dimension Flipping - In Super Paper Mario, Mario can flip 3D after Bestovius grants the ability, but he will slowly lose a life if he stays 3D too long.
Pyrokinesis - Mario can create and manipulate fire. This ability changes throughout the games he has appeared. In the platform games, such as Super Mario Bros., Mario needs a Fire Flower to obtain this power. But in the RPGs, Super Smash Bros. series, and some of the sports titles, Mario already has this ability. Also, in the Super Smash Bros. series, Mario uses the Mario Finale, in which he unleashes a powerful blast of fire. In spinoffs, Mario is always associated with the element of fire.
Supernatural Survivability - Mario constantly died in his games. Despite dying from hard injuries, Mario cheated death and returned to where he had left off.
Abilities
Leadership - Mario has proven to be a capable leader, inspiring others with his charisma, ardor, and idealism.
Olympic Competitor - As shown on Mario and Sonic at the Olympics series, Mario is good at all-around type.
Relationships
Alter-egos
Mario can appear in different forms when he uses a power-up. Power-ups grant special abilities to Mario; making his adventures simple. He works as a doctor, referred to as Dr. Mario. In the Super Smash Bros. series, Mario and Dr. Mario are separate characters.
Occupations
Mario and Luigi were plumbers in Brooklyn before they resided in the Mushroom Kingdom. However, Mario and his brother retained their plumbling talents; they fixed the Beanbean Castle Sewers in Mario & Luigi: Superstar Saga and fixed a clear pipe in Super Mario 3D World.
Mario works as an unlicensed doctor.[8] Dr. Mario aims to heal patients and defeat viruses. Dr. Mario randomly throws medication to treat virus.[9]
In Super Mario Maker series, Mario is a builder.
Biography
Spoiler warning
:
This article or section contains spoilers you are reading at your own risk. Plot and/or ending details follow.
(
Skip this section
)
Early life
The Stork was carrying Mario and Luigi. Kamek snatched Baby Luigi and the Stork with Mario falling onto Yoshi. Yoshi and his travel companions work together to help Mario save Luigi while the Toadies attempt to chase them.[10] After the defeat of Baby Bowser, Mario reunited with Luigi and Yoshi freed the stork. The stork continued carrying Mario and Luigi to the parents' home and leaves Mario and Luigi by the porch.
Donkey Kong
Donkey Kong the First (now Cranky Kong in the modern day, with his grandson taking up the mantle) had kidnapped Pauline onto a dangerous construction site.[11] Donkey Kong taunted and teased Mario until the plucky plumber/carpenter defeated Donkey Kong, and rescued Pauline. In order to make sure nothing like that happened ever again, Mario put Donkey Kong inside a cage. He then prevented Donkey Kong Jr. from rescuing Donkey Kong, but Donkey Kong Jr. caught up with Mario, releasing his father in the process.
Plumbers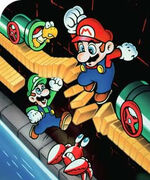 Mario and Luigi meet each other again, the first documented time since their childhood. They worked as plumbers inside the sewers of New York.[12]
Mushroom Kingdom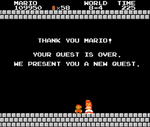 Mario and Luigi heard about Bowser summoning dark magic into the Mushroom World turning Toads into inanimate objects, Princess Peach was also kidnapped by Bowser so that she cannot undo the spell. Mario defeated Bowser and rescued Peach, who assigned him a new quest.[13]
Exploring Subcon
Mario had a strange dream. He saw a staircase leading to a doorway. Mario fell into another world, Subcon. A faint voice told Mario that Wart kidnapped the citizens of Subcon. The voice said that Wart placed a curse on the world, however, the curse will not affect Mario and his friends. The voice hinted Mario that Wart hates vegetables.[14]
Mario woke up from his dream and told Peach, Luigi, and Toad about his strange dream. The group decided to go to the nearby mountain for a picnic. They enjoyed looking at the scenery until they spot a small cave. Mario, Luigi, Peach, and Toad curiously approached the cave finding a long staircase leading to the door. As they opened the door, they fell into Subcon, the land of dreams.[14] Mario remembered the advice from the voice from his dream, Wart hates vegetables. Mario confronted Wart and defeated him with vegetables. He saved the Subcons. Mario, Luigi, Toad, Peach, and the Subcons celebrate their rescue from Wart's evil spell.
Koopalings' invasion
Mario, Luigi, Toad, and Peach learned that Bowser sent his children called Koopalings to Mushroom World to make mischief. The seven Koopalings stole the seven wands from the seven kings of the seven lands and transformed them into animals. Peach and Toad said goodbye to Mario and Luigi, wishing them luck as the two brothers set off on their journey. Peach sent letters to help Mario and Luigi and enclosed jewels. Mario defeated six Koopalings and saved the six kings. After Mario rescued the Pipe Land King from the last Koopaling, Ludwig von Koopa, Mario received a letter from Bowser who had kidnapped Peach when the Brothers were away, and taken her to the Dark Land. Mario ran to Bowser's castle and confronted him. Mario defeated Bowser and saved Peach.
Yoshi's Island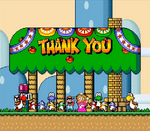 Mario, Luigi, and Peach agreed to have a vacation on Yoshi's Island. Mario and Luigi relaxed on the beach. They realized Princess Toadstool disappeared. Mario and Luigi search for her until they approached an enormous egg, a Yoshi Egg. Yoshi thanked Mario and Luigi for rescuing him. He told Mario and Luigi that "monstrous turtles" sealed his friends inside eggs. Luigi realized Bowser and the Koopalings returned.[15] Mario, Luigi, and Yoshi eventually arrived in the Valley of Bowser. Mario and Luigi fought against Bowser and rescued Peach. Mario, Luigi, Peach, Yoshi, and the eggs traveled back to Yoshi's Island. The Yoshis hatched from the eggs.
Sarasaland
Tatanga brainwashed the people of Sarasaland and conquered the entire land. He kidnapped Daisy, and plotted to marry her, and for her to be his queen. When Mario learned of this incident, he traveled as fast as he could through the four kingdoms and fought Tatanga. Upon his defeat, Mario rescued Daisy, and the people were free from Tatanga's control.[16]
Mario Land
While Mario was rescuing Sarasaland and Daisy, Wario conquered Mario Land and his castle and brainwashed the citizens. Wario scatters the six coins in Mario Land.[6] Mario was determined to take down Wario. After Mario collected the six coins from different areas, Mario proceeded to enter Wario's castle. Mario confronted Wario and defeated him. Wario surrendered and Mario conquered his own castle.
Warp Paintings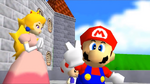 Peach sent an invitation to Mario, mentioning that he is invited to eat cake. Mario headed to Peach's Castle. Upon entering, Mario heard Bowser speaking and learned Bowser held Peach and the Toads captive in paintings.[17] Mario entered different paintings and gathered scattered Power Stars. After saving the Toads, he collected enough Power Stars to enter Bowser's third and final lair, and faced the Koopa King in combat and ended his terrible reign. Princess Peach was saved, and she thanked him with a kiss and baked him a cake.
Isle Delfino
Upon arriving on Isle Delfino, inhabitants branded Mario as a criminal. An impersonator of Mario, Shadow Mario, was vandalizing Isle Delfino with goop. Mario denied that he vandalized the island. Security forced Mario to clean the goop and return the Shine Sprites to the Shine Gate.[18] Mario started cleaning up the isle and found out Bowser Jr. was the impersonator. He kidnapped Princess Peach and took her to the Corona Mountain. After Mario defeated Bowser Jr., he flooded Delfino Square. Mario went to Corona Mountain and found Bowser and son, bathing in a tub of hot slime goop. When Mario flipped the tub upside down, Bowser and Bowser Jr. fell onto an isolated island, saving Isle Delfino. Mario, Peach, and F.L.U.D.D. landed onto the beach. Inhabitants apologized for accusing Mario. Mario continued enjoying his vacation.
Vibe Island
Bowser ordered his minions to kidnap Mario, Luigi, and the Toads in Peach's castle while Princess Peach, Toadsworth, and Toad were strolling in the Mushroom Kingdom. Army Hammer Bro held Mario captive in the cage. Upon Peach, Toadsworth, and Toad's arrival, they witnessed Toads with different emotions and found out Bowser kidnapped the target victims. Peach was determined to rescue the brothers and Toads. Toadsworth gave Peach an extraordinary talking umbrella named Perry. Peach and Perry headed off to Vibe Island.[19] After rescuing Toads and Luigi, the duo went to Bowser's villa and confronted Army Hammer Bro and Bowser. Defeating both of them, Perry freed Mario. Peach, Perry, Toads, Mario, and Luigi left the island and returned to the Mushroom Kingdom.
Galaxy Reactor
Mario was sent a letter by Peach inviting him to celebrate the Star Festival, telling him there was something she wanted to give him. Unable to resist, Mario immediately left for the castle. However, Bowser and the Koopa Troop once again attack, lifting Peach's Castle into space via a huge spaceship, seemingly of alien origin, when Mario was about to get in. He is blasted into space by Kamek before he reaches Peach and is left for dead. He is found by the Lumas, who make him play a game of tag before explaining what is going on to him. Mario also meets the Luma's "mother" Rosalina, who agrees to help him fight Bowser and rescue Peach, whom she calls Mario's "special one". She reveals that Bowser attacked her Comet Observatory and stole all their Power Stars, leaving the Observatory in a state of darkness. Mario, being paired with a Luma that gives him a powerful spin attack, is tasked with getting all of the stars to get the ship moving. Along the way, he meets several monsters, other weird characters (including a cosmic doppelgänger), and meets up with a ragtag group of Toads and his brother Luigi. After successfully getting the Power Stars, the Observatory is able to get moving to Bowser's galaxy reactor where Bowser plans to create his own galaxy and rule "every pitiful corner of the universe". The two enemies fight in a massive battle (fittingly named "The Fate of the Universe"), and Mario wins, sending Bowser plummeting into the sun, saving Peach and taking his Grand Star. However, without the grand star powering up the sun, it causes an explosion leading to a massive black hole that pulls in everything and kills nearly everyone in its vicinity. All of the Lumas, including the one who accompanied Mario throughout his journey, are forced to sacrifice themselves to contain the black hole and recreate the universe, but not before the Luma waves goodbye to the plumber. After the massive explosion, Mario is protected by Rosalina, being the only one who survived it. She tells him that new baby stars are being born as a result. Afterward, Mario wakes up in the Mushroom Kingdom, only it is now a combination of all the worlds he visited. Additionally, everyone survived the black hole, though several of them do not remember anything.
Galaxy Generator
Peach invited Mario to her castle for the cake.[20] When Mario arrived, Bowser, who had grown to massive proportions, kidnapped Peach and took her away to the center of the universe. Mario, after another long space journey, defeated Bowser's Galaxy Generator. Peach then appeared with the Grand Star and landed on the garden planet with Mario. The Comet Observatory was then set free from Bowser's fortress, and Rosalina was pleased to know that Luma is safe. Luma also takes Mario's cap as a souvenir. Mario and Peach rode on Starship Mario and returned to the Mushroom Kingdom.
Sprixie Kingdom
Mario, Luigi, Peach, and Blue Toad were enjoying the fireworks on a walk one peaceful night in the Mushroom Kingdom. On their path, they found a slanted Clear Pipe. After Mario and Luigi used their plumbing skills to fix the pipe, a green Sprixie Princess escaped in a panic, and told them that she escaped Bowser, but he kidnapped the other Sprixie Princesses. Bowser came out of the pipe and trapped the green Sprixie Princess in the jar and went to the plains area. Peach checked for Bowser inside the pipe but fell into the pipe. Mario and company caught up to her and fell into the plains area where they found the green Sprixie Princess trapped inside a jar.
After Mario and the others rescued the green Sprixie Princess, they continued to save more Sprixie Princesses in other areas. Rescuing the last Sprixie Princess, Bowser kidnapped all the Sprixie Princesses in a large jar and ran to the amusement area.
The foursome rescued the Sprixie Princesses again from Bowser as Meowser. Bowser was trapped in the jar as Mario, Luigi, Peach, and Toad returned to the Mushroom Kingdom.
Cap Kingdom
Mario discovered much to his dismay that Peach was once again kidnapped by Bowser. This time, however, Bowser did not do it to spite Mario; instead, he planned on forcing Peach to marry him. Furious, Mario intercepted the Koopa King in his sparsely-decorated airship but was quickly defeated thanks to Bowser's large mechanical hat outfitted with boxing gloves. Knocking Mario off the airship with extreme force, Bowser mocked the plumber and destroyed his beloved red cap.
Crashing into the Cap Kingdom, Mario met a sentient hat ghost named Cappy, who revealed he was also chasing Bowser. Apparently, Bowser had recently attacked the kingdom (wrecking several of the local Bonneter's airships) and took his sister Tiara, using her as Peach's new headwear for the wedding. Realizing they share a common goal, Cappy offers to work with Mario, using what remained of Mario's cap to transform into it. This gave Mario the ability to throw Cappy and make him come back like a boomerang, as well as the "CAPture" ability, allowing the plumber to take control of living creatures and inanimate objects. After defeating the Broodals, Bowser's newest minions, and making their way to the Cascade Kingdom, they discover an old airship known as the Odyssey and empower it using Power Moons, allowing them to travel to new kingdoms.
Despite all his new abilities at his disposal, Mario fails to prevent Bowser from escaping to other kingdoms and taking each kingdom's precious artifacts, such as the Lake Kingdom's Lochlady Dress. After numerous run-ins with the Broodals and other monsters, Mario and Cappy confront Bowser in his kingdom and find out that Bowser plans not to marry Peach on his kingdom, but literally on the Moon. He smacks the two away with his mechanical hat and leaves them at the mercy of the Broodals, who came back with a gigantic robot dubbed "RoboBrood". After destroying the robot, the two make their way to the moon. Cappy gives Mario a flashy new tuxedo before arriving at Bowser and Peach's wedding.
Intercepting the "royal wedding", Mario finally defeats Bowser and frees Peach, only for the platform they were standing on to fall away, causing them to fall to the Underground Moon Caverns. With no other way to escape, Mario is forced to use Cappy to hijack Bowser's body, using the Koopa King's brute strength to get himself and everyone else out of the caverns, conveniently landing next to the Odyssey. After reuniting Cappy and Tiara, Mario attempts to propose to Peach, but the now-conscious Bowser ruins everything by smacking him out of the way and proposing himself. Outraged, the two fight over their proposals, but Peach, angered at their immaturity, refuses both advances, leading to Bowser crying and the equally sad Mario having to comfort him. Peach then calls them to come back home on the Odyssey with Cappy and Tiara. However, only Mario makes it to the ship, kicking Bowser away and stranding him on the moon.
Returning to the Mushroom Kingdom, Mario and Cappy continue looking for Power Moons. After grabbing numerous Power Moons, visiting Peach and Tiara in other kingdoms (they apparently wanted to visit said kingdom on their own terms), fighting the Broodals again (they are mad at the plumber for driving them out of a job), and fighting a harder version of Bowser in the Moon Kingdom, they are able to fully power up the Odyssey. After that, Mario, along with everyone else, takes a photo in front of Peach's Castle and gets a replacement cap from Cappy.
Spoiler warning: Plot and/or ending details ends here.
Appearances
Chronology
Statistics
Mario + Rabbids Kingdom Battle
Mario

Description
Mario's offensive talents make him a natural choice to lead the charge in battle. He is a mid-to-close range fighter will excellent mobility.
Health Points
Area of Movement
Pipe Exit Range
320
7 Cells
3 Cells
Starting skills and upgrades
Primary Movement
Secondary Movement
20 Damage
6 Cells
Primary Weapon
Secondary Weapon
Blaster
Melee
Primary Technique
Secondary Technique
Hero Sight
M-Power
Mario Kart series
Mario Kart: Super Circuit
Mario
Biography
"Mario is a well-balanced driver with equal Speed and Weight attributes. He's a great choice for beginning drivers looking to get a feel for the road."
Mario Kart: Double Dash!!
Mario

Availability: Standard
Biographies
Bio1
You know him, you love him – the one and only Mario! He's returned to the Grand Prix with Fireballs in hand.
Bio2
What's that red and blue streak that just went zooming by? It's Mario, of course. Don't get too close, or you'll end up eating more than just his dust.
Mario Kart DS
Mario

Availability: Standard

Biographies
"Mario is a tried and true veteran behind the wheel. With a balance of abilities, he is a racer suited to all situations."
"He lent his name to the sport, so it's no surprise that Mario has been at the forefront of the karting scene since it began in 1993. He is the perfect all-rounder; his karts representing the best balance of top speed, acceleration, weight and handling."
Guide
"Mario is familiar to racers one and all. With a balance of abilities, he is a racer suited to all situations."
Mario Kart Wii
Mario

Availability: Standard

| | |
| --- | --- |
| Class | Medium |
| Weight | +2 |
| Acceleration | +1 |
| Handling | +1 |
| Drift | +1 |

Biographies
Website
"Make 'em eat dirt.. bike! As Mario, every stadium is your personal playground!"
"The Star. The Legend. The man himself. You think Mario's a good racer? His name is on the game!"
Guide
"Mario is familiar to racers one and all. He rides both karts and bikes with ease!"
Mario Kart 7
Mario

Availability: Standard
Class
Medium
Stat Boosts
Speed
3.5
Acceleration
3
Weight
3.25
Handling
2.75
Off-Road
3.75

Rival Order

Note: At the end of the race, the results show the order which CPU drivers finish the race when playing Mario. If Metal Mario is not unlocked yet, Peach will replace Metal Mario. Otherwise, Peach is his third rival.

Biographies
Website
"The Mushroom Kingdom's famous mustachioed hero is an excellent all-around racer."
"Mario balances acceleration and top speed, making him an easy character to race with."
Guide
"With his well-rounded characteristics, Mario sets the standard for kart racers!"
Mario Kart 8

/

Mario Kart 8 Deluxe
Mario

Availability: Standard

Class
Middleweight
Stat Boosts
Ground speed
3.75
Water speed
4.25
Air speed
3.75
Anti-gravity speed
4
Acceleration
2.5
Weight
3.75
Ground handling
3.25
Water handling
3.25
Air handling
3
Anti-gravity handling
3.5
Traction
3.75
Mini-Turbo
3.35

Rival Order


Note: At the end of the race, the results show the order which CPU drivers finish the race when playing Mario.

Biography
Mario sets the example for all Medium-class racers. While the stats say he doesn't excel in any given category, it also means his weaknesses are not particularly harmful. Like all Medium-class racers, you can make up for his deficiencies quite easily with the right parts!
Mario Kart Tour
Mario

Rarity: Super

Special Skill

Fire Flower
Let's you throw three fireballs. Spin out your opponents while you burn up the track.

Favored courses
3 items per box
•Koopa Troopa Beach
•Mario Circuit 1
•Cheep Cheep Lagoon
2 items per box
•Koopa Troopa Beach R
•Yoshi Circuit
•Yoshi Circuit R
•Mario Circuit 1R
•Shy Guy Bazaar R
Mario (Musician)

Rarity: Medium

Special Skill

Double Bob-ombs
Gives you two Bob-ombs you can hurl at once. Engulf your opponents in a mighty blast!

Favored courses
3 items per box
•Koopa Troopa Beach
•Mario Circuit 1
•Cheep Cheep Lagoon
2 items per box
•Koopa Troopa Beach R
•Yoshi Circuit
•Yoshi Circuit R
•Mario Circuit 1R
•Shy Guy Bazaar R
Mario (Classic)

Rarity: High-End

Special Skill

Triple Mushrooms
Gives you three Mushrooms to use in one go for a long-lasting boost.

Favored courses
3 items per box
RMX Mario Circuit 1T


Mario Circuit 1
RMX Mario Circuit 1R
Mario Circuit 2R/T
Mario Circuit 2
London Loop T
Mario Circuit 2T
London Loop R/T
RMX Mario Circuit 1R/T
Mario Circuit 2R (Lv 3)
Vanilla Lake 1 (Lv 3)
Mario Circuit 3 (Lv 6)
Donut Plains 1T (Lv 6)

2 items per box
Mario Circuit 1R/T


Mario Circuit 3T
Mario Circuit 3
Donut Plains 1
London Loop
Donut Plains 1T
London Loop R
Mario Circuit 2R
Mario Circuit 3R/T
London Loop 2
London Loop 2T
Kalimari Desert R/T
Vanilla Lake 1
TVanilla Lake 1T
Donut Plains 1R/T
Koopa Troopa Beach 2
Template:MKTcharacter/Builder Mario
Template:MKTcharacter/Ice Mario
Template:MKTcharacter/Metal Mario
Mario Party series
Mario Party 4
Mario

| | |
| --- | --- |
| Description | Mario's always been an all-around guy. Just watch out when he gets a Mega Mushroom – he really starts cruisin'! |

Mario's Room
Mario's TV
This is Mario's television. It rarely works, but he rarely uses it!
Defeat Toad in Story Mode with Mario
Mario's Table
This is Mario's table. It's very cute and round, just like Mario!
Defeat Goomba in Story Mode with Mario
Mario's Sofa
This is Mario's sofa. He folds it out into a bed when guests come.
Defeat Shy Guy in Story Mode with Mario
Mario's Fridge
This is Mario's refrigerator. There's always leftover pasta inside.
Defeat Boo in Story Mode with Mario
Mario Doll
This is a Mario doll. He's everyone's favorite hero. Even Luigi's!
Defeat Koopa in Story Mode with Mario
Bowser Vase
This is a Bowser vase. Flowers always seem to wilt the moment they go in.
Defeat Bowser in Story Mode with Mario
Constellation
Super Smash Bros. series
Super Smash Bros. Ultimate
Mario

Super Smash Blog description
Mario is an all-around fighter who uses his wide variety of techniques to respond to any situation. In Super Smash Bros. Ultimate, he shows up in his Wedding tux and his Builder outfit, and Cappy even makes an appearance!

| | |
| --- | --- |
| VS. Matches | Automatically available at the start. |
| Classic Mode | Automatically available at the start. |
| World of Light | Have Mario to join your party. |
Behind the scenes
Creation and development
Shigeru Miyamoto was developing a video game called Donkey Kong. Nintendo had to draw Mario as a small character and look human. His developing team needed to draw Mario with distinctive features.[21] Mario was based off Popeye. Fans mistook the gap between his nose and mouth was his mustache.[22] Shigeru Miyamoto drew Mario's mustache that he did not need to draw the mouth.[21]
Etymology
Mario is an Italian name from the Old Latin name, Marius. The name connects to Mars, the god of war in Roman mythology.
Portrayal
Real-world influences
Cultural impact
Mario is a famous character in Japan. People dress up as Mario characters and race in go-karts.
There was a family-owned restaurant nearby Nintendo of America called "Mario and Luigi's." "Mario" and "Luigi" was represented with their respective colors. During the Olympic Games Rio 2016, the Prime Minister of Japan Shinzo Abe dressed up as Mario in the Summer Olympics in Rio de Janeiro.[23]
Mario has appeared on Death Battle! where he fought Sonic and lost and he fought him in a rematch but this time Mario regained triumph due to his Power, Durability, and Arsenal.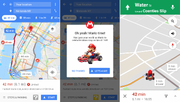 Mario made his appearance in Google Maps to celebrate Mario Day.[24] Mario riding on a Pipe Frame replaces the navigation arrow.
Puppet Mario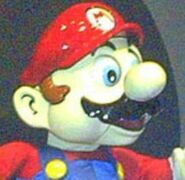 During E3 1996, E3 1997, MLB All Stars 1997, E3 1998 and E3 2001, Mario appeared as a puppet. First we look at how the puppet was made. |Late 1995 - Early 1996| The Nintendo puppet was being made at the time. They asked Michael Curry Design to make the puppets. So they made em'. The Body was made the easiest part it had fabric. [25]
Reception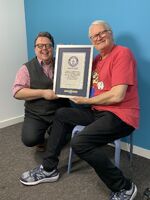 Game Savvy ranked Mario as #4 on the "Our 50 Favorite Video Game Characters" blog.[26] Mario was ranked #1 as the best video game character in Nintendo Power's 250th issue.
Charles Martinet, the voice actor of Mario, held the for most video game voiceover performances as the same character for 100 times.[27]
Willow Green ranked Mario as #2 on "The 50 Greatest Characters", considering Mario as "the most recognisable gaming hero of all time".[28]
Trivia
Mario makes more playable appearances than any other character in video game history.
According to the team name Super Mario Bros., many among the fanbase had inferred that Mario and Luigi's last names were "Mario." Miyamoto states that this information is untrue before eventually going along with it, thus making "Mario" the brothers' canon surnames.
In the classic games and in the DIC cartoons, Mario's attire consisted of a blue shirt with red overalls; this color scheme would later be inverted. However, the classic blue shirt and red overalls color scheme appears in a number of games as an alternate costume.

Strangely enough, said color scheme is not available in Super Smash Bros. 4 or Ultimate.

Mario has always had his signature Cap, ever since he was a baby.
Mario used to have a very low New York voice.
Mario is one of the Nintendo characters who talks in sentences.

In the Mario and Luigi series, neither Mario or Luigi talk with speech bubbles.

Mario's name before Jumpman was supposed to be Mr. Video.
Mario, along with Luigi, were intended to have cameo appearances in the 2012 Disney film, Wreck-It Ralph, but Bowser made an appearance instead. But since the producers of the movie were unable to put him into the plot, and they did not want to make him make a cameo, he was not included. However, Mario is mentioned by Fix-It Felix Jr. during the party scene as being "fashionably late as usual." The director had promised that he will return for Wreck-It-Ralph 2, but again he does not.[29]
In the first appearance from Donkey Kong in 1981, Jumpman was a carpenter. Then in his own game as Mario in 1983, he appears as a plumber throughout the rest of the Super Mario series.
In a 1993 Nintendo Character Guide, created to ensure that third party companies did not misrepresent the characters, Mario is revealed to be of the species "Homo Nintendonus."
Through Mario's career, he was a rival of Sonic the Hedgehog from Sega. Their rivalry may have been the "cause of the Console Wars".

Despite Nintendo being victorious, Sonic and Mario having been to the Olympics together since implies that Sega and Nintendo made up after the long battle.

Mario was planned to be the character in Wii Sports and Splatoon's development but was scrapped.
Despite people assuming that Mario says "So long, gay Bowser" when throwing Bowser far in Super Mario 64, Charles Martinet has confirmed that Mario is, in fact, saying "So long, king-a Bowser!."[30]
Mario is Nintendo's main mascot, and is one of Nintendo's iconic characters, along with Link from the Legend of Zelda and Pikachu from Pokemon
Gallery
References
↑ 1.0 1.1 Mario Was Almost Called Mr Video. Nintendo Life. Retrieved on 2020-04-29.
↑ Michael McWhertor. Before Mario, Before Jumpman, There Was 'Ossan'. Mario Portal. Retrieved on 2015-14-09.
↑ 3.0 3.1 Nintendo. Mario

(Japanese)

(html). Mario Portal. Retrieved on 2015-14-09. "Cheerful and cheerful, everyone's popular person. My twin brother, Luigi, is a great friend and a great combination. It's a sport-l-can-do, and everything from tennis, baseball, soccer to car racing is cool. He is a plumber by profession. However, the place of the activity does not stay in it. I love Princess Peach, and if Princess Peach is in trouble, I'll go to help her at any time. With your favorite jumps and power-ups, you'll be confronted by Bowser who does bad things."
↑ 4.0 4.1 Brian. Miyamoto explains why Mario is Italian. Nintendo Everything. Retrieved on 2020-04-29.
↑ Andrew Griffin. Mario is no longer a plumber, Nintendo officially says. Independent. Retrieved on 2020-04-29.
↑ Mario is only 24 years old, creator Shigeru Miyamoto says in unearthed interview. Retrieved on 2020-04-29.
↑ Mario's Creators Answer Burning Questions About The Series (aspx). Game Informer. Retrieved on 2020-05-04.
↑ Sora Ltd., Bandai NAMCO. Super Smash Bros. Ultimate. Nintendo. Nintendo Switch. 2018-07-12. Speaker: Viridi. "He's a quack. I hear he treats viruses by randomly throwing medication at them. Doesn't seem very safe."
↑ Super Mario World 2: Yoshi's Island instruction booklet, page 3-6
↑ Donkey Kong instruction booklet, page 2
↑ Mario Bros. instruction booklet, page 2
↑ Super Mario Bros. instruction booklet, page 2
↑ Super Mario World instruction booklet, page 2
↑ Super Mario Land instruction booklet, page 3
↑ Super Mario 64 instruction booklet, page 4-5
↑ Super Mario Sunshine instruction booklet, page 8-9
↑ Super Princess Peach instruction booklet, page 6-7
↑ Super Mario Galaxy instruction booklet, page 4
↑ 21.0 21.1 Shigeru Miyamoto Talk Asia Interview (html). CNN (2007-02-15). Retrieved on 2019-07-11.
↑ Why Does Mario Have A Mustache?. DMACentral (2011-12-09). Retrieved on 2019-07-11.
↑ Abe Emerges as Super Mario at Rio Closing Ceremony (html). The Wall Street Journal (2016-08-22). Retrieved on 2019-07-11.
↑ Munish Dabas (2018-03-09). Putting Mario on the Map. Google. Retrieved on 2020-09-30.
↑ Nintendo's MISSING Animatronic Puppets. YouTube. Retrieved on 2021-01-07.
↑ Our 50 Favorite Video Game Characters. GameDesigning. Retrieved on 2019-07-11.
↑ Willow Green (2011-06-11). The 50 Greatest Video Game Characters. Empire. Retrieved on 2019-07-11.
↑ Screenrant - Real reason why Mario didn't appear in Wreck-It Ralph
↑ "So Long Kinga Bowser!" Charles Martinet Reveals What Mario Says in Super Mario 64. Retrieved on 4-30-2019.
See also
External links
Characters
Playable Characters
Yoshi • Mario • Luigi • Wario
Supporting Characters
Toad • Bob-omb Buddy • Princess Peach • Rabbits
Bosses
King Bob-omb • Whomp King • Goomboss • Bowser#1 • Big Boo • King Boo • Big Bully • Eyerok • Bowser#2 • Chief Chilly • Wiggler • Bowser#3
Enemies
Enemies
Goomba • Koopa Troopa • Chain Chomp • Bob-omb • Piranha Plant • Thwomp • Whomp • Unagi • Cheep Cheep • Bubba • Mr. Blizzard • Amp • Boo • Mr. I • Bookend • Mad Piano • Scuttlebug • Flamethrower • Monty Mole •Snifit • Bully • Klepto • Spindel • Pokey • Sushi • Manta Ray • Bub • Flame Chomp • Kuromame • Spindrift • Chill Bully • Skeeter • Heave Ho • Chuckya • Fly Guy • Grand Goomba
Courses
First Floor
Bob-omb Battlefield • Whomp's Fortress • Jolly Roger Bay • Cool, Cool Mountain • Goomboss Battle • Bowser in the Dark World
Courtyard
Big Boo's Haunt • Big Boo Battle
Basement
Hazy Maze Cave • Lethal Lava Land • Shifting Sand Land • Dire, Dire Docks • Bowser in the Fire Sea
Second Floor
Chief Chilly Challenge • Snowman's Land • Wet-Dry World • Tall, Tall Mountain • Tiny-Huge Island
Third Floor
Tick Tock Clock • Rainbow Ride • Bowser in the Sky
Stars
Bob-omb Battlefield

Big Bob-omb on the the Summit

• Footrace with Koopa the Quick • Shoot to the Island in the Sky (N64) •

5 Silver Stars

(DS) •

Big Bob-omb's Revenge

(DS) •

Find the 8 Red Coins

•

Mario Wings to the Sky

•

Behind Chain Chomp's Gate

(N64)/

Behind Chain-Chomp's Gate

(DS)
Whomp's Fortress

Chip Off Whomp's Block

•

To The Top Of The Fortress

•

Shoot into the Wild Blue

•

Red Coins on the Floating Isle

•

Fall onto the Caged Island

•

Blast Away the Wall

•

Switch Star of the Fortress

(DS)
Jolly Roger Bay

Plunder in the Sunken Ship

•

Can the Eel Come Out to Play?

•

Treasure in the the Ocean Cave

•

Red Coins on the Ship Afloat

•

Blast to the Stone Pillar

•

Through the Jet Stream

•

Switch Star of the Bay

(DS)
Cool, Cool Mountain

Slip Slidin' Away

•

Lil' Penguin Lost

•

Big Penguin Race

•

Frosty Slide for 8 Red Coins

•

Snowman's Lost His Head

•

Wall Kicks Will Work

(N64)/

Mario's Super Wall Kick

(DS) •

Switch Star of Cool, Cool Mountain

(DS)
Big Boo's Haunt

Go on a Ghost Hunt

•

Ride Big Boo's Merry Go Round

•

Secret of the Haunted Books

•

Seek the 8 Red Coins

•

Big Boo's Balcony

•

Eye to Eye in the Secret Room

•

Switch Star of the Basement

Hazy Maze Cave

Swimming Beast in the Cavern

•

Elevate for 8 Red Coins

•

Metal-Head Mario Can Move!

(N64)/

Metal-Head Wario Can Move

(DS) •

Navigating the Toxic Maze

•

A-Maze-Ing Emergency Exit

•

Watch for Rolling Rocks

•

Underground Switch Star

Lethal Lava Land

Boil the Big Bully

•

Bully the Bullies

•

8-Coin Puzzle with 15 Pieces

•

Red-Hot Log Rolling

•

Hot-Foot-it into the Volcano

•

Elevator Tour In the Volcano

(N64)/

Inside the Volcano

•

Flaming Silver Stars

(DS)
Shifting Sand Land

In the Talons of the Big Bird

•

Shining Atop the Pyramid

•

Inside the Ancient Pyramid

•

Stand Tall On the Four Pillars

•

Free Flying For 8 Red Coins

(5th Star, N64) (7th Star, DS) •

Tox Box Switch Star

(DS) •

Pyramid Puzzle

Dire, Dire Docks

Board Bowser's Sub

•

Chests in the Current

•

Pole-Jumping for Red Coins

•

Through the Jet Stream

•

The Manta Ray's Reward

(5th Star, N64) (7th Star, DS) •

Koopa Surfin' Switch Star

(DS) •

Collect the Caps...

(N64)/

Inside the Cage

(DS)
Snowman's Land

Snowman's Big Head

•

Chill with the Bully

•

In the Deep Freeze

(N64) •

Yoshi's Ice Sculpture

(DS) •

Whirl from the Freezing Pond

•

Shell Shreddin' for Red Coins

(N64) •

Snowman's Silver Star

(DS) •

Into the Igloo

•

Red Coins in the House

(DS)
Wet-Dry World

Shocking Arrow Lifts!

•

Top o' the Town

•

Secrets in the Shallows and Sky

(N64)/

5 Secrets in the Shallows and Sky

(DS) •

Express Elevator--Hurry Up!

•

Go to Town for Red Coins

(N64)/

Go to Town for the Red Coins

(DS) •

Quick Race Through Downtown!

•

Soaked Silver Stars

(DS)
Tall, Tall Mountain

Scale the Mountain

•

Mystery of the Monkey Cage

•

Scary 'Shrooms, Red Coins

•

Mysterious Mountainside

•

Breathtaking View from Bridge

(Star 5, N64)/

Breathtaking View from the Bridge

(Star 7, DS) •

Blast to the Lonely Mushroom

(Star 6, N64) (Star 5, DS) •

5 Secrets of the Mountain

Tiny-Huge Island

Pluck the Piranha Flower

•

The Tip Top of the Huge Island

•

Rematch with Koopa the Quick

•

Five Itty Bitty Secrets

(N64) •

Klepto the Condor

•

Wiggler's Red Coins

•

Make Wiggler Squirm

•

Switch Star of the Island

(DS)
Tick Tock Clock

Roll into the Cage

(N64) •

Luigi in the Cage

(DS) •

The Pit and the Pendulums

(N64) •

The Pendulum Switch Star

(DS) •

Get a Hand

•

Stomp on the Thwomp

•

Timed Jumps on Moving Bars

•

Stop Time for Red Coins

•

Tick Tock Silver Stars

Rainbow Ride

Cruiser Crossing the Rainbow

•

The Big House in the Sky

•

Coins Amassed in a Maze

•

Swingin' in the Breeze

•

Tricky Triangles!

•

Somewhere over the Rainbow

•

Switch Star of the Manor

Items and Objects
Items
Power Flower • Vanish Cap • Metal Cap • Key • Power Star • Koopa Shell • Silver Star • Wing Cap
Objects

Mario's Cap

•

Luigi Cap

•

Wario Cap

• ! Block •

Star Switch

• Red Switch • Cannon • Coin • Red Coin • Blue Coin • Bowser Key
Characters
Playable characters
Mario • Luigi • Yellow Toad • Blue Toad* • Toadette** • Nabbit**/*** • Mii*
Supporting characters
Princess Peach • Toad • Green Yoshi • Baby Yoshi (Balloon, Bubble, Glowing)
Bosses
Koopalings (Lemmy Koopa, Morton Koopa Jr., Larry Koopa, Wendy O. Koopa, Iggy Koopa, Roy Koopa, Ludwig von Koopa) • Bowser Jr. • Bowser
Enemies and obstacles
Enemies
Amp* • Banzai Bill • Big Amp* • Big Boo • Big Buzzy Beetle* • Big Cheep Cheep • Big Dry Bones • Big Deep Cheep** •

Big Eep Cheep

** •

Big Fuzzy

• Big Goomba • Big Koopa Troopa • Big Piranha Plant •

Big Thwomp

•

Big Urchin

• Big Venus Fire Trap** • Big Wiggler • Blooper •

Blooper Baby

* • Blooper Nanny* • Bob-omb • Bony Beetle • Boo • Boomerang Bro •

Bowser Stunner

• Bramball • Broozer • Bulber* • Bullet Bill • Buzzy Beetle • Chain Chomp • Cheep Cheep • Cheep Chomp • Circling Boo Buddies • Cooligan •

Dai Gorō

• Deep Cheep** • Dragoneel •

Dragoneel (purple)

* • Dry Bones •

Eep Cheep

• Fire Bro • Fire Snake • Fire Piranha Plant • Fish Bone • Flame Chomp •

Fliprus

• Foo • Fuzzy • Goomba •

Goomba (balloon)

* • Goombrat • Grrrol •

Gūrindai

• Hammer Bro • Heavy Para-Beetle •

Hefty Goomba

• Huckit Crab • Ice Bro • Ice Piranha Plant • Jellybeam* • King Bill • Koopa Paratroopa • Koopa Troopa • Lakitu • Lava Bubble • Lava Geyser • Magmaargh • Magmaw • Mecha Cheep* •

Mecha Hand

• Mechakoopa •

Meteor

•

Mini Goomba

•

Missile Bill

• Monty Mole • Muncher • Nabbit • Para-Beetle •

Parabomb

• Paragoomba* • Piranha Plant • Pokey • Porcupuffer •

Prickly Goomba

• Red Skull Box • River Piranha Plant • Rocky Wrench* • Scaredy Rat* • Sledge Bro • Spike • Spike Top • Spiked Ball • Spinner • Spiny •

Spiny Cheep Cheep

• Stalking Piranha Plant • Stone Spike • Sumo Bro • Swoop* • Targeting Ted • Thwimp* • Thwomp • Torpedo Ted • Urchin • Waddlewing • Wiggler
Obstacles
Banzai Bill Cannon •

Big Fire Bar

• Bill Blaster • Bill Blaster Turret • Burner • Cannon • Cannonball* • Fire Bar •

Giant Cannonball

• Icicle •

Obake Block

• Red Skull Box •

Skewer

• Skull Box* • Spiked Ball • Spinner • Spiny Egg
Worlds and levels
Acorn Plains
Acorn Plains Way • Tilted Tunnel • Crushing-Cogs Tower • Yoshi Hill • Mushroom Heights • Rise of the Piranha Plants • Lemmy's Swingback Castle • Blooper's Secret Lair • Waddlewing Warning!*** • Crooked Cavern*** •

Flame-Gear Tower

*** • Rolling Yoshi Hills*** • Piranha Heights*** • Piranha Gardens*** • Lemmy's Lights-Out Castle*** • Cheep Chomp Chase***
Layer-Cake Desert

Stone-Eye Zone

•

Perilous Pokey Cave

•

Fire Snake Cavern

•

Stoneslide Tower

• Spike's Spouting Sands •

Dry Desert Mushrooms

•

Blooming Lakitus

•

Morton's Compactor Castle

•

Piranha Plants on Ice

•

Piranha Plants on Ice

• Spike's Tumbling Desert*** • Underground Grrrols*** • Piranhas in the Dark*** • Wind-Up Tower*** • The Walls Have Eyes*** • Stone Spike Conveyors*** • Spinning Sandstones*** • Morton's Lava-Block Castle*** • Slippery Rope Ladders***
Sparkling Waters

Waterspout Beach

•

Tropical Refresher

•

Giant Skewer Tower

•

Haunted Shipwreck

•

Above the Cheep Cheep Seas

•

Urchin Shoals

•

Dragoneel's Undersea Grotto

•

Larry's Torpedo Castle

•

Skyward Stalk

• Huckit Beach Resort*** • Urchin Reef Romp*** • Shish-Kebab Tower*** • Haunted Cargo Hold*** • The Great Geysers*** • The Great Geysers*** • Dragoneel Depths*** • Larry's Trigger-Happy Castle*** • Beanstalk Jungle***
Frosted Glacier

Spinning-Star Sky

•

Cooligan Fields

•

Freezing-Rain Tower

•

Prickly Goombas!

•

Scaling the Mountainside

•

Icicle Caverns

•

Swaying Ghost House

•

Fliprus Lake

•

Fliprus Lake

• Broozers and Barrels*** • Cooligan Shrooms*** • Icicle Tower*** • Fire and Ice*** • Weighty Waddlewings*** • Ice-Slide Expressway*** • Peek-a-Boo Ghost House*** • Wendy's Thwomp Castle*** • Fliprus Floes***
Soda Jungle

The Mighty Cannonship

† •

Jungle of the Giants

•

Bridge over Poisoned Waters

• Bramball Woods •

Snake Block Tower

•

Which-Way Labyrinth

•

Painted Swampland

•

Deepsea Ruins

•

Seesaw Bridge

•

Wiggler Stampede

•

Iggy's Volcanic Castle

•

Flight of the Para-Beetles

• All Aboard!†/*** • Giant Swing-Along*** • Dancing Blocks, Poison Swamp*** • Heart of Bramball Woods*** • Stone-Snake Tower*** • Stone-Snake Tower*** • Painted Pipeworks*** • Deepsea Stone-Eyes*** • Sumo Bro Bridge*** • Wiggler Floodlands*** • Iggy's Swinging-Chains Castle*** • Para-Beetle Parade***
Rock-Candy Mines
Fuzzy Clifftop • Porcupuffer Falls • Grinding-Stone Tower • Waddlewing's Nest • Light Blocks, Dark Tower • Walking Piranha Plants! • Thrilling Spine Coaster • Screwtop Tower • Screwtop Tower • Roy's Conveyor Castle • Mount Fuzzy*** •

Porcupuffer Cavern

*** • Smashing-Stone Tower*** • Spike's Seesaws*** • Light-Up-Lift Tower*** • Rising Piranhas*** • Spine Coaster Stowaways*** • Sumo Bro's Spinning Tower*** • Switch-Lift Express*** • Roy's Ironclad Castle***
Meringue Clouds
Land of Flying Blocks • Seesaw Shrooms • Switchback Hill • Slide Lift Tower • Spinning Spirit House • Bouncy Cloud Boomerangs • A Quick Dip in the Sky •

Snaking above Mist Valley

• Ludwig's Clockwork Castle • Boarding the Airship •

Frozen Fuzzies

*** •

Wiggler Rodeo

*** •

Rainbow Skywalk

*** •

Stonecrush Tower

*** •

Vanishing Ghost House

*** •

Above the Bouncy Clouds

*** •

Flame Chomp Ferris Wheel

*** •

Three-Headed Snake Block

*** •

Ludwig's Block-Press Castle

*** •

Bowser Jr. Showdown

***
Peach's Castle
Meteor Moat • Magma-River Cruise • Rising Tides of Lava • Firefall Cliffs • Red-Hot Elevator Ride •

The Final Battle

• Magma Moat*** • Magmaw River Cruise*** • Hot Cogs*** • Firefall Rising*** •

Current Event

*** •

The Final Battle

***
Superstar Road
Spine-Tingling Spine Coaster •

Run for It

•

Swim for Your Life!

•

Hammerswing Caverns

•

Spinning Platforms of Doom

•

Fire Bar Cliffs

•

Lakitu! Lakitu! Lakitu!

•

Pendulum Castle

•

Follow That Shell!

•

Spine Coaster Connections

*** •

P Switch Peril

*** •

Star Coin Deep Dive

*** •

Hammerswing Hangout

*** •

Under Construction

*** •

Fire Bar Sprint

*** •

Cloudy Capers

*** •

Impossible Pendulums

*** • Flying Squirrel Ovation***

Coin Courses

World

Coin

-

1

• World

Coin

-

2

• World

Coin

-

3

• World

Coin

-

4

• World

Coin

-

5

• World

Coin

-

6

• World

Coin

-

7


• World

Coin

-

8

Other
Secret Island
Collectibles and objects
Power-ups
Fire Flower • Ice Flower • Mini Mushroom • Penguin Suit • Propeller Mushroom • Super Acorn (

P-Acorn

) • Super Crown** • Super Mushroom • Super Star (

Boost Star

)
Items
? Switch • ! Switch • 1-Up Mushroom • 3-Up Moon • Berry • Blue Coin •

Boost Star

• Coin • Dash Coin •

Green Coin

• Red Coin • Star Coin • Yoshi Egg
Objects

3-Up Moon Block

• Barrel • Beanstalk •

Boost Block

• Brick Block •

Cannon Pipe

• Checkpoint Flag • Coin Block • Donut Lift •

Flying Question Block

•

Giant Brick Block

•

Giant Question Block

•

Giant Snake Block

• Goal Pole •

Green Ring

• Ice Block •

Light Block

• Note Block • POW Block • P-Switch •

Qestion Block

• Red Ring • Roulette Block • Snake Block •

Super Guide Block

• Springboard •

Stretch Block

•

Warp Door

•

Water Pipe

•

Water Ball

•

Wooden Block

Miscellaneous
Other

Ash

•

Current

• Floating Jump • Koopa Clown Car • Lava •

Poisoned Water

• Quicksand •

Sand Geyser

•

Spine Coaster

•

Stone-Eye

•

Water Geyser

Info
Gallery (

Luigi U

/Deluxe)
*-Exclusive to New Super Mario Bros. U • **-Exclusive to New Super Mario Bros. U Deluxe • ***-Exclusive to New Super Luigi U
†-Level before the world
Characters
Protagonists
Mario • Princess Peach • Luigi • Twink • Star Spirits (Eldstar, Mamar, Skolar, Muskular, Misstar, Klevar, Kalmar)
Antagonists
Bowser • Kammy Koopa • Koopa Troop • Jr. Troopa
Partners
Goombario • Kooper • Bombette • Parakarry • Lady Bow • Watt • Sushie • Lakilester
Other Characters
Albino Dino • Audience • Bootler • Bruce • Bubble Plant • Chanterelle • Chet Rippo • Chuck Quizmo • Club 64 Bartender • Dane T. • DJ Toad • Fearsome 5 • Fice T. • Fishmael • Flight • Franky • Frost T. • Gooma • Goomama • Goombaria • Goompa • Goompapa • Gourmet Guy • Guard Door • Harry T. • Herbert • Herringway • Igor • King Mousta • Kooper's mother • Kolorado • Kolorado's Wife • Koopa Koot • Koover • Lakilulu • Lily • Little Mouser • Little T. • Luigi • Madam Merlar • Master Poet • Mayor Penguin • Mayor Penguin's Wife • Merle • Merlee • Merlon • Merlow • Merluvlee • Minh T. • Mini T. • Moustafa • Mort T. • Mr. E • Mr. Hammer • Muss T. • Nomadimouse • Oaklie • Penguin Patrol • Petunia • Posie • Postmaster • Raphael the Raven • Rip Cheato • Rosie • Rowf • Rhuff • Russ T. • Sashimie • Spiky John • Spiky Tom • Stanley • Sun • Tayce T. • Three Beautiful Sisters • Toad in the Desert • Toad Minister • Tolielip • Trading Event Toad • Vanna T. • Village Leader • Watt's mother • Whacka • Whale • Wise Wisterwood • Yakkey
Species
Baby Yoshi • Bellbell Plant • Boo • Bub-ulb • Bulb Bush • Bumpty • Candy Cane • Cymbal Bush • Doogan • Dryite • Heart Plant • Human • Li'l Oink • Munchlesia • Nomadimouse • Raven • Snowman • Spinning Flower • Star Kid • Toad • Trumpet Plant • Yoshi
Locations
Areas
Boo's Mansion • Boo's Shop • Bowser's Castle • Cloudy Climb • Club 64 • Crystal Palace • Dry Dry Desert • Dry Dry Outpost • Dry Dry Railroad • Dry Dry Ruins • Flower Fields • Forever Forest • Goomba King's Fortress • Goomba Road • Goomba Village • Gusty Gulch • Harry's Shop • Item Shop • Jade Jungle • Koopa Bros. Fortress • Koopa Village • Koopa's Shop • Lavalava Island • Li'l-Oink Farm • Little Mouser's Shop • Mario's House • Mt. Lavalava • Mt. Rugged • Peach's Bedroom • Peach's Castle • Playroom • Pleasant Path • Post Office • Shiver City • Shiver Mountain • Shiver Region • Shiver Shop • Shiver Snowfield • Shooting Star Summit • Shroom Grocery • Shy Guy's Toy Box • Starborn Valley • Star Haven • Star Haven Shop • Star Way • Storehouse • Sun Tower • Toad House • Toad Town • Toad Town Dojo • Toad Town Tunnels • Tubba Blubba's Castle • Windy Mill • Yoshi's Cabana • Yoshi's Village
Bosses
Main/Recurring Bosses
Bowser • Kammy Koopa • Jr. Troopa
Chapter Bosses
Goomba King • Bowser??? • Koopa Bros. (Red Ninjakoopa, Black Ninjakoopa, Yellow Ninjakoopa, Green Ninjakoopa) • Tutankoopa • Tubba Blubba/Tubba Blubba's Heart • General Guy • Lava Piranha/Lava Bud • Huff N. Puff • Crystal King/Crystal Bit • Bowser
Mini Bosses
Red and Blue Goombas • Buzzar • Anti Guy • Blooper • Super Blooper • Electro Blooper • Spike??? • Kent C. Koopa • The Master • Monstar
Enemies
Enemies
Amazy Dayzee • Bandit • Bill Blaster • Bob-omb • Bombshell Bill • Bombshell Bill Blaster • Bony Beetle • Bullet Bill • Buzzy Beetle • Bzzap! • Cleft • Clubba • Crazee Dayzee • Dark Koopa • Dry Bones • Duplighost • Ember • Forest Fuzzy • Frost Piranha • Fuzzy • Gloomba • Goomba • Gray Magikoopa • Green Magikoopa • Groove Guy • Gulpit • Hammer Bros. • Hurt Plant • Hyper Cleft • Hyper Goomba • Hyper Paragoomba • Jungle Fuzzy • Koopatrol • Koopa Troopa • Lakitu • Lava Bubble • Magikoopa • M. Bush • Medi Guy • Monty Mole • Paragloomba • Paragoomba • Paratroopa • Piranha Plant • Pokey • Pokey Mummy • Putrid Piranha • Pyro Guy • Red Magikoopa • Ruff Puff • Shy Guy • Shy Squad • Shy Stack • Spear Guy • Spiked Gloomba • Spiked Goomba • Spike Top • Spiny • Spy Guy • Swooper • Swoopula • White Clubba • White Magikoopa • Yellow Magikoopa
Items
Regular Items
Apple • Blue Berry • Bubble Berry • Coconut • Dizzy Dial • Dried Fruit • Dried Shroom • Dusty Hammer • Egg • Fire Flower • Fright Jar • Goomnut • Honey Syrup • Iced Potato • Jammin' Jelly • Koopa Leaf • Lemon • Life Shroom • Lime • Maple Syrup • Melon • Mushroom • Mystery? • Pebble • POW Block • Red Berry • Repel Gel • Shooting Star • Sleepy Sheep • Snowman Doll • Stinky Herb • Stone Cap • Strange Leaf • Stop Watch • Super Shroom • Super Soda • Tasty Tonic • Thunder Bolt • Thunder Rage • Ultra Shroom • Volt Shroom • Whacka Bump • Yellow Berry
Key Items
Artifact • Autograph • Blue Key • Boo's Portrait • Bucket • Butter • Calculator • Castle Key • Cleanser • Cookbook • Cream • Crystal Ball • Crystal Berry • Diamond Stone • Dictionary • Diploma • Dolly • Egg • Empty Wallet • Fertile Soil • First-Degree Card • Flour • Fortress Key • Fourth-Degree Card • Frying Pan • Glasses • Gold Credit • Jade Raven • Koopa Legends • Kooper's Shell • Letter • Lucky Star • Lunar Stone • Lyrics • Magical Bean • Magical Seed • Mailbag • Melody • Milk • Miracle Water • Mystery Note • Odd Key • Old Photo • Package • Palace Key • Prison Key • Pulse Stone • Pyramid Stone • Record • Red Jar • Red Key • Ruins Key • Salt • Scarf • Second-Degree Card • Silver Credit • Sneaky Parasol • Star Piece • Star Rod • Star Stone • Storeroom Key • Strawberry • Sugar • Tape • Third-Degree Card • Toy Train • Ultra Stone • Volcano Vase • Warehouse Key • Water • Water Stone • Weight • Yakkey
Recipes
Apple Pie • Big Cookie • Bland Meal • Boiled Egg • Cake • Coco Pop • Deluxe Feast • Dizzy Dial • Egg Missile • Electro Pop • Fire Flower • Fire Pop • Fried Egg • Fried Shroom • Frozen Fries • Healthy Juice • Honey Shroom • Honey Super • Honey Ultra • Hot Shroom • Jelly Pop • Jelly Shroom • Jelly Super • Jelly Ultra • Kooky Cookie • Koopa Tea • Koopasta • Lemon Candy • Life Shroom • Lime Candy • Maple Shroom • Maple Super • Maple Ultra • Nutty Cake • Potato Salad • Shroom Cake • Shroom Steak • Sleepy Sheep • Spaghetti • Special Shake • Spicy Soup • Strange Cake • Super Soda • Sweet Shroom • Tasty Tonic • Thunder Rage • Volt Shroom • Yoshi Cookie • Yummy Meal
Badges
All or Nothing • Attack FX A • Attack FX B • Attack FX C • Attack FX D • Attack FX E • Bump Attack • Chill Out • Close Call • D-Down Jump • D-Down Pound • Damage Dodge • Deep Focus • Defend Plus • Dizzy Attack • Dizzy Stomp • Dodge Master • Double Dip • Feeling Fine • Fire Shield • First Attack • Flower Finder • Flower Saver • FP Plus • Group Focus • Hammer Throw • Happy Flower • Happy Heart • Heart Finder • HP Drain • HP Plus • I Spy • Ice Power • Jump Charge • Last Stand • Lucky Day • Mega Jump • Mega Quake • Mega Rush • Mega Smash • Money Money • Multibounce • P-Down, D-Up • P-Up, D-Down • Pay-Off • Peekaboo • Power Bounce • Power Jump • Power Plus • Power Quake • Power Rush • Power Smash • Pretty Lucky • Quake Hammer • Quick Change • Refund • Runaway Pay • S. Jump Chg. • S. Smash Chg. • Shrink Stomp • Sleep Stomp • Slow Go • Smash Charge • Speedy Spin • Spike Shield • Spin Attack • Spin Smash • Triple Dip • Zap Tap
Techniques
Partner Moves
Headbonk • Tattle • Charge • Multibonk • Shell Toss • Power Shell • Dizzy Shell • Fire Shell • Sky Dive • Shell Shot • Air Lift • Air Raid • Body Slam • Bomb • Power Bomb • Mega Bomb • Smack • Outta Sight • Spook • Fan Smack • Electro Dash • Power Shock • Turbo Charge • Mega Shock • Belly Flop • Squirt • Water Block • Tidal Wave • Spiny Flip • Spiny Surge • Cloud Nine • Hurricane
Special Moves
Refresh • Lullaby • Star Storm • Chill Out • Smooch • Time Out • Up & Away • Star Beam/Peach Beam
Enemy/Boss Moves
Charge • Divide and Conquer
Miscellaneous
Object and Features
! Switch • ? Block • Badge • Blue Pipe • Blue Switch • Bowser's Diary • Brick Block • Bubble • Chomp Rock • Cracked Wall • Dock • Fire Bar • Floor Switch • Hidden Block • Jack-in-the-Box • Jump Pad • K64 • Koopa Clown Car • Lakitu's Cloud • Lever • Metal Block • Power Platform • Puff-Puff Machine • Recovery Block • Red ? Block • Save Block • Star Cruiser • Stilts • Stone Block • Super Block • Treasure Chest (Mysterious) • Toy Tank • Warp Pipe • Yellow Block
Terms/Ailments
Badge Point • Danger • Dizzy • Electrified • Flower Point • Frozen • Heart Point • Immobilized • Injured • Invisible • No Skills • Peril • Poison • POW-Down • POW-Up • Sleep • Star Point • Star Power • Stone • Super Rank • Tiny • Ultra Rank
Other
Soundtrack • Tattle List • Walkthrough