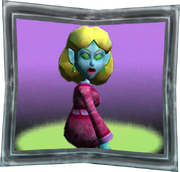 Lydia is a ghost mini-boss found in the Master Bedroom of Luigi's Mansion, found in Area One. She is the wife to Neville, and mother to the baby, Chauncey, and Henry and Orville, the twins. Luigi encounters Lydia, endlessly brushing her hair in front of the mirror. She is so drawn into brushing her hair, Luigi's flashlight just won't work on her. To gain her attention, Luigi must use his Poltergust 3000, to blow the curtain open near the window. Wind is rush in, messing up Lydia's hair. When she floats up, Lydia is vulnerable, and when he heart is exposed you can suck her up using the Poltergust 3000. After sucking her up, Luigi can advance to the Nursery.
Trivia
In Lydia's diary in the Study, it says that the twins got mad at her for twirling their helicopter mobiles. This explains how to summon Henry and Orville in the Twins' Room.
Community content is available under
CC-BY-SA
unless otherwise noted.