New Pokemon Games - The Loop
Play Sound
"Hmph. They couldn't beat us... so they decided to BE us. How odd."
― Ludwig, Bowser Jr.'s Journey
Ludwig Von Koopa, or simply Ludwig, is the oldest and leader of the Koopalings. Being the oldest, he displays great skill and is fourth in line for control of the Koopa Troop, after Bowser, Bowser Jr., and Kamek. Ludwig is also a intelligent scientist who invented gadgets for his his father. Arrogant and conceited, he considers himself to be a genius and regularly boasts of his apparent brilliance, sometimes Ludwig amaze his siblings skills. He is 15 years old.
Appearances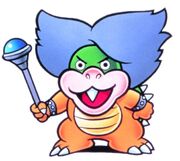 Ludwig appears as the last Koopaling battle before Bowser, in Pipe Land. His jumps will cause an earthquake that paralyze Mario if he is on the ground. The player jumps on his head three times to defeat him.
The game's official player's guide claims that he is Bowser's "second-in-command," and has all the powers of his siblings.
Ludwig Von Koopa is the fourth boss of this game, appearing in Twin Bridges. The player must stomp his head three times to defeat him. Ludwig's battle is unique compared to the others. First, Ludwig spits fire until Mario stomps his head. Ludwig then retreats in his shell and spins across the ground. When he comes out, he will jump high and flip over Mario.
(According to the in-game text of Super Mario World, Ludwig composes "Koopa symphonies", a play on the famous composer he is based on.)
Yoshi's Safari
In Yoshi's Safari, Ludwig is the second boss to fight. He rides in a mechanical brontosaurus. The red spot on its back is its weakspot. After that the arms of the mech will become legs and arms and the head will be the new body. When the body is destroyed, Ludwig will surrender the Amethyst Gem.
Ludwig appears as a boss and is the fourth Koopaling to be fought in this game, just like the order the Koopalings are fought in Super Mario World. Like the other Koopalings, he is found in Bowser's Castle.
Before his battle, he will go into his shell and spin around on the ground. Mario and Luigi must jump to avoid being hit. After a while he will come out of his shell, roar, and jump off-screen. When the Bros attempt to leave, Ludwig will reappear and go into battle.
In battle, Ludwig has 550 HP, 130 DEF, 93 SPEED, and drops 800 exp. points, 99 coins, and a 1-Up Super. The amount of exp. points and coins may be changed with E. Gadd's gadgets. In battle, he attacks by breathing fire, spinning rapidly around the Bros, and spinning in his shell.
In the remake, his "battle" consists of one attack. First, he will summon a massive orb of magic which is sent into the air. He will then use his wand to shoot blue magic flames at the Bros, who must use their hammers to destroy them. When the large magical ball comes down on one of the Bros, he must hammer it back. If he does, Ludwig will instantly be defeated. If he doesn't, it's an instant Game Over.
Fact: Ludwig has exactly 999 HP, matching the 999 damage that his ultimate attack deals. If the Great Force is equipped, his ultimate attack will do double the damage, dealing 1998 damage.
Lugwig and Larry appear together at two points in the game to do battle with the Marios and Luigi. They utilise battle cards which act the same as the ones the protagonists have. When they successfully attack any character, they earn dark points and will spend them on cards which benefit them. Once their HP has been lowered enough they will fire and enormous blast of magic which deals a huge a mount of damage if not blocked. If countered properly this will defeat Ludwig.
Ludwig Von Koopa appears in New Super Mario Bros. Wii, and is the seventh boss in World 7. When Mario faces him in his fortress, he will turn away and snicker, then summon a deep blue magic flame from his wand that homes in on the plumber. He also is able to flutter-jump. After being jumped on three times, he retreats to his castle.
At his castle, Kamek will use a magic spell to assist Ludwig. The battlefield is three quickly rising platforms. Ludwig will shoot four deep blue flames from his wand (which move slower and in a fan pattern), then leap into the air to choose another platform to stand on, usually the one Mario is currently on. After being stomped on the head three times, Ludwig is defeated, falling offscreen and yelling.
In this game, his hair and shell have become deep blue, and orange rings are around his shell's spikes.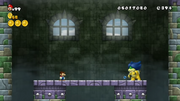 Ludwig reappears in the direct sequel of New Super Mario Bros. as a main antagonist alongside the other Koopalings and Bowser. He is the final Koopaling that needs to be fought to advance to the next world, but not the true final Koopaling as the player can beat Larry and Lemmy anytime. He drives the Clown Car that the Koopalings use to kidnap Princess Peach in the intro. In his boss fight, he will snicker again, then flutter jump to grab one of the five chains hanging from the ceiling. From there he will shoot deep blue fire from his wand. Mario must knock him off of the chain by going into a cannon and shooting at him. When he is stomped on the head three times, Ludwig is defeated.
Ludwig appears as the final boss of the Koopalings at Ludwig's Clockwork Castle. In battle, Ludwig flies up to the top of the screen and creates three clones of himself. The clones will then fire their magic spells at Mario, prompting him to dodge. As the battle progresses, Ludwig will shuffle himself and the clones around, making trying to find the real one a little more difficult. Once Ludwig is defeated, Mario can access the final world, Peach's Castle.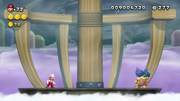 Ludwig returns in Mario Kart 8, and it's Nintendo Switch port as a playable character along with the rest of his siblings. This marks the first time Ludwig is playable in a Mario game.
Other appearances
Minion Quest
Ludwig Von Koopa is an obtainable trooper in Minion Quest. He is Ranged-type, and his Special Skill is Chain Shot. He is fought in the levels "Double Koopaling Caper" in Bowser's Castle with Lemmy, and "Goomba's Worth" in the same area, with the other six Koopalings.
Bowser Jr.'s Journey
Ludwig von Koopa is also an obtainable character in Bowser Jr.'s Journey. His type and Special Skill are the same; his new First Officer skills are Negotiation and Stop And Drop. Ludwig is never fought, but a dark version of him appears as an enemy in the final battle of the game.
Other media
In the Nintendo Adventure Book "Pipe Down!", Ludwig kidnapped Princess Toadstool to be in his dance recital, but she was saved by the Mario Bros. Until Mario and Luigi caused an explosion that "shook something loose in his brain", he was deaf and couldn't hear his own music.
This may be a reference to his namesake, Ludwig van Beethoven, who was deaf.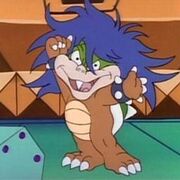 In the cartoon series, he was named Kooky Von Koopa and was the typical mad scientist character, inventing wicked devices for his father, Bowser, to use. The only major physical differences between Ludwig and Kooky is that Kooky has untamed hair, bigger eyes, a signature laugh, and is significantly smaller, girth-wise.
Skills
Magic Wand: Ludwig can shoot magic flames from his Wand like his siblings (except Wendy and Lemmy). His flames are colored deep blue.
Flutter Jump: Ludwig is able to flutter jump, similarly to a Yoshi. However, in New Super Mario Bros U, he can simply levitate instead.
Clone: Ludwig can create two clones of himself.
Gallery
Main page: Ludwig von Koopa/Gallery
Trivia
References
Navigation
Characters
Playable characters
Mario • Luigi • Yellow Toad • Blue Toad* • Toadette** • Nabbit**/*** • Mii*
Supporting characters
Princess Peach • Toad • Green Yoshi • Baby Yoshi (Balloon, Bubble, Glowing)
Bosses
Koopalings (Lemmy Koopa, Morton Koopa Jr., Larry Koopa, Wendy O. Koopa, Iggy Koopa, Roy Koopa, Ludwig von Koopa) • Bowser Jr. • Bowser
Enemies and obstacles
Enemies
Amp* • Banzai Bill • Big Amp* • Big Boo • Big Buzzy Beetle* • Big Cheep Cheep • Big Dry Bones • Big Deep Cheep** •

Big Eep Cheep

** •

Big Fuzzy

• Big Goomba • Big Koopa Troopa • Big Piranha Plant • Big Thwomp •

Big Urchin

• Big Venus Fire Trap** • Big Wiggler • Blooper •

Blooper Baby

* • Blooper Nanny* • Bob-omb • Bony Beetle • Boo • Boomerang Bro •

Bowser Stunner

• Bramball • Broozer • Bulber* • Bullet Bill • Buzzy Beetle • Chain Chomp • Cheep Cheep • Cheep Chomp • Circling Boo Buddies • Cooligan •

Dai Gorō

• Deep Cheep** • Dragoneel •

Dragoneel (purple)

* • Dry Bones •

Eep Cheep

• Fire Bro • Fire Snake • Fire Piranha Plant • Fish Bone • Flame Chomp •

Fliprus

• Foo • Fuzzy • Goomba •

Goomba (balloon)

* • Goombrat • Grrrol •

Gūrindai

• Hammer Bro • Heavy Para-Beetle •

Hefty Goomba

• Huckit Crab • Ice Bro • Ice Piranha Plant • Jellybeam* • King Bill • Koopa Paratroopa • Koopa Troopa • Lakitu • Lava Bubble • Lava Geyser • Magmaargh • Magmaw • Mecha Cheep* •

Mecha Hand

• Mechakoopa •

Meteor

• Mini Goomba •

Missile Bill

• Monty Mole • Muncher • Nabbit • Para-Beetle •

Parabomb

• Paragoomba* • Piranha Plant • Pokey • Porcupuffer •

Prickly Goomba

• Red Skull Box • River Piranha Plant • Rocky Wrench* • Scaredy Rat* • Sledge Bro • Spike • Spike Top • Spiked Ball • Spinner • Spiny •

Spiny Cheep Cheep

• Stalking Piranha Plant • Stone Spike • Sumo Bro • Swoop* • Targeting Ted • Thwimp* • Thwomp • Torpedo Ted • Urchin • Waddlewing • Wiggler
Obstacles
Banzai Bill Cannon •

Big Fire Bar

• Bill Blaster • Bill Blaster Turret • Burner • Cannon • Cannonball* • Fire Bar •

Giant Cannonball

• Icicle •

Obake Block

• Red Skull Box •

Skewer

• Skull Box* • Spiked Ball • Spinner • Spiny Egg
Worlds and levels
Acorn Plains
Acorn Plains Way • Tilted Tunnel • Crushing-Cogs Tower • Yoshi Hill • Mushroom Heights • Rise of the Piranha Plants • Lemmy's Swingback Castle • Blooper's Secret Lair • Waddlewing Warning!*** • Crooked Cavern*** •

Flame-Gear Tower

*** • Rolling Yoshi Hills*** • Piranha Heights*** • Piranha Gardens*** • Lemmy's Lights-Out Castle*** • Cheep Chomp Chase***
Layer-Cake Desert

Stone-Eye Zone

•

Perilous Pokey Cave

•

Fire Snake Cavern

•

Stoneslide Tower

• Spike's Spouting Sands •

Dry Desert Mushrooms

•

Blooming Lakitus

•

Morton's Compactor Castle

•

Piranha Plants on Ice

•

Piranha Plants on Ice

• Spike's Tumbling Desert*** • Underground Grrrols*** • Piranhas in the Dark*** • Wind-Up Tower*** • The Walls Have Eyes*** • Stone Spike Conveyors*** • Spinning Sandstones*** • Morton's Lava-Block Castle*** • Slippery Rope Ladders***
Sparkling Waters

Waterspout Beach

•

Tropical Refresher

•

Giant Skewer Tower

•

Haunted Shipwreck

•

Above the Cheep Cheep Seas

•

Urchin Shoals

•

Dragoneel's Undersea Grotto

•

Larry's Torpedo Castle

•

Skyward Stalk

• Huckit Beach Resort*** • Urchin Reef Romp*** • Shish-Kebab Tower*** • Haunted Cargo Hold*** • The Great Geysers*** • The Great Geysers*** • Dragoneel Depths*** • Larry's Trigger-Happy Castle*** • Beanstalk Jungle***
Frosted Glacier

Spinning-Star Sky

•

Cooligan Fields

•

Freezing-Rain Tower

•

Prickly Goombas!

•

Scaling the Mountainside

•

Icicle Caverns

•

Swaying Ghost House

•

Fliprus Lake

•

Fliprus Lake

• Broozers and Barrels*** • Cooligan Shrooms*** • Icicle Tower*** • Fire and Ice*** • Weighty Waddlewings*** • Ice-Slide Expressway*** • Peek-a-Boo Ghost House*** • Wendy's Thwomp Castle*** • Fliprus Floes***
Soda Jungle

The Mighty Cannonship

† •

Jungle of the Giants

•

Bridge over Poisoned Waters

• Bramball Woods •

Snake Block Tower

•

Which-Way Labyrinth

•

Painted Swampland

•

Deepsea Ruins

•

Seesaw Bridge

•

Wiggler Stampede

•

Iggy's Volcanic Castle

•

Flight of the Para-Beetles

• All Aboard!†/*** • Giant Swing-Along*** • Dancing Blocks, Poison Swamp*** • Heart of Bramball Woods*** • Stone-Snake Tower*** • Stone-Snake Tower*** • Painted Pipeworks*** • Deepsea Stone-Eyes*** • Sumo Bro Bridge*** • Wiggler Floodlands*** • Iggy's Swinging-Chains Castle*** • Para-Beetle Parade***
Rock-Candy Mines
Fuzzy Clifftop • Porcupuffer Falls • Grinding-Stone Tower • Waddlewing's Nest • Light Blocks, Dark Tower • Walking Piranha Plants! • Thrilling Spine Coaster • Screwtop Tower • Screwtop Tower • Roy's Conveyor Castle • Mount Fuzzy*** •

Porcupuffer Cavern

*** • Smashing-Stone Tower*** • Spike's Seesaws*** • Light-Up-Lift Tower*** • Rising Piranhas*** • Spine Coaster Stowaways*** • Sumo Bro's Spinning Tower*** • Switch-Lift Express*** • Roy's Ironclad Castle***
Meringue Clouds
Land of Flying Blocks • Seesaw Shrooms • Switchback Hill • Slide Lift Tower • Spinning Spirit House • Bouncy Cloud Boomerangs • A Quick Dip in the Sky •

Snaking above Mist Valley

• Ludwig's Clockwork Castle • Boarding the Airship •

Frozen Fuzzies

*** •

Wiggler Rodeo

*** •

Rainbow Skywalk

*** •

Stonecrush Tower

*** •

Vanishing Ghost House

*** •

Above the Bouncy Clouds

*** •

Flame Chomp Ferris Wheel

*** •

Three-Headed Snake Block

*** •

Ludwig's Block-Press Castle

*** •

Bowser Jr. Showdown

***
Peach's Castle
Meteor Moat • Magma-River Cruise • Rising Tides of Lava • Firefall Cliffs • Red-Hot Elevator Ride •

The Final Battle

• Magma Moat*** • Magmaw River Cruise*** • Hot Cogs*** • Firefall Rising*** •

Current Event

*** •

The Final Battle

***
Superstar Road
Spine-Tingling Spine Coaster •

Run for It

•

Swim for Your Life!

•

Hammerswing Caverns

•

Spinning Platforms of Doom

•

Fire Bar Cliffs

•

Lakitu! Lakitu! Lakitu!

•

Pendulum Castle

•

Follow That Shell!

•

Spine Coaster Connections

*** •

P Switch Peril

*** •

Star Coin Deep Dive

*** •

Hammerswing Hangout

*** •

Under Construction

*** •

Fire Bar Sprint

*** •

Cloudy Capers

*** •

Impossible Pendulums

*** • Flying Squirrel Ovation***

Coin Courses

World

Coin

-

1

• World

Coin

-

2

• World

Coin

-

3

• World

Coin

-

4

• World

Coin

-

5

• World

Coin

-

6

• World

Coin

-

7


• World

Coin

-

8

Other
Secret Island
Collectibles and objects
Power-ups
Fire Flower • Ice Flower • Mini Mushroom • Penguin Suit • Propeller Mushroom • Super Acorn (

P-Acorn

) • Super Crown** • Super Mushroom • Super Star (

Boost Star

)
Items
? Switch • ! Switch • 1-Up Mushroom • 3-Up Moon • Berry • Blue Coin •

Boost Star

• Coin • Dash Coin •

Green Coin

• Red Coin • Star Coin • Yoshi Egg
Objects

3-Up Moon Block

• Barrel • Beanstalk •

Boost Block

• Brick Block •

Cannon Pipe

• Checkpoint Flag • Coin Block • Donut Lift •

Flying Question Block

•

Giant Brick Block

•

Giant Question Block

•

Giant Snake Block

• Goal Pole •

Green Ring

• Ice Block •

Light Block

• Note Block • POW Block • P-Switch •

Qestion Block

• Red Ring • Roulette Block • Snake Block •

Super Guide Block

• Springboard •

Stretch Block

•

Warp Door

•

Water Pipe

•

Water Ball

•

Wooden Block

Miscellaneous
Other

Ash

•

Current

• Floating Jump • Koopa Clown Car • Lava •

Poisoned Water

• Quicksand •

Sand Geyser

•

Spine Coaster

•

Stone-Eye

•

Water Geyser

Info
Gallery (

Luigi U

/Deluxe)
*-Exclusive to New Super Mario Bros. U • **-Exclusive to New Super Mario Bros. U Deluxe • ***-Exclusive to New Super Luigi U
†-Level before the world