"Are you calling me short?! How dare you!"
― Lemmy, Bowser Jr.'s Journey
Lemmy Koopa, or simply just Lemmy, is one of the seven Koopalings adopted by Bowser. He is the smallest, but second oldest Koopaling. Very childlike, immature and seems to have a liking for the circus. He is generally considered to be the least "evil" of Bowser's minions and of the Koopalings and best brothers with Iggy, and would much rather have a good time than commit to the Koopa Clan's conquests. He is 14 years old.
History
Super Mario Bros. 3
In Super Mario Bros. 3, Lemmy is the boss of World 6, Ice Land. Lemmy is found and battled by Mario in the cabin of his Airship; in battle, Lemmy would ride a rubber ball around the room and use his stolen wand to generate more rubber balls, that Mario must dodge. Jumping on Lemmy's head three times results in defeat.
Super Mario World
In Super Mario World, Mario fights him in the subterranean Vanilla Dome area. In this battle, Lemmy does not attack Mario directly. Instead he simply pops out of a Warp Pipe in his chamber, along with two Lemmy look-a-like dolls. Mario needs to jump on the real Lemmy's head three times to knock him out of the end of his Warp Pipe and into the lava below, avoiding the fake Lemmys as the Podoboos bounce around the room. Also, Lemmy notably has teeth in this game, unlike his artwork.
Yoshi's Safari
In Yoshi's Safari, Lemmy is the first boss encountered. He has a machine with a big head that looks just like him. However, if you damage the face then eventually you'll get to damage the real thing. He has possession of the Garnet Gem.
In Mario and Luigi: Superstar Saga, he is the third Koopaling to fight Mario and Luigi, just like how he was the third Koopaling to be fought in Super Mario World.
In battle, Lemmy can make three extra clones of himself. Mario & Luigi must attack the real Lemmy. After attacking the real one, the fake ones explode. Another attack is for Lemmy to spit fireballs, which can be deflected by hammers. After defeating Lemmy, the player gains access to face off Ludwig. In the remake, Lemmy creates his clones by using his magic wand. The clones and Lemmy spin in a circle to confuse the player. However, if the player pays close attention to the real Lemmy, the player will know which one to attack. Also, hitting the real Lemmy doesn't destroy the other clones. If at least two fake clones are destroyed, or all clones are destroyed, Lemmy will make more with his wand.
In terms of stats, Lemmy has 380 HP, 110 POW, 155 DEF, 120 SPD and 800 EXP. In the remake, Lemmy has 540 HP, 130 POW, 122 DEF, 103 SPD and 650 EXP.
New Super Mario Bros. Wii
In New Super Mario Bros. Wii, Lemmy is the boss of the World 3. In the first fight in the Tower, Lemmy uses his scepter to conjure a ball and bounce it towards the player(s)' character(s). While the ball doesn't inflict damage, the player needs to run under it or jump on top of it to bounce over it, as it does push the player towards the edge of the ledge, and into a pit. Lemmy can be defeated by stomping on his head three times. He is fought for a second time in the Castle level. He is fought the same way, but his ball is significantly bigger. When he gets hit 2 times, the ball Lemmy stands on further increases its size for additional difficulty to damage him one last time.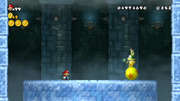 New Super Mario Bros. 2
Lemmy Koopa returns as a boss in the Nintendo 3DS title, New Super Mario Bros. 2, as the boss of World Flower, he acts in the same way as in New Super Mario Bros. Wii. In his battle arena, the ground is a conveyor belt and a switch is on the ceiling. Mario can bounce on Lemmy's balls to knock the switch, which causes the conveyor belt to change direction. Lemmy has to be stomped three times in the game.
New Super Mario Bros. U/New Super Mario Bros. U Deluxe
Lemmy Koopa appears as the boss of Lemmy's Swinging Castle of Acorn Plains in New Super Mario Bros. U, and New Super Mario Bros. U Deluxe. He mainly attacks Mario by throwing bombs at him while rolling on his ball. Mario can easily avoid the bombs by either wall jumping of the side or by flying over them as Flying Squirrel Mario. When Lemmy has taken two hits, he will hurl a couple of larger bombs that are a little harder to avoid. After Lemmy is defeated, Mario and the others can access the next world: Layer-Cake Desert.
Mario Kart 8/Mario Kart 8 Deluxe
Lemmy Koopa made his debut appearance in Mario Kart 8, and its Nintendo Switch port, as a playable racer along with his siblings. This is also his first appearance as a playable character in a spin-off game.
Super Mario Maker 2
In Super Mario Maker 2, Lemmy is an enemy that is able to be placed, he acts in the same way as in New Super Mario Bros. Wii and has to be stomped three times. If the player gives him wings, he will act in the same way as in the castle of New Super Mario Bros. Wii.
Mario Kart Tour
Lemmy appears in Mario Kart Tour for his second Mario Kart appearance along with the other six Koopalings. He is Lightweight and has Bubble for his Special Item.
Attacks
Lemmy's attacks usually consists of trying to trample Mario with his ball. In Superstar Saga, he could split himself into five different mirrored forms. However, his ball does not appear in the game. He could also breathe fire. Like Wendy, he uses decoys in battle in both Super Mario World and Superstar Saga.
Personality
Very little is known about the Koopalings' personalities other than what is seen in the Super Mario Bros. cartoons. Lemmy is considered immature, childish, and quite silly. He would rather perform in the circus than cause trouble for Mario and Luigi. Lemmy also has a passion for anything circus related and his best brother is Iggy.
Physical Appearance
Lemmy is usually seen with wobbly eyes and multi-colored hair. He is the smallest koopaling. His trademark weapon is his yellow rubber bouncy ball with star designs which he stands on. This explains his circus look. He has recently sported a yellow ponytail in addition to his mohawk. Fans usually add a small fang in the top corner of his mouth in art. He also has a padded stomach and padded feet.
Other Media
In the cartoons he was named Hip Koopa and was often seen with his brother Hop (Iggy Koopa). The two of them shared most of their sentences (à la Donald Duck's nephews Huey, Dewey and Louie) and were usually seen pulling pranks. There are two major differences between Lemmy and Hip: Hip's hair is far thinner, and he has an overbite. They were both voiced by Tara Strong.
In the comic books, Lemmy was quite stupid but could somehow understand Larry's picture-only dialogue.[1] He was also a fan of Mario's favorite comic book superhero, Dirk Drain-Head.[2]
In Super Scope 6, Lemmy, riding a missile and chasing Mario, who is in a plane, will sometimes appear in Type A: Intercept mode and fly across the screen. If players hit Lemmy with their Super Scope, they will either recover a miss or gain points.
Gallery
Sprites
Trivia
Lemmy Koopa's Bomb design is similar to the design of the bomb in the Bomb Derby Bros. Attack in Mario & Luigi: Dream Team.
Lemmy was named after Lemmy Kilmister, the lead singer of the English rock band, Motörhead. [3]
When fought in Super Mario Bros. 3, while the other Koopalings shift to another part of the room after being stomped on, Lemmy remains stationary on his ball (probably due to limitations of the NES). In New Super Mario Bros. Wii, after each time he is stomped on, the ball disappears and he shifts around the room in the same way as the other Koopalings, and then produces another ball with his wand.
Lemmy's ponytail that he wears starting in New Super Mario Bros. Wii looks similar to Tiny Kong's ponytails.
The Prima Guide for New Super Mario Bros. Wii usually refers to Lemmy as Little Lemmy Koopa.
References
↑

"Bowser Knows Best!"

↑

"The Adventures of Dirk Drain-Head"
Characters
Protagonists
Mario • Luigi • Princess Peach
Antagonists
Bowser • Bowser Jr. • Koopalings • Kamek
Supporting Characters
Princess Peach • Yoshi • Toad
Worlds
World 1
World 1-1 • World 1-2 • World 1-3 • World 1- • World 1- • World 1-4 • World 1-5 • World 1-6 • World 1-
World 2
World 2-1 • World 2-2 • World 2-3 • World 2- • World 2-4 • World 2-5 • World 2-6 • World 2-
World 3
World 3-1 • World 3-2 • World 3-3 • World 3- •

World 3-

• World 3- • World 3-4 • World 3-5 • World 3-
World 4
World 4-1 • World 4-2 • World 4-3 • World 4- •

World 4-

• World 4-4 • World 4- • World 4-5 • World 4- • World 4-
World 5
World 5-1 • World 5-2 • World 5-3 • World 5- • World 5-4 • World 5- •

World 5-

• World 5-5 • World 5-
World 6
World 6-1 • World 6-2 • World 6-3 • World 6-4 • World 6- • World 6-5 • World 6-6 •

World 6-

• World 6- • World 6-
World 7
World 7-1 • World 7-2 • World 7-3 • World 7- • World 7- World 7-4 • World 7-5 • World 7-6 • World 7-
World 8
World 8-1 • World 8-2 • World 8-3 • World 8- • World 8-4 • World 8-5 • World 8-6 • World 8-7 • World 8- • World 8-
World 9
World 9-1 • World 9-2 • World 9-3 • World 9-4 • World 9-5 • World 9-6 • World 9-7 • World 9-8
Coin Courses
World

Coin

-1 • World

Coin

-2 • World

Coin

-3 • World

Coin

-4 • World

Coin

-5
Enemies
Enemies
Amp • Banzai Bill • Banzai Bill Cannon • Big Boo • Big Piranha Plant • Big Venus Fire Trap • Bill Blaster • Bill Blaster Turret • Baby Blooper • Blooper • Blooper Nanny • Bob-omb • Boo • Boomerang Bro • Bramball • Broozer • Bulber • Bullet Bill • Buzzy Beetle • Cannonball • Chain Chomp • Cheep Cheep • Cheep Chomp • Circling Boo Buddies • Clampy • Climbing Koopa • Cooligan • Crowber • Deep Cheep • Dry Bones • Eep-Cheep • Fire Bro • Fire Snake • Fish Bone • Flame Chomp • Foo • Fuzzy •

Ghost Vase

•

Giant Cannonball

• Goomba • Grand Goomba • Hammer Bro • Heavy Parabeetle • Hefty Goomba • Huckit Crab • Ice Bro • Jellybeam • King Bill • Koopa Paratroopa • Koopa Troopa • Lakitu • Mechakoopa • Mega Cheep Cheep • Mega Deep Cheep • Mega Fuzzy • Mega Urchin • Mega Wiggler • Micro Goomba • Missile Banzai Bill • Missile Bill • Monty Mole • Muncher • Para-bomb • Para-Beetle • Paragoomba • Piranha Plant • Podoboo • Pokey • Porcupuffer • River Piranha Plant • Rocky Wrench • Scaredy Rat • Sledge Bro • Spike • Spike Top • Spiny • Spiny Cheep-Cheep • Stalking Piranha Plant • Stone Spike • Super Dry Bones • Super Thwomp • Swooper • Thwomp • Urchin • Venus Fire Trap • Wiggler
Obstacles
Ball 'n' Chain • Burner • Fire Bar • Icicle • Lava Plume • Spike Pillar • Spiked Ball • Volcanic Debris • Volcanic Smoke
Bosses
Bowser Jr. • Larry Koopa • Roy Koopa • Lemmy Koopa • Wendy O. Koopa • Iggy Koopa • Morton Koopa Jr. • Ludwig von Koopa • Kamek • Bowser
Items and objects
Items
Super Mushroom • 1-Up Mushroom • Mini Mushroom • Propeller Mushroom • Fire Flower • Ice Flower • Penguin Suit • Starman • Coin • Blue Coin • Red Coin • Red Ring • Hidden Coin • Star Coin • Trampoline • POW Block • Light Block • Propeller Block • P Switch • ? Switch • Red ! Switch • Barrel •

Toad Balloon

• Berry
Objects

Clown Car

•

Stretch Block

• Roulette Block •

Square Cloud

• Checkpoint Flag
Characters
Playable characters
Mario • Luigi • Yellow Toad • Blue Toad* • Toadette** • Nabbit**/*** • Mii*
Supporting characters
Princess Peach • Toad • Green Yoshi • Baby Yoshi (Balloon, Bubble, Glowing)
Bosses
Koopalings (Lemmy Koopa, Morton Koopa Jr., Larry Koopa, Wendy O. Koopa, Iggy Koopa, Roy Koopa, Ludwig von Koopa) • Bowser Jr. • Bowser
Enemies and obstacles
Enemies
Amp* • Baby Blooper* • Baby Dragoneel* • Ball 'n' Chain • Banzai Bill • Big Amp* • Balloon Goomba* • Big Boo • Big Buzzy Beetle* • Big Piranha Plant • Big Venus Fire Trap** • Blooper • Blooper Nanny* • Bob-omb • Bony Beetle • Boo • Boomerang Bro • Bowser Amp • Bramball • Broozer • Bulber* • Bullet Bill • Buzzy Beetle • Chain Chomp • Cheep Cheep • Cheep Chomp • Circling Boo Buddies • Cooligan • Deep Cheep** • Dragoneel • Dry Bones • Eep Cheep • Fire Bro • Fire Snake • Fish Bone • Flame Chomp • Fliprus • Foo • Fuzzy • Gargantua Koopa Troopa • Goomba • Goombrat • Grand Goomba • Grrrol • Hammer Bro • Heavy Parabeetle • Hefty Goomba • Huckit Crab • Ice Bro • Jellybeam* • King Bill • Koopa Paratroopa • Koopa Troopa • Lakitu • Lava Plume • Magmaargh • Magmaw • Mecha Cheep* • Mecha Hand • Mechakoopa • Mega Cheep-Cheep • Mega Deep-Cheep** • Mega Eep-Cheep** • Mega Fuzzy • Mega Grrrol • Mega Urchin • Mega Wiggler •

Meteor

• Micro Goomba • Missile Bill • Monty Mole • Muncher • Nabbit • Para-Beetle • Parabomb • Paragoomba* • Piranha Plant •

Piranha Plant Egg

• Piranhacus Giganticus • Podoboo • Pokey • Porcupuffer •

Prickly Goomba

• Red Skull Box • River Piranha Plant • Rocky Wrench* • Scaredy Rat* • Sledge Bro • Spike • Spike Top • Spiked Ball • Spiny • Spiny Cheep-Cheep • Stalking Piranha Plant • Stone Spike • Sumo Bro • Super Dry Bones • Super Thwomp • Swooper* • Targeting Ted • Thwimp* • Thwomp • Torpedo Ted • Urchin • Venus Fire Trap • Venus Ice Trap • Waddlewing • Wiggler
Obstacles
Ball 'n' Chain • Banzai Bill Cannon • Bill Blaster • Bill Blaster Turret • Burner • Cannon • Cannonball* • Fire Bar •

Ghost Block

•

Giant Cannonball

• Huge Fire Bar • Icicle • Lava • Lava Plume • Poisoned Water • Red Skull Box • Skull Box* • Spiked Ball • Spike Pillar • Spiny Egg
Worlds and levels
Acorn Plains
Acorn Plains Way • Tilted Tunnel • Crushing-Cogs Tower • Yoshi Hill • Mushroom Heights • Rise of the Piranha Plants • Lemmy's Swingback Castle • Blooper's Secret Lair • Waddlewing Warning!*** • Crooked Cavern*** •

Flame-Gear Tower

*** • Rolling Yoshi Hills*** • Piranha Heights*** • Piranha Gardens*** • Lemmy's Lights-Out Castle*** • Cheep Chomp Chase***
Layer-Cake Desert
Stone-Eye Zone • Perilous Pokey Cave • Fire Snake Cavern • Stoneslide Tower • Spike's Spouting Sands • Dry Desert Mushrooms • Blooming Lakitus • Morton's Compactor Castle • Piranha Plants on Ice • Piranha Plants on Ice • Spike's Tumbling Desert*** • Underground Grrrols*** • Piranhas in the Dark*** • Wind-Up Tower*** • The Walls Have Eyes*** • Stone Spike Conveyors*** • Spinning Sandstones*** • Morton's Lava-Block Castle*** • Slippery Rope Ladders***
Sparkling Waters
Waterspout Beach • Tropical Refresher • Giant Skewer Tower • Haunted Shipwreck • Above the Cheep Cheep Sea • Urchin Shoals • Dragoneel's Undersea Grotto • Larry's Torpedo Castle • Skyward Stalk • Huckit Beach Resort*** • Urchin Reef Romp*** • Shish-Kebab Tower*** • Haunted Cargo Hold*** • The Great Geysers*** • The Great Geysers*** • Dragoneel Depths*** • Larry's Trigger-Happy Castle*** • Beanstalk Jungle***
Frosted Glacier
Spinning Star Sky • Cooligan Fields • Freezing Rain Tower • Prickly Goombas! • Scaling the Mountainside • Icicle Caverns • Swaying Ghost House • Fliprus Lake • Fliprus Lake • Broozers and Barrels*** • Cooligan Shrooms*** • Icicle Tower*** • Fire and Ice*** • Weighty Waddlewings*** • Ice-Slide Expressway*** • Peek-a-Boo Ghost House*** • Wendy's Thwomp Castle*** • Fliprus Floes***
Soda Jungle
The Mighty Cannonship† • Jungle of the Giants • Bridge over Poisoned Waters • Bramball Woods • Snake Block Tower • Which-Way Labyrinth • Painted Swampland • Deepsea Ruins • Seesaw Bridge • Wiggler Stampede • Iggy's Volcanic Castle • Flight of the Para-Beetles • All Aboard!†/*** • Giant Swing-Along*** • Dancing Blocks, Poison Swamp*** • Heart of Bramball Woods*** • Stone-Snake Tower*** • Stone-Snake Tower*** • Painted Pipeworks*** • Deepsea Stone-Eyes*** • Sumo Bro Bridge*** • Wiggler Floodlands*** • Iggy's Swinging-Chains Castle*** • Para-Beetle Parade***
Rock-Candy Mines
Fuzzy Clifftop • Porcupuffer Falls • Grinding-Stone Tower • Waddlewing's Nest • Light Blocks, Dark Tower • Walking Piranha Plants! • Thrilling Spine Coaster • Screwtop Tower • Screwtop Tower • Roy's Conveyor Castle • Mount Fuzzy*** • Porcu-Puffer Cavern*** • Smashing-Stone Tower*** • Spike's Seesaws*** • Light-Up-Lift Tower*** • Rising Piranhas*** • Spine Coaster Stowaways*** • Sumo Bro's Spinning Tower*** • Switch-Lift Express*** • Roy's Ironclad Castle***
Meringue Clouds
Land of Flying Blocks • Seesaw Shrooms • Switchback Hill • Slide Lift Tower • Spinning Spirit House • Bouncy Cloud Boomerangs • A Quick Dip in the Sky • Snaking Above Mist Valley • Ludwig's Clockwork Castle • Boarding the Airship • Frozen Fuzzies*** • Wiggler Rodeo*** • Rainbow Skywalk*** • Stonecrush Tower*** • Vanishing Ghost House*** • Above the Bouncy Clouds*** • Flame Chomp Ferris Wheel*** • Three-Headed Snake Block*** • Ludwig's Block-Press Castle*** • Bowser Jr. Showdown***
Peach's Castle
Meteor Moat • Magma-River Cruise • Rising Tides of Lava • Firefall Cliffs • Red-Hot Elevator Ride • The Final Battle • Magma Moat*** • Magmaw River Cruise*** • Hot Cogs*** • Firefall Rising*** • Current Event*** • The Final Battle***
Superstar Road
Spine-Tingling Spine Coaster • Run for It • Swim for Your Life! • Hammerswing Caverns • Spinning Platforms of Doom • Fire Bar Cliffs • Lakitu! Lakitu! Lakitu! • Pendulum Castle • Follow that Shell! • Spine Coaster Connection*** • P Switch Peril*** • Star Coin Deep Dive*** • Hammerswing Hangout*** • Under Construction*** • Fire Bar Sprint*** • Cloudy Capers*** • Impossible Pendulums*** • Flying Squirrel Ovation***

Coin Courses

World

Coin

-

1

• World

Coin

-

2

• World

Coin

-

3

• World

Coin

-

4

• World

Coin

-

5

• World

Coin

-

6

• World

Coin

-

7


• World

Coin

-

8

Other
Secret Island
Collectibles and objects
Power-ups
Fire Flower • Ice Flower • Mini Mushroom • Penguin Suit • Propeller Mushroom • Starman • Super Acorn (

P-Acorn

) • Super Crown** • Super Mushroom (Boost Star)
Items
? Switch • ! Switch • 1-Up Mushroom • 3-Up Moon • Berry • Blue Coin • Boost Star • Coin • Dash Coin • Green Coin • Red Coin • Star Coin • Yoshi Egg
Objects

3-Up Moon Block

• Barrel • Beanstalk • Boost Block • Brick Block •

Cannon Pipe

• Checkpoint Flag • Coin Block • Donut Lift • Flying Question Block •

Giant Brick Block

•

Giant Question Block

•

Giant Snake Block

• Goal Pole • Green Ring • Ice Block • Light Block • Note Block • POW Block • P-Switch • Question Block • Red Ring • Roulette Block • Snake Block •

Super Guide Block

• Springboard •

Stretch Block

• Vine • Warp Door •

Water Pipe

• Water Bubble •

Wooden Block

Miscellaneous
Other
Bonecoaster •

Current

• Floating Jump • Koopa Clown Car • Lava • Poisoned Water • Quicksand • Sand Geyser •

Stone-Eye

• Volcanic Smoke • Waterspout
Info
Gallery (

Luigi U

/Deluxe)
*-Exclusive to New Super Mario Bros. U • **-Exclusive to New Super Mario Bros. U Deluxe • ***-Exclusive to New Super Luigi U
†-Level before the world