"C'mon, Wendy, it's not worth it. Let's hurry back to the castle. The kid says he doesn't need us. Let him prove it."
― Larry, Bowser Jr.'s Journey
Larry Koopa, or simply just Larry, is the youngest of the Koopalings. His name was Cheatsy Koopa in the cartoons. He had a green shell until New Super Mario Bros. Wii in which it was upgraded to blue just like his hair which looks like Iggy's and Lemmy's. He appears in all the games to feature the Koopalings. Larry appears to like sports as shown in Mario & Luigi: Superstar Saga, and is usually the first boss on the first world. In earlier games, he was depicted as the leader of the Koopalings but more recently, Ludwig has been known to be the leader. He is 8 years old.
A rumor that Larry was named after the American talk show host Larry King stems from the Official Nintendo Magazine in Great Britain. The former Nintendo of America employee Dayvv Brooks, who originally named the Koopalings, claimed instead that Larry was named after Larry Mullen, Jr., the drummer for the rock band U2. This would mean that all the Koopalings were named after musicians. However, Brooks contradicted this claim in a December 2015 interview, stating that Larry was not named after anyone in particular, and that he simply "looked like a Larry."
Profile
Physical description
Larry Koopa is a short Koopaling with tall, blue, spiky hair.[1] His head is dark green and blue. Larry has blue eyes and a sky blue spiky shell with blue rings.
Personality
Larry is naive, childish, friendly and happy go-lucky in personality, as he often doesn't see the bad in situations and uses words such as "jerk" and "meanie" as insults. He wants to be strong, , however Larry is somewhat cowardly and often runs from what he believes to be dangerous. Despite this, Larry is very hostile when angered, and will go on rampages. He also has a love for sports, and even owns a tennis racket as a weapon. He is portrayed as a sneaky, scheming, lying cheat, hence his alternate name "Cheatsy". The North American version of Super Smash Bros. for Wii U, however, states he has a "serious case of little-brother syndrome", suggesting that he feels overshadowed by or inferior to his older siblings. He also seems to have an interest in sports, as he uses bombs as bowling balls in Hotel Mario, he uses a tennis racket to hit his own fireballs in Mario & Luigi: Superstar Saga and he performs a special glider trick when riding sport bikes in Mario Kart 8. Despite this interest, he has never appeared in any of the Mario sports games. In the Wii U version of Mario & Sonic at the Rio 2016 Olympic Games, Larry got 'hooked' on Equestrian and can't seem to stop talking about it to the player. Mario & Luigi: Paper Jam also implies he may have an interest in video games as Roy, after he and Wendy fail to get Larry to help them, says that he is "probably off playing video games or something." New Super Mario Bros. Wii shows that he didn't possess a lot of stamina, as he was quite far behind his family, trying to catch his breath, while his siblings were trying to help Bowser up off the ground. Although, this may be due to the fact that he was residing in World 1, presumably the furthest world from Bowser's Castle in World 8. He also frequently gets dizzy after spinning, as shown in both Mario & Luigi: Paper Jam, when he attacks by spinning his shell, and in his 1st place victory animation in Mario & Sonic at the Rio 2016 Olympic Games.
While the games don't reveal much about the relationship between Larry and his siblings, both Mario & Luigi: Paper Jam and the 3DS version of Mario & Sonic at the Rio 2016 Olympic Games reveal that Larry has some kind of admiration for Ludwig, whom he tries to imitate, although he still isn't able to replicate all his moves without getting dizzy. In the former game, he always fights with Ludwig in the battles and is never seen alone with his other siblings, furthermore he also shows more respect towards him than his brothers, calling him boss and accepting to have him as his lead even after Ludwig's leadership among the Koopalings has been questioned[23]; in battle he also follows him trying to imitate his moves, but gets dizzy after spinning in the shell[9]. In the latter game, Larry's 1st place victory animation starts by imitating Ludwig's 2nd and 3rd place victory animation, but after spinning he again gets dizzy. In Bowser Jr.'s Journey, he was also shown to be very defensive towards Morton, as when Bowser Jr. was chewing him out for "stealing" his glory, Larry Koopa cut in and began shouting at Bowser Jr. and telling him off regarding his behavior to Morton.
Powers and abilities
Larry has shown he can master the wand since Super Mario Bros. 3, even snatching it. Larry masters at sport as seen in Mario & Luigi: Superstar Saga by using a racket to play tennis.
Appearances
Super Mario Bros. 3
"We took 7 wands from the 7 kings. Each of us has one. Our father has instructed us to protect the wands."
― Larry Koopa, Super Mario Bros. 3 English instruction booklet
Larry Koopa debuted in Super Mario Bros. 3 as the first world boss. In the story, Bowser sent the Koopalings including Larry to make mischief in the Mushroom World. The seven Koopalings stole the wands from the seven kings. Larry stole the wand from the king in Grass Land and transformed it into a dog. The Koopalings were commanded to protect the wand.[2] Later he was defeated by Mario/Luigi who took the wand and returned it to the king. His role is expanded slightly in the opening cutscene of the GBA remake, Super Mario Advance 4: Super Mario Bros. 3. He is shown breaking into the Grass Land castle at the dead of night during a thunderstorm, stealing the wand and turning the king into a Cobrat, leading to Grass Land's request for the Mushroom Kingdom's assistance.
Super Mario World
Larry Koopa appeared as the penultimate boss in Super Mario World. The Koopalings have kidnapped a Yoshi Egg inside their castle. Larry had kidnapped a blue Yoshi Egg in his castle at the Valley of Bowser.
In his level Larry's Castle, Mario/Luigi fights Larry with a complementary fighting method to Iggy Koopa in his level which he is defeated when he falls into the lava. However, there are Podoboos jumping out of lava making it difficult to immediately push Larry. If Mario defeats Larry, he will being out the Yoshi Egg, lift up his castle and throw the castle off the screen. Defeating his level allows the player to go to the Front Door, the final level. This fight against him is thought to be his best one so far. This is Larry's first time being the last Koopaling to fight so far. Like the other Koopalings, his in-game design does not match official artwork.
Yoshi's Safari
In Yoshi's Safari, the Koopalings, Bowser, Magikoopa, Big Boo, Chargin' Chuck and the Koopa Sub intruded to Jewelry Land. They stole the twelve magic gems and kidnapped Prince Pine and King Fret. Larry guards the Diamond Gem at Crescent Coast. Larry battles against Mario and Yoshi inside a mecha vehicle resembling a sun.
During battle, Larry's mecha opens green blasters to shoot at Yoshi, leaving them open for Mario to shoot. After losing half lives, the mecha's armor falls off thus revealing Larry inside it. Larry and the face shoots bubbles at Yoshi, Mario must shoot at the mecha everytime it appears. After Larry's defeat, he holds a white flag while floating upwards.
New Super Mario Bros. Wii
Larry makes his 3D-rendering-debut in New Super Mario Bros. Wii, alongside the rest of his siblings. He is first shown when the Koopalings pop out of Peach's cake and capture her in which it shows the supposed birth order from right to left except for Jr., who was on top.
Larry is the first boss on the first world rendering in the grass world although it is never said why his chosen for the grass world as his main color appears to be blue. He is fought in the tower and castle in order to reach World 2. He was given a magic wand just like his siblings and can fire blue energy blasts. Larry was also given the same sequence as Super Mario Bros. 3.
When the player reaches the end of the tower, the player will see Larry upset and shocked that the player had made it to him as steam comes out of his head. The fight is very simple and has no obstacle. First, he will try to shoot the player with his wand blast which were given to all the Koopalings. Then the player must dodge his jumps. If the player lands on his head or hits him with fire balls about eight times, he will curl up in his shell just like the other koopalings and slide across the stage, trying to hit the player, then go back to his normal form. His tactics are the same as Iggy's except much slower and they lack the moving platforms, due to the fact that he is the first boss.
This time when the player reaches the end of the castle, Kamek will come causing the floor to shift. This time Larry will do the same thing as the castle except his shell attack is a bit faster. After he is defeated he will fall off the screen and you may grab a key sending the player to the next world.
At the end of the game, Larry is seen walking to Bowser's castle, in exhaustion. Bowser Jr. tells Larry to help push their father back on his feet, as he arrived late.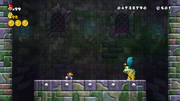 New Super Mario Bros. 2
Larry reappears in the Nintendo 3DS title, New Super Mario Bros. 2, along with the rest of the Koopalings. Larry is the boss of World Mushroom. This battle against him is one of his better ones because his blasts ricochet of the walls of his chamber. However they are still not very hard to dodge.
Super Mario Maker 2
Larry is an enemy that is able to be placed, he acts in the same way as in New Super Mario Bros. Wii. He can jump, cast spell and has to be stomped on three times. If the player gives him wings, he can jump higher. In this game, all players can spin on the Koopalings, shell, including Larry.
Attention MarioWiki users!: This section is short or lacks sufficient information. Whether you are commenting or editing, we would appreciate it if you help MarioWiki by expanding it.
New Super Mario Bros. U/New Super Mario Bros. U Deluxe
Larry appears again in New Super Mario Bros. U and New Super Mario Bros. U Deluxe. In the story, Larry along with the Koopalings, Bowser Jr. and Bowser went to Mushroom Kingdom at Peach's Castle. Bowser threw Mario and others sans Peach far away to Acorn Plains. Each Koopaling went to their castle with their airships. Larry Koopa is the third boss encountered at Sparkling Waters. 
In his battle, he shoots blue magic out of his wand at Mario while water sprouts up from the ground. It takes is three stomps to defeat him. This fight with Larry is believed to be his second best, after his fight from Super Mario World. His artwork was reused from New Super Mario Bros. Wii.
Other appearances
"Hey, Greenie! Time to get pummelled!"
Larry appeared in Mario & Luigi: Superstar Saga and Mario & Luigi: Superstar Saga + Bowser's Minions. Just like in Super Mario World, Larry is the last Koopaling to be fought. Before battle, Larry traps Luigi in a barrel and shoots a fireball at him with his tennis racket. Behind Luigi is a Bob-omb which the player must avoid the fireball hitting the Bob-omb. If done successfully, the fireball hits Larry and gets angry, whilst the gate opens for Mario to pass by. Then, the player can now engage in battle with Larry. In battle, Larry has 550 HP, 110-150 POW, 145 DEF, 92 SPD & 800 EXP (600 HP, 115-160 POW, 170 DEF, 95 SPD & 850 EXP in the Japanese version), and his attacks involves him spitting fire (like the other Koopalings), playing tennis and spinning attacks. Larry's battle also involves a Time Bob-omb. After being defeated, a portal opens up, allowing the player to access Fawful.
In the 3DS remake, Larry plays the same role before, just with added dialogue. In battle, he now has 980 HP, 160 POW, 137 DEF, 88 SPD and 850 EXP. Also, Larry's spinning attack has now changed; Instead, he now goes into his shell, just like Roy. Also, his Time Bob-omb is now set to 5 turns instead of 8 turns.
Larry Koopa is appears in Mario Kart 8 and Mario Kart 8 Deluxe as a playable character along with the Koopalings. This also marks the first time Larry Koopa is playable in a Mario game, and his first time making a spin-off appearance. His emblem is represented complementary to Bowser and Bowser Jr. with a face of himself colored light blue. Larry's opponent is Lemmy vice versa.
On Time Trials, a Staff Ghost Nin★Yuya. In Mario Kart 8 Deluxe, the same staff ghost as the 150cc staff ghost improved its time. The 200cc Staff Ghost, Nin★Elena used Larry for DS Tick Tock Clock.
Non-canonical appearances
Non-canon warning: This article or section contains non-canonical information that is not considered to be an official part of the Mario series and/or isn't considered to be part of the series' overall storyline.
Larry Koopa is in the PC and NES version of the Mario is Missing!. He made his debut on a non-canon game as a boss. In order to defeat him the player must stomp his head a few times. In the PC version the player must fire to defeat him.

In Hotel Mario, Larry Koopa, along with the rest of the Koopalings and Bowser return as antagonists in the game. In this game, Larry is a boss fought in his own hotel, Larry's Chiliton Hotel, with the words "Larry's Cave Hotel", and "This mine is mine", which is written on the entrance. In battle, Larry attacks by using bombs as bowling balls, but just like the other Koopalings, close all doors and the boss is defeated. Larry's Chillton Hotel is apparently an icy cave.
Larry appears in Super Smash Bros. for Nintendo 3DS and Wii U as an alternate costume for Bowser Jr., a newcomer. Bowser Jr. is the only character not to have any different color schemes but different characters like the Koopalings. Larry receives similar dialogues like the Koopalings on Palutena's Guidance. Larry was states by Pit that he has a strong resemblance to Bowser Jr. while Viridi had mentioned that Bowser, Bowser Jr. and the Koopalings' relationship remained a mystery. This resulted Pit to sympathize them as Palutena tells him that it is "sweet of him" but not conducive on taking the Koopalings down.
Larry is a veteran in Super Smash Bros. Ultimate as an alternate costume for Bowser Jr. along with other Koopalings.
Neither Bowser Jr. or the Koopalings appeared in the World of Light cutscene, but it has been known that they were one of the fighters to be caught onto Galeem's light beams and imprisoned by Dharkon. Only Larry was cloned by Dharkon which the Puppet Fighter of Larry appeared as a minion of Bowser for the Kangaskhan spirit. He does not appear on the board, but Bowser Jr. can be found at the Triforce of Power on two alternate paths.
Other Media
In the cartoons, he was Cheatsy Koopa who calls himself "the emperor of eavesdropping". In Super Mario World, his hair was white-green instead of blue. There are two major differences between Larry and Cheatsy: Cheatsy has drooping shiny eyelids, and his hair is more wild and spikey.
In the amada series, he serves as one of the minions of Bowser.
Paraphernalia
Transportation
Bike: Larry uses a bike during racing events.
Airship: Larry Koopa owns an airship since his debut in Super Mario Bros. 3. Mario and Luigi destroy the airship, but he has new airships in other games.
Kart: Larry uses a kart during racing events.
Weapons
Wand: Larry has stolen the wand from the Grass Land king and transformed him into a dog. In the Game Boy Advance version, he transformed the king into a Cobrat. Later, Mario/Luigi defeated him, and he lost the wand as Mario/Luigi returned it to the king. In other games, Larry has his own wand. He possess the orange magic wand.
Trivia
Larry Koopa was supposed to appear as a boss battle in Super Princess Peach, but he was removed along with all of the other Koopalings.
Larry Koopa is the only Koopaling that was not directly named after a famous musician. [3]
Although Larry has been shown to like sports, he appears to lack stamina, but this also might be because at the end of New Super Mario Bros. Wii, he walked from the first world to Bowser's castle, which explains his exhaustion, since it is a very long distance.
In Mario Kart 8's Eletrodrome, on the big screen where the Shy Guys and Koopa Troopas are dancing, Larry Koopa is seen in the background as the DJ.
In the English version of Super Smash Bros. for 3DS, Larry is called the leader of the Koopalings in his trophy as a result of an out-of-context translation from the Japanese version. The NA version of the Wii U version corrects this by calling him the youngest instead. Despite this, his trophy information was left unchanged in the European version, likely from failing to understand the context of the translation.
Notes
References
Navigation
Characters
Protagonists
Mario • Luigi • Princess Peach • Prince Peasley • Captain Goomba (Gold**) • Captain Shy Guy • Captain Boo (Gold) • Captain Koopa Troopa (Gold)
Antagonists
Cackletta/Bowletta • Fawful • Popple • Bowser/Rookie
Other Characters
Advisor • Beanbean Knight • Bink • Blablanadon • Bloat • Boddle • Boddle's Assistant • Border Bros. • Bowser • Bubbles • Chuckleroot • Cork and Cask • Fava • Fire and Thunder Gods • Guffawha Monster • Hammerhead Bros. • Harhall • Hermie III • Hoohoo Civilization • Jellyfish Sisters • Lady Lima • Mine Cart Owner • Peach-bot • Piper • Professor Elvin Gadd • Psycho Kamek • Queen Bean • Soybean Civilization • Spangle • Starfy • Starshade Bros. • Thwomp • Toad • Dr. Toadley • Toadsworth • Tolstar • Yoshi Fan Club
Species
Beanish • Beanlet • Designbomb • Hoohooligan • Oho Jee • Toad • Winkle • Yoshi
Locations
Locations
Beanbean Castle • Beanbean Castle Sewers • Beanbean Castle Town • Beanbean International Airport • Beanbean Kingdom • Bowser's Castle • Château de Chucklehuck • Chucklehuck Woods • Fire Palace • Guffawha Ruins • Gwarhar Lagoon • Harhall's Studio • Hoohoo Mountain • Hoohoo Village • Joke's End • Koopa Cruiser • Little Fungitown • Mario's House • Mushroom Kingdom • Oho Oasis • Oho Ocean • Oho Ocean Seabed • Pipe House • Relaxation Room • S.S. Chuckola • Starbeans Café • Stardust Fields • Teehee Valley • Thunder Palace • Winkle Colosseum • Woohoo Hooniversity • Yoshi Theater
Bosses
Bosses
Birdo • Bowletta⋆ • Bowser⋆ • Cackletta⋆ • Cackletta's Soul⋆ • Chuckolator⋆ • Corporal Paraplonk⋆⋆ • Dragohoho⋆ • Fawful • Hermie III⋆ • Hoohooros⋆ • Iggy Koopa⋆ • Jojora⋆ • Jojora's Friends⋆ • Larry Koopa • Lemmy Koopa • Ludwig von Koopa • Mom Piranha⋆ • Morton Koopa Jr. • Piranha Bean • Popple • Private Goomp⋆⋆ • Queen Bean⋆ • Rookie⋆ • Roy Koopa • Sergeant Guy⋆⋆ • Tolstar⋆ • Trunkle⋆ • Wendy O. Koopa • Wiggler⋆
Enemies
Enemies
Ankoopa • Anuboo • Bandit⋆⋆ • Beanie • Belly Blech⋆ • Big Boo⋆⋆ • Big Tail Goomba⋆⋆ • Bill Blaster⋆ • Blooper⋆ • Bob-omb • Bomb Boo⋆⋆ • Boo • Beanerang Bro • Boomerang Bro⋆⋆ • Broozer⋆⋆ • Buzzy Beetle⋆⋆ • Chain Chomp⋆⋆ • Chargin' Chuck⋆⋆ • Cheep Cheep • Chomp Bro⋆ • Chuck Guy • Chuckorok⋆ • Clumph • Dry Bones⋆⋆⋆ • Eeker⋆ • Elite Dry Bones⋆ • Elite Gritty Goomba⋆ • Elite Limbo Bro • Elite Pestnut • Elite Troopea • Fake Bowser⋆ • Fighter Fly⋆ • Fire Bro⋆⋆ • Flaret⋆ • Fly Guy⋆⋆ • Fuzzbush • Fuzzy • Glurp⋆ • Gold Beanie • Goomba • Goomba Tower⋆⋆ • Goomdiver⋆ • Green Magikoopa⋆⋆ • Gritty Goomba • Gunner Guy⋆ • Hammer Bro • Ice Bro⋆⋆ • Ice Snifit • Koopa Paratroopa⋆⋆ • Koopa Troopa⋆⋆ • Lakipea • Lakitu⋆⋆ • Laser Snifit⋆ • Limbo Bro • Magikoopa • Malibut⋆ • Mecha-Blooper⋆ • Mecha-Chomp • Mechakoopa • Mechawful⋆⋆ • Oucher Glass⋆ • Para-Beetle⋆⋆ • Parabeanie • Paragoomba⋆⋆ • Paratroopea • Pestnut • Piranha Plant⋆ • Pokey⋆⋆ • Puffer-Cheep • Red Magikoopa⋆⋆ • Rex • Roto-disc⋆ • Sand Cheep⋆ • Scaratroopea • Sharkbone⋆ • Sharpea • Shy Guy⋆⋆ • Sniper Bill⋆ • Spike⋆⋆ • Spiky Snifit⋆ • Spiny⋆⋆⋆ • Stalking Piranha Plant⋆⋆ • Starkiss • Super Fly⋆ • Sworm⋆ • Tail Boo⋆⋆ • Tanoomba • Time Bob-omb⋆ • Troopea • Turtle⋆ • Virus⋆ • White Magikoopa⋆⋆ • Yo Bro
Items
Regular Items
1-Up Mushroom • 1-Up Super • 5 Gold Coin • Beanbean coin • Coin • Golden Mushroom • Green Pepper • Max Mushroom • Max Nut • Max Syrup • Mushroom • Nut • Red Pepper • Refreshing Herb • Super Mushroom • Super Nut • Super Syrup • Syrup • Ultra Mushroom • Ultra Nut • Ultra Syrup
Key Items
Bean Fruit • Beanbean Brooch • Beanbean Map • Beanstar • Beanstone • Chuckola Fruit • Chuckola Reserve • Crabbie Grass • Fake Beanstar • Fire Statue • Game Boy Horror SP • Hoohoo Spirit • Invincishroom • Mask • Membership Card • Neon Egg • Peach's Extra Dress • Peasley's Rose • Pearl Bean • Precious Item • Red and Green Goblets • Secret Scroll 1 • Secret Scroll 2 • Suitcase • Winkle Card
Bean Juice
Chuckle Blend • Chuckoccino • Hoohoo Blend • Hoolumbian • Teehee Blend • Teeheespresso • Woohoo Blend
Special Items
Bonus Ring • Cobalt Necktie • Excite Spring • Game Boy Horror SP • Great Force • Greed Wallet • Power Grip • Secret Specs
Blocks
! Block • ? Block • Bros. Block • Command Block • Hidden Block • Hoohoo Block • L Block • M Block • Rally Block • Random Block • Recovery Block • Save Album • Simu-Block •

Spin Block

Other
Axe • Badge • Bean • Bean Fever • Bike Pad • Black Rock • Boo Statue • Brown Rock • Button • Candy ring • Mine Cart • Chuckola Cola • Clothing •

Conductor

•

Ghost Gown

• Gray Rock • Headgear • Koopa Clown Car • Poltergust 3000 •

Pressure Plate

•

Region Map

•

Rolling Bar Defense System

• Spiky Stardust Defense System • Super Poltergust 3001 • Toad Express •

Torch

•

Wall Face

• Waterspout •

Watering Hole

•

Yellow Pipe

Moves
Techniques
Bounce Bros. • Bros. Attack • Chopper Bros. • Cyclone Bros. • Fire Bros. • Hammer • Firebrand • Fire Tickle • Flee • High Jump • Jump • Knockback Bros. • Luigi Dunk • Mini-Mario • Pump Mario • Spin Jump • Splash Bros. • Swing Bros. • Thunder Bros. • Thunderhand • Thunder Tickle
Captain Commands**

Deny

•

Rally

•

Chance

•

Play Dead

• Lightning •

Parry

•

Pass the Bob-omb

•

Thwomp Thump

•

Clash of Captains

• Call for Backup •

Sneak Attack

•

Shell Shock

Minion Quest levels
Hoohoo Mountain

Go, Goomba, Go!

•

This Beans War

•

For the Love of Hammers

•

Winged Traitors

•

The Hoohoo Melee Brigade

•

The Great Hammer Barrage

•

Don't Fear Flying Foes

•

Goombas vs. Goombas

•

The Amnesiac Koopa King

•

Goombas Galore

Beanbean Kingdom

Turnip Tantrum

•

Minions vs. Minions

•

Hunger Pains

•

A War of Shy Guys and Flybys

•

Battle Tail

•

Beanbean Crossfire

•

The Rival Trio

•

Larry's Fortress

•

Captain Shy Guy Trial

•

Professor E. Gadd's Research

•

Oh, Hi, Shy Guy!

•

Shell Brigade, Move Out!

Chucklehuck Woods

The Sweet Smell of Soda

•

Deep Trouble

•

Forest Masquerade

•

Reclaim the Red Goblet!

•

Gold Beanie Appears

•

Invisible Leaderership

•

Ice Guys Finish Last

•

The Tough-As-Nails Squad

•

Forest Fight

•

Popple's Partner

•

Captain Goomba Trial (Gold)

•

Shy Guy Goes Overboard

•

King of the Boos

Gwarhar Lagoon

A Cloudy Day

•

The Minions Are...Famous?

•

Spangle's Honey Pie

•

Gold Beanie Returns

•

The Paraplonk Squad's Secret!

•

Battle Beach

•

Cutie Battle Contest, Round 1

•

Cutie Battle Contest, Round 2

•

Cutie Battle Contest, Semifinals

•

Captain Goomba Trial

•

The Power of Koopa Troopas

•

A Gaggle of Goombas

•

Captain Koopa Troopa Trial (Gold)

Teehee Valley

A Dry Bone to Pick

•

The Trouble with Toads

•

Flying Beans in the Desert

•

Find the Invincibility Mushroom!

•

Gold Beanie Spotted!

•

Silly Ol' Goomp

•

Ice Bros. Feel the Heat

•

The Lonely Koopa Troopa

•

Toad Rescue

•

Captain Koopa Troopa Trial

•

Popple's Partner, Part 2

•

A Goomba Tail

•

A Muster of Masks

Joke's End

Goombas Unite

•

Gather the Cruiser Parts!

•

Power Play

•

Spear Party on Ice

•

Monochrome Explosion

•

Gold Beanie Fights Back!

•

Return of the Koopa Cruiser

•

The Trio's Last Stand

•

Captain Boo Trial (Gold)

•

Boo Party!

•

Shy Guy Barrage

Bowser's Castle

Fireball and Boomerang Crossfire

•

Chain Chomp and Spike Stomp

•

A Tale of Tails

•

Double Trouble Koopaling Caper

•

Pokey Panic

•

Rumble in the Castle!

•

Gold Beanie's Final Stand

• Goomba's Worth •

Showdown Time!!

• Believe in Bowser •

Captain Boo Trial

•

The Mightiest Minions

•

The Beastly Bean Battalion

Miscellaneous
Mini-games
Border Jump • Mysterious Mine Carts • Star 'Stache Smash • Barrel •

Chuckola Bounce

• Surfing Minigame •

Splart

Stats
Bros. Point • Defense • Experience Point • Heart Point • Level up • Power • Speed • Spirit⋆⋆ • Stache⋆
Status
Burn •

Charred

• DEF-Down • DEF-Up • Dizzy • Heavy G • Light G • Poison • SPD-Down • Trip
Other
Gallery • Bestiary
• ⋆-Enemy, boss, or stat exclusive to the main game. • ⋆⋆-Enemy, boss, or stat exclusive to Minion Quest: The Search for Bowser. • ⋆⋆⋆-Enemy variants differ in Mario & Luigi: Superstar Saga + Bowser's Minions.
Characters
Protagonists
Mario • Luigi • Princess Peach
Antagonists
Bowser • Bowser Jr. • Koopalings • Kamek
Supporting Characters
Princess Peach • Yoshi • Toad
Worlds
World 1
World 1-1 • World 1-2 • World 1-3 • World 1- • World 1- • World 1-4 • World 1-5 • World 1-6 • World 1-
World 2
World 2-1 • World 2-2 • World 2-3 • World 2- • World 2-4 • World 2-5 • World 2-6 • World 2-
World 3
World 3-1 • World 3-2 • World 3-3 • World 3- •

World 3-

• World 3- • World 3-4 • World 3-5 • World 3-
World 4
World 4-1 • World 4-2 • World 4-3 • World 4- •

World 4-

• World 4-4 • World 4- • World 4-5 • World 4- • World 4-
World 5
World 5-1 • World 5-2 • World 5-3 • World 5- • World 5-4 • World 5- •

World 5-

• World 5-5 • World 5-
World 6
World 6-1 • World 6-2 • World 6-3 • World 6-4 • World 6- • World 6-5 • World 6-6 •

World 6-

• World 6- • World 6-
World 7
World 7-1 • World 7-2 • World 7-3 • World 7- • World 7- World 7-4 • World 7-5 • World 7-6 • World 7-
World 8
World 8-1 • World 8-2 • World 8-3 • World 8- • World 8-4 • World 8-5 • World 8-6 • World 8-7 • World 8- • World 8-
World 9
World 9-1 • World 9-2 • World 9-3 • World 9-4 • World 9-5 • World 9-6 • World 9-7 • World 9-8
Coin Courses
World

Coin

-1 • World

Coin

-2 • World

Coin

-3 • World

Coin

-4 • World

Coin

-5
Enemies
Enemies
Amp • Banzai Bill • Banzai Bill Cannon • Big Boo • Big Piranha Plant • Big Venus Fire Trap • Bill Blaster • Bill Blaster Turret • Baby Blooper • Blooper • Blooper Nanny • Bob-omb • Boo • Boomerang Bro • Bramball • Broozer • Bulber • Bullet Bill • Buzzy Beetle • Cannonball • Chain Chomp • Cheep Cheep • Cheep Chomp • Circling Boo Buddies • Clampy • Climbing Koopa • Cooligan • Crowber • Deep Cheep • Dry Bones • Eep-Cheep • Fire Bro • Fire Snake • Fish Bone • Flame Chomp • Foo • Fuzzy •

Ghost Vase

•

Giant Cannonball

• Goomba • Grand Goomba • Hammer Bro • Heavy Parabeetle • Hefty Goomba • Huckit Crab • Ice Bro • Jellybeam • King Bill • Koopa Paratroopa • Koopa Troopa • Lakitu • Mechakoopa • Mega Cheep Cheep • Mega Deep Cheep • Mega Fuzzy • Mega Urchin • Mega Wiggler • Micro Goomba • Missile Banzai Bill • Missile Bill • Monty Mole • Muncher • Para-bomb • Para-Beetle • Paragoomba • Piranha Plant • Podoboo • Pokey • Porcupuffer • River Piranha Plant • Rocky Wrench • Scaredy Rat • Sledge Bro • Spike • Spike Top • Spiny • Spiny Cheep-Cheep • Stalking Piranha Plant • Stone Spike • Super Dry Bones • Super Thwomp • Swooper • Thwomp • Urchin • Venus Fire Trap • Wiggler
Obstacles
Ball 'n' Chain • Burner • Fire Bar • Icicle • Lava Plume • Spike Pillar • Spiked Ball • Volcanic Debris • Volcanic Smoke
Bosses
Bowser Jr. • Larry Koopa • Roy Koopa • Lemmy Koopa • Wendy O. Koopa • Iggy Koopa • Morton Koopa Jr. • Ludwig von Koopa • Kamek • Bowser
Items and objects
Items
Super Mushroom • 1-Up Mushroom • Mini Mushroom • Propeller Mushroom • Fire Flower • Ice Flower • Penguin Suit • Starman • Coin • Blue Coin • Red Coin • Red Ring • Hidden Coin • Star Coin • Trampoline • POW Block • Light Block • Propeller Block • P Switch • ? Switch • Red ! Switch • Barrel •

Toad Balloon

• Berry
Objects

Clown Car

•

Stretch Block

• Roulette Block •

Square Cloud

• Checkpoint Flag
Characters
Playable characters
Mario • Luigi • Yellow Toad • Blue Toad* • Toadette** • Nabbit**/*** • Mii*
Supporting characters
Princess Peach • Toad • Green Yoshi • Baby Yoshi (Balloon, Bubble, Glowing)
Bosses
Koopalings (Lemmy Koopa, Morton Koopa Jr., Larry Koopa, Wendy O. Koopa, Iggy Koopa, Roy Koopa, Ludwig von Koopa) • Bowser Jr. • Bowser
Enemies and obstacles
Enemies
Amp* • Baby Blooper* • Baby Dragoneel* • Ball 'n' Chain • Banzai Bill • Big Amp* • Balloon Goomba* • Big Boo • Big Buzzy Beetle* • Big Piranha Plant • Big Venus Fire Trap** • Blooper • Blooper Nanny* • Bob-omb • Bony Beetle • Boo • Boomerang Bro • Bowser Amp • Bramball • Broozer • Bulber* • Bullet Bill • Buzzy Beetle • Chain Chomp • Cheep Cheep • Cheep Chomp • Circling Boo Buddies • Cooligan • Deep Cheep** • Dragoneel • Dry Bones • Eep Cheep • Fire Bro • Fire Snake • Fish Bone • Flame Chomp • Fliprus • Foo • Fuzzy • Gargantua Koopa Troopa • Goomba • Goombrat • Grand Goomba • Grrrol • Hammer Bro • Heavy Parabeetle • Hefty Goomba • Huckit Crab • Ice Bro • Jellybeam* • King Bill • Koopa Paratroopa • Koopa Troopa • Lakitu • Lava Plume • Magmaargh • Magmaw • Mecha Cheep* • Mecha Hand • Mechakoopa • Mega Cheep-Cheep • Mega Deep-Cheep** • Mega Eep-Cheep** • Mega Fuzzy • Mega Grrrol • Mega Urchin • Mega Wiggler •

Meteor

• Micro Goomba • Missile Bill • Monty Mole • Muncher • Nabbit • Para-Beetle • Parabomb • Paragoomba* • Piranha Plant •

Piranha Plant Egg

• Piranhacus Giganticus • Podoboo • Pokey • Porcupuffer •

Prickly Goomba

• Red Skull Box • River Piranha Plant • Rocky Wrench* • Scaredy Rat* • Sledge Bro • Spike • Spike Top • Spiked Ball • Spiny • Spiny Cheep-Cheep • Stalking Piranha Plant • Stone Spike • Sumo Bro • Super Dry Bones • Super Thwomp • Swooper* • Targeting Ted • Thwimp* • Thwomp • Torpedo Ted • Urchin • Venus Fire Trap • Venus Ice Trap • Waddlewing • Wiggler
Obstacles
Ball 'n' Chain • Banzai Bill Cannon • Bill Blaster • Bill Blaster Turret • Burner • Cannon • Cannonball* • Fire Bar •

Ghost Block

•

Giant Cannonball

• Huge Fire Bar • Icicle • Lava • Lava Plume • Poisoned Water • Red Skull Box • Skull Box* • Spiked Ball • Spike Pillar • Spiny Egg
Worlds and levels
Acorn Plains
Acorn Plains Way • Tilted Tunnel • Crushing-Cogs Tower • Yoshi Hill • Mushroom Heights • Rise of the Piranha Plants • Lemmy's Swingback Castle • Blooper's Secret Lair • Waddlewing Warning!*** • Crooked Cavern*** •

Flame-Gear Tower

*** • Rolling Yoshi Hills*** • Piranha Heights*** • Piranha Gardens*** • Lemmy's Lights-Out Castle*** • Cheep Chomp Chase***
Layer-Cake Desert
Stone-Eye Zone • Perilous Pokey Cave • Fire Snake Cavern • Stoneslide Tower • Spike's Spouting Sands • Dry Desert Mushrooms • Blooming Lakitus • Morton's Compactor Castle • Piranha Plants on Ice • Piranha Plants on Ice • Spike's Tumbling Desert*** • Underground Grrrols*** • Piranhas in the Dark*** • Wind-Up Tower*** • The Walls Have Eyes*** • Stone Spike Conveyors*** • Spinning Sandstones*** • Morton's Lava-Block Castle*** • Slippery Rope Ladders***
Sparkling Waters
Waterspout Beach • Tropical Refresher • Giant Skewer Tower • Haunted Shipwreck • Above the Cheep Cheep Sea • Urchin Shoals • Dragoneel's Undersea Grotto • Larry's Torpedo Castle • Skyward Stalk • Huckit Beach Resort*** • Urchin Reef Romp*** • Shish-Kebab Tower*** • Haunted Cargo Hold*** • The Great Geysers*** • The Great Geysers*** • Dragoneel Depths*** • Larry's Trigger-Happy Castle*** • Beanstalk Jungle***
Frosted Glacier
Spinning Star Sky • Cooligan Fields • Freezing Rain Tower • Prickly Goombas! • Scaling the Mountainside • Icicle Caverns • Swaying Ghost House • Fliprus Lake • Fliprus Lake • Broozers and Barrels*** • Cooligan Shrooms*** • Icicle Tower*** • Fire and Ice*** • Weighty Waddlewings*** • Ice-Slide Expressway*** • Peek-a-Boo Ghost House*** • Wendy's Thwomp Castle*** • Fliprus Floes***
Soda Jungle
The Mighty Cannonship† • Jungle of the Giants • Bridge over Poisoned Waters • Bramball Woods • Snake Block Tower • Which-Way Labyrinth • Painted Swampland • Deepsea Ruins • Seesaw Bridge • Wiggler Stampede • Iggy's Volcanic Castle • Flight of the Para-Beetles • All Aboard!†/*** • Giant Swing-Along*** • Dancing Blocks, Poison Swamp*** • Heart of Bramball Woods*** • Stone-Snake Tower*** • Stone-Snake Tower*** • Painted Pipeworks*** • Deepsea Stone-Eyes*** • Sumo Bro Bridge*** • Wiggler Floodlands*** • Iggy's Swinging-Chains Castle*** • Para-Beetle Parade***
Rock-Candy Mines
Fuzzy Clifftop • Porcupuffer Falls • Grinding-Stone Tower • Waddlewing's Nest • Light Blocks, Dark Tower • Walking Piranha Plants! • Thrilling Spine Coaster • Screwtop Tower • Screwtop Tower • Roy's Conveyor Castle • Mount Fuzzy*** • Porcu-Puffer Cavern*** • Smashing-Stone Tower*** • Spike's Seesaws*** • Light-Up-Lift Tower*** • Rising Piranhas*** • Spine Coaster Stowaways*** • Sumo Bro's Spinning Tower*** • Switch-Lift Express*** • Roy's Ironclad Castle***
Meringue Clouds
Land of Flying Blocks • Seesaw Shrooms • Switchback Hill • Slide Lift Tower • Spinning Spirit House • Bouncy Cloud Boomerangs • A Quick Dip in the Sky • Snaking Above Mist Valley • Ludwig's Clockwork Castle • Boarding the Airship • Frozen Fuzzies*** • Wiggler Rodeo*** • Rainbow Skywalk*** • Stonecrush Tower*** • Vanishing Ghost House*** • Above the Bouncy Clouds*** • Flame Chomp Ferris Wheel*** • Three-Headed Snake Block*** • Ludwig's Block-Press Castle*** • Bowser Jr. Showdown***
Peach's Castle
Meteor Moat • Magma-River Cruise • Rising Tides of Lava • Firefall Cliffs • Red-Hot Elevator Ride • The Final Battle • Magma Moat*** • Magmaw River Cruise*** • Hot Cogs*** • Firefall Rising*** • Current Event*** • The Final Battle***
Superstar Road
Spine-Tingling Spine Coaster • Run for It • Swim for Your Life! • Hammerswing Caverns • Spinning Platforms of Doom • Fire Bar Cliffs • Lakitu! Lakitu! Lakitu! • Pendulum Castle • Follow that Shell! • Spine Coaster Connection*** • P Switch Peril*** • Star Coin Deep Dive*** • Hammerswing Hangout*** • Under Construction*** • Fire Bar Sprint*** • Cloudy Capers*** • Impossible Pendulums*** • Flying Squirrel Ovation***

Coin Courses

World

Coin

-

1

• World

Coin

-

2

• World

Coin

-

3

• World

Coin

-

4

• World

Coin

-

5

• World

Coin

-

6

• World

Coin

-

7


• World

Coin

-

8

Other
Secret Island
Collectibles and objects
Power-ups
Fire Flower • Ice Flower • Mini Mushroom • Penguin Suit • Propeller Mushroom • Starman • Super Acorn (

P-Acorn

) • Super Crown** • Super Mushroom (Boost Star)
Items
? Switch • ! Switch • 1-Up Mushroom • 3-Up Moon • Berry • Blue Coin • Boost Star • Coin • Dash Coin • Green Coin • Red Coin • Star Coin • Yoshi Egg
Objects

3-Up Moon Block

• Barrel • Beanstalk • Boost Block • Brick Block •

Cannon Pipe

• Checkpoint Flag • Coin Block • Donut Lift • Flying Question Block •

Giant Brick Block

•

Giant Question Block

•

Giant Snake Block

• Goal Pole • Green Ring • Ice Block • Light Block • Note Block • POW Block • P-Switch • Question Block • Red Ring • Roulette Block • Snake Block •

Super Guide Block

• Springboard •

Stretch Block

• Warp Door •

Water Pipe

• Water Bubble •

Wooden Block

Miscellaneous
Other
Bonecoaster •

Current

• Floating Jump • Koopa Clown Car • Lava • Poisoned Water • Quicksand • Sand Geyser •

Stone-Eye

• Volcanic Smoke • Waterspout
Info
Gallery (

Luigi U

/Deluxe)
*-Exclusive to New Super Mario Bros. U • **-Exclusive to New Super Mario Bros. U Deluxe • ***-Exclusive to New Super Luigi U
†-Level before the world