Not to be confused with Ice Land.

The Land of Ice[1] is a place in the Mushroom World that appeared in The Bird! The Bird! of The Super Mario Bros. Super Show!.
Description
The Land of Ice is an expansive tundra where the Birdos and Flurries live. It took place in Mushroom World.
History
Cheepy and his mother resided to the Land of Ice and made their home on the highest peak; living comfortably at their home. Cheepy was frozen in an ice block, separating from his mother. Cheepy's mother resiliently searched for Cheepy.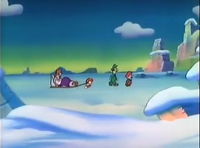 Meanwhile, Mario, Luigi, Princess Toadstool and Toad fled to the Land of Ice seeking refuge. Cheepy's mother spots Toad and snatches him, mistaking him as "Cheepy". Mario, Luigi and Toadstool were aware that Cheepy's mother took Toad to the highest peak. The trio venture to rescue Toad.
The chasm separated the mountain thus Mario, Toadstool and Luigi cannot progress to the mountain. However, they crossed the chasm. King Koopa's minions spot the trio. They successfully trapped them under the snow. Mario, Toadstool and Luigi escaped from the snow.
Mario, Toadstool and Luigi took a break. They spot a little Birdo in an ice block; Mario freed him from the ice block. After falling from the sky, Toad recruited to Mario, Toadstool and Luigi. The quartet and Cheepy climbed the mountain. The Koopa Troop impeded and fought against Mario, Luigi, Toad and Toadstool. However, the Koopa Troop retreated.
Gallery
References
See also
Community content is available under
CC-BY-SA
unless otherwise noted.