Dead Cells Final DLC - The Loop
Play Sound
Koopa Paratroopa (frequently abbreviated to Paratroopa) is a recurring common enemy in Nintendo's Super Mario video game series. It is a Koopa Troopa with wings on it. However, they will fail to retain them if someone decides to jump on them. He appears as playable characters in Mario Kart: Double Dash!! and Mario Power Tennis for the Nintendo GameCube.
Super Mario Bros.
Paratroopas first appear in this game, first appearing in World 1-3. Red ones fly up and down, while green ones jump around.
Super Mario Bros.: The Lost Levels
Act the same as its predecessor.
Super Mario Bros. 3
Act the same as its predecessor.
Super Mario World
Act the same as its predecessor, but they get an extremely new design. Instead of walking like turtles, they use their feet. They are uncommon, acting like previous games.
New Super Mario Bros.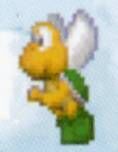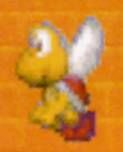 Paratroopas make their first-ever appearance on a New Super Mario Bros. game. They are more common, but unlike in Super Mario World, whenever Mario jumps on a Koopa Paratroopa, it simply loses its wings, instead of being defeated instantly, but a ground pound still takes one out with a single blow. In this game, both varities of Paratroopa can either hop or float.
New Super Mario Bros. Wii

Paratroopas reappear in the successor of New Super Mario Bros., New Super Mario Bros. Wii. They act like other games. However, unlike its predecessor, Paratroopas now dance to the music while flying.
New Super Mario Bros. 2
Act like other games.
New Super Mario Bros. U
Act like other games.
Super Mario Maker/Super Mario Maker 2
Koopa Paratroopas are enemies in Super Mario Maker, just like in past 2D Mario games. They can be created by combining a Koopa Troopa with a pair of wings. Green Paratroopas continuously leap on the ground in a zig-zag pattern, while the Paratroopas of red variety fly up and down on a vertical route. The player can enlarge Koopa Paratroopas by dragging a Super Mushroom onto them and they will then become Colossal Koopa Paratroopas.
Super Princess Peach

In Super Princess Peach, Paratroopas and Red Paratroopas appear as common enemies. Like the original Super Mario Bros., their differences are consistent. They green ones hop around while the red ones float around. Any attack can beat either Paratroopa. There are also colorful varities of Paratroopas the Mad G. P-Troopa and the G. R. P-Troopa.
Paratroopa is a character in Mario Kart: Double Dash!!. His Special Item is three Red Shells or three Green Shell. He has a red shell instead of a green shell, and has wings. He is originally a partner of Koopa Troopa's, but you can mix him up with anybody else just as well. He didn't appear as a driveable character in any other Mario Kart game. Also, In the files of Mario Kart Wii, a Paratroopa icon was there, hinting he was going to be in the game.
However, several Koopa Paratroopas are visible as audience in Mario Kart 8 on the sidelines cheering the racers on.
Karts
Mario Power Tennis
Paratroopa is an unlockable character in Mario Power Tennis. He is unlocked after completing the tournament for the first time. For his offensive power shot, he engulfs the ball in a purple light and lobs it, causing the opponent to slow down temporarily if they hit it. For his defensive power shot, he jumps into the air and flies at the ball.
Tip(s)
If you are in an area where there is a big gap that is too big to jump across, but a Paratroopa is flying above the gap, you can use the Paratroopa by hopping on it and bouncing off of it to get to the other side easier. You have to do this sometimes to beat the level.
Gallery
Trivia
A red Paratroopa was originally going to be in Mario Kart Wii, but was scrapped.
Due to his ability to quickly travel across the court, Paratroopa is widely considered to be the best character in Mario Power Tennis.
Navigation
Characters
Protagonists
Mario • Princess Peach • Luigi • Twink • Star Spirits (Eldstar, Mamar, Skolar, Muskular, Misstar, Klevar, Kalmar)
Antagonists
Bowser • Kammy Koopa • Koopa Troop • Jr. Troopa
Partners
Goombario • Kooper • Bombette • Parakarry • Lady Bow • Watt • Sushie • Lakilester
Other Characters
Albino Dino • Audience • Bootler • Bruce • Bubble Plant • Chanterelle • Chet Rippo • Chuck Quizmo • Club 64 Bartender • Dane T. • DJ Toad • Fearsome 5 • Fice T. • Fishmael • Flight • Franky • Frost T. • Gooma • Goomama • Goombaria • Goompa • Goompapa • Gourmet Guy • Guard Door • Harry T. • Herbert • Herringway • Igor • King Mousta • Kooper's mother • Kolorado • Kolorado's Wife • Koopa Koot • Koover • Lakilulu • Lily • Little Mouser • Little T. • Luigi • Madam Merlar • Master Poet • Mayor Penguin • Mayor Penguin's Wife • Merle • Merlee • Merlon • Merlow • Merluvlee • Minh T. • Mini T. • Moustafa • Mort T. • Mr. E • Mr. Hammer • Muss T. • Nomadimouse • Oaklie • Penguin Patrol • Petunia • Posie • Postmaster • Raphael the Raven • Rip Cheato • Rosie • Rowf • Rhuff • Russ T. • Sashimie • Spiky John • Spiky Tom • Stanley • Sun • Tayce T. • Three Beautiful Sisters • Toad in the Desert • Toad Minister • Tolielip • Trading Event Toad • Vanna T. • Village Leader • Watt's mother • Whacka • Whale • Wise Wisterwood • Yakkey
Species
Baby Yoshi • Bellbell Plant • Boo • Bub-ulb • Bulb Bush • Bumpty • Candy Cane • Cymbal Bush • Doogan • Dryite • Heart Plant • Human • Li'l Oink • Munchlesia • Nomadimouse • Raven • Snowman • Spinning Flower • Star Kid • Toad • Trumpet Plant • Yoshi
Locations
Areas
Boo's Mansion • Boo's Shop • Bowser's Castle • Cloudy Climb • Club 64 • Crystal Palace • Dry Dry Desert • Dry Dry Outpost • Dry Dry Railroad • Dry Dry Ruins • Flower Fields • Forever Forest • Goomba King's Fortress • Goomba Road • Goomba Village • Gusty Gulch • Harry's Shop • Item Shop • Jade Jungle • Koopa Bros. Fortress • Koopa Village • Koopa's Shop • Lavalava Island • Li'l-Oink Farm • Little Mouser's Shop • Mario's House • Mt. Lavalava • Mt. Rugged • Peach's Bedroom • Peach's Castle • Playroom • Pleasant Path • Post Office • Shiver City • Shiver Mountain • Shiver Region • Shiver Shop • Shiver Snowfield • Shooting Star Summit • Shroom Grocery • Shy Guy's Toy Box • Starborn Valley • Star Haven • Star Haven Shop • Star Way • Storehouse • Sun Tower • Toad House • Toad Town • Toad Town Dojo • Toad Town Tunnels • Tubba Blubba's Castle • Windy Mill • Yoshi's Cabana • Yoshi's Village
Bosses
Main/Recurring Bosses
Bowser • Kammy Koopa • Jr. Troopa
Chapter Bosses
Goomba King • Bowser??? • Koopa Bros. (Red Ninjakoopa, Black Ninjakoopa, Yellow Ninjakoopa, Green Ninjakoopa) • Tutankoopa • Tubba Blubba/Tubba Blubba's Heart • General Guy • Lava Piranha/Lava Bud • Huff N. Puff • Crystal King/Crystal Bit • Bowser
Mini Bosses
Red and Blue Goombas • Buzzar • Anti Guy • Blooper • Super Blooper • Electro Blooper • Spike??? • Kent C. Koopa • The Master • Monstar
Enemies
Enemies
Amazy Dayzee • Bandit • Bill Blaster • Bob-omb • Bombshell Bill • Bombshell Bill Blaster • Bony Beetle • Bullet Bill • Buzzy Beetle • Bzzap! • Cleft • Clubba • Crazee Dayzee • Dark Koopa • Dry Bones • Duplighost • Ember • Forest Fuzzy • Frost Piranha • Fuzzy • Gloomba • Goomba • Gray Magikoopa • Green Magikoopa • Groove Guy • Gulpit • Hammer Bros. • Hurt Plant • Hyper Cleft • Hyper Goomba • Hyper Paragoomba • Jungle Fuzzy • Koopatrol • Koopa Troopa • Lakitu • Lava Bubble • Magikoopa • M. Bush • Medi Guy • Monty Mole • Paragloomba • Paragoomba • Paratroopa • Piranha Plant • Pokey • Pokey Mummy • Putrid Piranha • Pyro Guy • Red Magikoopa • Ruff Puff • Shy Guy • Shy Squad • Shy Stack • Spear Guy • Spiked Gloomba • Spiked Goomba • Spike Top • Spiny • Spy Guy • Swooper • Swoopula • White Clubba • White Magikoopa • Yellow Magikoopa
Items
Regular Items
Apple • Blue Berry • Bubble Berry • Coconut • Dizzy Dial • Dried Fruit • Dried Shroom • Dusty Hammer • Egg • Fire Flower • Fright Jar • Goomnut • Honey Syrup • Iced Potato • Jammin' Jelly • Koopa Leaf • Lemon • Life Shroom • Lime • Maple Syrup • Melon • Mushroom • Mystery? • Pebble • POW Block • Red Berry • Repel Gel • Shooting Star • Sleepy Sheep • Snowman Doll • Stinky Herb • Stone Cap • Strange Leaf • Stop Watch • Super Shroom • Super Soda • Tasty Tonic • Thunder Bolt • Thunder Rage • Ultra Shroom • Volt Shroom • Whacka Bump • Yellow Berry
Key Items
Artifact • Autograph • Blue Key • Boo's Portrait • Bucket • Butter • Calculator • Castle Key • Cleanser • Cookbook • Cream • Crystal Ball • Crystal Berry • Diamond Stone • Dictionary • Diploma • Dolly • Egg • Empty Wallet • Fertile Soil • First-Degree Card • Flour • Fortress Key • Fourth-Degree Card • Frying Pan • Glasses • Gold Credit • Jade Raven • Koopa Legends • Kooper's Shell • Letter • Lucky Star • Lunar Stone • Lyrics • Magical Bean • Magical Seed • Mailbag • Melody • Milk • Miracle Water • Mystery Note • Odd Key • Old Photo • Package • Palace Key • Prison Key • Pulse Stone • Pyramid Stone • Record • Red Jar • Red Key • Ruins Key • Salt • Scarf • Second-Degree Card • Silver Credit • Sneaky Parasol • Star Piece • Star Rod • Star Stone • Storeroom Key • Strawberry • Sugar • Tape • Third-Degree Card • Toy Train • Ultra Stone • Volcano Vase • Warehouse Key • Water • Water Stone • Weight • Yakkey
Recipes
Apple Pie • Big Cookie • Bland Meal • Boiled Egg • Cake • Coco Pop • Deluxe Feast • Dizzy Dial • Egg Missile • Electro Pop • Fire Flower • Fire Pop • Fried Egg • Fried Shroom • Frozen Fries • Healthy Juice • Honey Shroom • Honey Super • Honey Ultra • Hot Shroom • Jelly Pop • Jelly Shroom • Jelly Super • Jelly Ultra • Kooky Cookie • Koopa Tea • Koopasta • Lemon Candy • Life Shroom • Lime Candy • Maple Shroom • Maple Super • Maple Ultra • Nutty Cake • Potato Salad • Shroom Cake • Shroom Steak • Sleepy Sheep • Spaghetti • Special Shake • Spicy Soup • Strange Cake • Super Soda • Sweet Shroom • Tasty Tonic • Thunder Rage • Volt Shroom • Yoshi Cookie • Yummy Meal
Badges
All or Nothing • Attack FX A • Attack FX B • Attack FX C • Attack FX D • Attack FX E • Bump Attack • Chill Out • Close Call • D-Down Jump • D-Down Pound • Damage Dodge • Deep Focus • Defend Plus • Dizzy Attack • Dizzy Stomp • Dodge Master • Double Dip • Feeling Fine • Fire Shield • First Attack • Flower Finder • Flower Saver • FP Plus • Group Focus • Hammer Throw • Happy Flower • Happy Heart • Heart Finder • HP Drain • HP Plus • I Spy • Ice Power • Jump Charge • Last Stand • Lucky Day • Mega Jump • Mega Quake • Mega Rush • Mega Smash • Money Money • Multibounce • P-Down, D-Up • P-Up, D-Down • Pay-Off • Peekaboo • Power Bounce • Power Jump • Power Plus • Power Quake • Power Rush • Power Smash • Pretty Lucky • Quake Hammer • Quick Change • Refund • Runaway Pay • S. Jump Chg. • S. Smash Chg. • Shrink Stomp • Sleep Stomp • Slow Go • Smash Charge • Speedy Spin • Spike Shield • Spin Attack • Spin Smash • Triple Dip • Zap Tap
Techniques
Partner Moves
Headbonk • Tattle • Charge • Multibonk • Shell Toss • Power Shell • Dizzy Shell • Fire Shell • Sky Dive • Shell Shot • Air Lift • Air Raid • Body Slam • Bomb • Power Bomb • Mega Bomb • Smack • Outta Sight • Spook • Fan Smack • Electro Dash • Power Shock • Turbo Charge • Mega Shock • Belly Flop • Squirt • Water Block • Tidal Wave • Spiny Flip • Spiny Surge • Cloud Nine • Hurricane
Special Moves
Refresh • Lullaby • Star Storm • Chill Out • Smooch • Time Out • Up & Away • Star Beam/Peach Beam
Enemy/Boss Moves
Charge • Divide and Conquer
Miscellaneous
Object and Features
! Switch • ? Block • Badge • Blue Pipe • Blue Switch • Bowser's Diary • Brick Block • Bubble • Chomp Rock • Cracked Wall • Dock • Fire Bar • Floor Switch • Hidden Block • Jack-in-the-Box • Jump Pad • K64 • Koopa Clown Car • Lakitu's Cloud • Lever • Metal Block • Power Platform • Puff-Puff Machine • Recovery Block • Red ? Block • Save Block • Star Cruiser • Stilts • Stone Block • Super Block • Treasure Chest (Mysterious) • Toy Tank • Warp Pipe • Yellow Block
Terms/Ailments
Badge Point • Danger • Dizzy • Electrified • Flower Point • Frozen • Heart Point • Immobilized • Injured • Invisible • No Skills • Peril • Poison • POW-Down • POW-Up • Sleep • Star Point • Star Power • Stone • Super Rank • Tiny • Ultra Rank
Other
Soundtrack • Tattle List • Walkthrough
Characters
Playable characters
Mario • Luigi • Yellow Toad • Blue Toad* • Toadette** • Nabbit**/*** • Mii*
Supporting characters
Princess Peach • Toad • Green Yoshi • Baby Yoshi (Balloon, Bubble, Glowing)
Bosses
Koopalings (Lemmy Koopa, Morton Koopa Jr., Larry Koopa, Wendy O. Koopa, Iggy Koopa, Roy Koopa, Ludwig von Koopa) • Bowser Jr. • Bowser
Enemies and obstacles
Enemies
Amp* • Banzai Bill • Big Amp* • Big Boo • Big Buzzy Beetle* • Big Cheep Cheep • Big Dry Bones • Big Deep Cheep** •

Big Eep Cheep

** • Big Fuzzy • Big Goomba • Big Koopa Troopa • Big Piranha Plant • Big Thwomp •

Big Urchin

• Big Venus Fire Trap** • Big Wiggler • Blooper •

Blooper Baby

* • Blooper Nanny* • Bob-omb • Bony Beetle • Boo • Boomerang Bro •

Bowser Stunner

• Bramball • Broozer • Bulber* • Bullet Bill • Buzzy Beetle • Chain Chomp • Cheep Cheep • Cheep Chomp • Circling Boo Buddies • Cooligan •

Dai Gorō

• Deep Cheep** • Dragoneel •

Dragoneel (purple)

* • Dry Bones •

Eep Cheep

• Fire Bro • Fire Snake • Fire Piranha Plant • Fish Bone • Flame Chomp •

Fliprus

• Foo • Fuzzy • Goomba •

Goomba (balloon)

* • Goombrat • Grrrol •

Gūrindai

• Hammer Bro • Heavy Para-Beetle • Hefty Goomba • Huckit Crab • Ice Bro • Ice Piranha Plant • Jellybeam* • King Bill • Koopa Paratroopa • Koopa Troopa • Lakitu • Lava Bubble • Lava Geyser • Magmaargh • Magmaw • Mecha Cheep* •

Mecha Hand

• Mechakoopa •

Meteor

• Mini Goomba •

Missile Bill

• Monty Mole • Muncher • Nabbit • Para-Beetle •

Parabomb

• Paragoomba* • Piranha Plant • Pokey • Porcupuffer •

Prickly Goomba

• Red Skull Box • River Piranha Plant • Rocky Wrench* • Scaredy Rat* • Sledge Bro • Spike • Spike Top • Spiked Ball • Spinner • Spiny •

Spiny Cheep Cheep

• Stalking Piranha Plant • Stone Spike • Sumo Bro • Swoop* • Targeting Ted • Thwimp* • Thwomp • Torpedo Ted • Urchin • Waddlewing • Wiggler
Obstacles
Banzai Bill Cannon •

Big Fire Bar

• Bill Blaster • Bill Blaster Turret • Burner • Cannon • Cannonball* • Fire Bar •

Giant Cannonball

• Icicle •

Obake Block

• Red Skull Box • Skewer • Skull Box* • Spiked Ball • Spinner • Spiny Egg
Worlds and levels
Acorn Plains
Acorn Plains Way • Tilted Tunnel • Crushing-Cogs Tower • Yoshi Hill • Mushroom Heights • Rise of the Piranha Plants • Lemmy's Swingback Castle • Blooper's Secret Lair • Waddlewing Warning!*** • Crooked Cavern*** •

Flame-Gear Tower

*** • Rolling Yoshi Hills*** • Piranha Heights*** • Piranha Gardens*** • Lemmy's Lights-Out Castle*** • Cheep Chomp Chase***
Layer-Cake Desert

Stone-Eye Zone

•

Perilous Pokey Cave

•

Fire Snake Cavern

•

Stoneslide Tower

• Spike's Spouting Sands •

Dry Desert Mushrooms

•

Blooming Lakitus

•

Morton's Compactor Castle

•

Piranha Plants on Ice

•

Piranha Plants on Ice

• Spike's Tumbling Desert*** • Underground Grrrols*** • Piranhas in the Dark*** • Wind-Up Tower*** • The Walls Have Eyes*** • Stone Spike Conveyors*** • Spinning Sandstones*** • Morton's Lava-Block Castle*** • Slippery Rope Ladders***
Sparkling Waters

Waterspout Beach

•

Tropical Refresher

•

Giant Skewer Tower

•

Haunted Shipwreck

•

Above the Cheep Cheep Seas

•

Urchin Shoals

•

Dragoneel's Undersea Grotto

•

Larry's Torpedo Castle

•

Skyward Stalk

• Huckit Beach Resort*** • Urchin Reef Romp*** • Shish-Kebab Tower*** • Haunted Cargo Hold*** • The Great Geysers*** • The Great Geysers*** • Dragoneel Depths*** • Larry's Trigger-Happy Castle*** • Beanstalk Jungle***
Frosted Glacier

Spinning-Star Sky

•

Cooligan Fields

•

Freezing-Rain Tower

•

Prickly Goombas!

•

Scaling the Mountainside

•

Icicle Caverns

•

Swaying Ghost House

•

Fliprus Lake

•

Fliprus Lake

• Broozers and Barrels*** • Cooligan Shrooms*** • Icicle Tower*** • Fire and Ice*** • Weighty Waddlewings*** • Ice-Slide Expressway*** • Peek-a-Boo Ghost House*** • Wendy's Thwomp Castle*** • Fliprus Floes***
Soda Jungle

The Mighty Cannonship

† •

Jungle of the Giants

•

Bridge over Poisoned Waters

• Bramball Woods •

Snake Block Tower

•

Which-Way Labyrinth

•

Painted Swampland

•

Deepsea Ruins

•

Seesaw Bridge

•

Wiggler Stampede

•

Iggy's Volcanic Castle

•

Flight of the Para-Beetles

• All Aboard!†/*** • Giant Swing-Along*** • Dancing Blocks, Poison Swamp*** • Heart of Bramball Woods*** • Stone-Snake Tower*** • Stone-Snake Tower*** • Painted Pipeworks*** • Deepsea Stone-Eyes*** • Sumo Bro Bridge*** • Wiggler Floodlands*** • Iggy's Swinging-Chains Castle*** • Para-Beetle Parade***
Rock-Candy Mines
Fuzzy Clifftop • Porcupuffer Falls • Grinding-Stone Tower • Waddlewing's Nest • Light Blocks, Dark Tower • Walking Piranha Plants! • Thrilling Spine Coaster • Screwtop Tower • Screwtop Tower • Roy's Conveyor Castle • Mount Fuzzy*** •

Porcupuffer Cavern

*** • Smashing-Stone Tower*** • Spike's Seesaws*** • Light-Up-Lift Tower*** • Rising Piranhas*** • Spine Coaster Stowaways*** • Sumo Bro's Spinning Tower*** • Switch-Lift Express*** • Roy's Ironclad Castle***
Meringue Clouds
Land of Flying Blocks • Seesaw Shrooms • Switchback Hill • Slide Lift Tower • Spinning Spirit House • Bouncy Cloud Boomerangs • A Quick Dip in the Sky •

Snaking above Mist Valley

• Ludwig's Clockwork Castle • Boarding the Airship •

Frozen Fuzzies

*** •

Wiggler Rodeo

*** •

Rainbow Skywalk

*** •

Stonecrush Tower

*** •

Vanishing Ghost House

*** •

Above the Bouncy Clouds

*** •

Flame Chomp Ferris Wheel

*** •

Three-Headed Snake Block

*** •

Ludwig's Block-Press Castle

*** •

Bowser Jr. Showdown

***
Peach's Castle
Meteor Moat • Magma-River Cruise • Rising Tides of Lava • Firefall Cliffs • Red-Hot Elevator Ride •

The Final Battle

• Magma Moat*** • Magmaw River Cruise*** • Hot Cogs*** • Firefall Rising*** •

Current Event

*** •

The Final Battle

***
Superstar Road
Spine-Tingling Spine Coaster •

Run for It

•

Swim for Your Life!

•

Hammerswing Caverns

•

Spinning Platforms of Doom

•

Fire Bar Cliffs

•

Lakitu! Lakitu! Lakitu!

•

Pendulum Castle

•

Follow That Shell!

•

Spine Coaster Connections

*** •

P Switch Peril

*** •

Star Coin Deep Dive

*** •

Hammerswing Hangout

*** •

Under Construction

*** •

Fire Bar Sprint

*** •

Cloudy Capers

*** •

Impossible Pendulums

*** • Flying Squirrel Ovation***

Coin Courses

World

Coin

-

1

• World

Coin

-

2

• World

Coin

-

3

• World

Coin

-

4

• World

Coin

-

5

• World

Coin

-

6

• World

Coin

-

7


• World

Coin

-

8

Other
Secret Island
Collectibles and objects
Power-ups
Fire Flower • Ice Flower • Mini Mushroom • Penguin Suit • Propeller Mushroom • Super Acorn (

P-Acorn

) • Super Crown** • Super Mushroom • Super Star (

Boost Star

)
Items
? Switch • ! Switch • 1-Up Mushroom • 3-Up Moon • Berry • Blue Coin •

Boost Star

• Coin • Dash Coin •

Green Coin

• Red Coin • Star Coin • Yoshi Egg
Objects

3-Up Moon Block

• Barrel • Beanstalk •

Boost Block

• Brick Block •

Cannon Pipe

• Checkpoint Flag • Coin Block • Donut Lift •

Flying Question Block

•

Giant Brick Block

•

Giant Question Block

•

Giant Snake Block

• Goal Pole •

Green Ring

• Ice Block •

Light Block

• Note Block • POW Block • P-Switch •

Qestion Block

• Red Ring • Roulette Block • Snake Block •

Super Guide Block

• Springboard •

Stretch Block

•

Warp Door

•

Water Pipe

• Water Ball •

Wooden Block

Miscellaneous
Other

Ash

•

Current

• Floating Jump • Koopa Clown Car • Lava •

Poisoned Water

• Quicksand •

Sand Geyser

• Spine Coaster •

Stone-Eye

•

Water Geyser

Info
Gallery (

Luigi U

/Deluxe)
*-Exclusive to New Super Mario Bros. U • **-Exclusive to New Super Mario Bros. U Deluxe • ***-Exclusive to New Super Luigi U
†-Level before the world