"Mario, this is Jr. Troopa. He's the boss of the neighborhood gang. A bit of a bully obviously. He's more bark than bite. You can beat him easily. Just boost yourself up and don't take any lip!"
― Goompa Jr. Troopa, or Master Jr. Troopa, is a character and boss in Paper Mario. He appears many times throughout the game and each time, his difficulty level gets higher. He first appears by Goomba Village in his playground.
Appearance
Jr. Troopa is a small creature that is yellow in color and wears an eggshell as clothing.
Personality
Jr. Troopa is a very aggressive and vengeful person as he constantly challenges Mario into battle throughout his journey for no other reason but spite.
History
When Mario and Goompa are looking for the Hammer, Mario finds himself in Jr. Troopa's playground. On the way out, the fiend appears and begins to wonder why they've entered his home. He battles Mario in anger. This battle is nearly fixed so that Mario can't lose, but Jr. Troopa tries and nearly defeats Mario. After beating him, Jr. Troopa runs off, sad and angry.
On the way back to Toad Town, from Koopa Bros. Fortress, Mario finds Jr. Troopa yet again the two square off. Jr. Troopa shows off his new found ability to not only swim, but to hide in his shell as well. With the new-found abilities and partners, Mario defeats him with ease.
After just entering the Forever Forest, Mario and his partners hear some loud yelling. Upon a closer inspection of the forest, they run into Jr. Troopa again. Excited, he attacks Mario and the two battle for the third time. After beating him, Mario see him run off into the forest. After making his own way through, Mario notices Jr. Troopa run off to Toad Town.
A little later in the game, Jr. Troopa goes after Mario to Lavalava Island. He swims to get to the island, but unfortunately, barely misses Mario. Afterward, he swims back to Toad Town in pursuit. He eventually makes it there and attacks Mario. The two square off yet again, but Mario still prevails, as Jr. Troopa lost a lot of his stamina while swimming to Lavalava Island and back. After he is defeated, Jr. Troopa said that he could've used his wings to fly back and forth and avoided losing his stamina.
As the game progresses, Mario eventually is confronted by Jr. Troopa once again. The koopa finally tracks Mario down and challenges him for the fifth time. Jr. Troopa, now armed with his powerful Magic Wand, thinks he can finally defeat him, but fails. Mario leaves the area on his quest to the Crystal Palace and leaves. On the way through the area, until the completion of Chapter 7, Jr. Troopa remains in a frozen block.
On the way up through Bowser's Castle, Mario faces many hardships, but none come close to the final room of the castle. Mario is confronted by the final Bowser Door and must end up fighting the Koopa Bros.. However, Jr. Troopa runs into the room and knocks out all four of the Koopa Bros. Then, he battles Mario in the final show down. After losing, he knows he is bested and runs off. The door then becomes confused and doesn't know if he should let Mario through. Believing that Bowser can't be beaten by Mario, he lets him through.
Aftermath
Jr. Troopa is seen again during the parade. He gets into a magic fight with Kammy Koopa. However, the two end up blasting Bowser and his Koopa Clown Car and he burns Jr. Troopa and Kammy Koopa in the process.
Battle Statistics
 
Jr. Troopa's Stats (Paper Mario)
Max HP

5 (Goomba Road)
15 (Pleasant Path)
40 (Forever Forest & Toad Town)
50 (Shiver Snowfield)
60 (Bowser's Castle)

Attack

1 (Goomba Road)
2 (Pleasant Path)
5 (Forever Forest & Toad Town)
6 (Shiver Snowfield)
8 (Bowser's Castle)

Defense

0 (Goomba Road)
1 (Pleasant Path, Forever Forest, & Toad Town)
2 (Shiver Snowfield & Bowser's Castle)

Attacks

Jumps on Mario. (On ground only)
Swoops down. (Needs wings)
Magic attack. (Needs Wand)
Lightning. (Needs Wand)
Heals 10 HP. (Needs Wand)
Trivia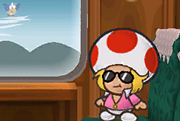 Although Jr. Troopa is a Koopa, he's not a member of the Koopa Troop. In fact, his only allegiance is to himself.
Unlike Lord Crump, O'Chunks, Bowser Jr. and Kamek, Jr. Troopa is the only boss that Mario fights the most times in each of the Paper Mario series' installments that doesn't affiliate with the game's main antagonist.
At the beginning of the game, Goompa states that Jr. Troopa is the boss of a "neighborhood gang", but none of its members, other than Jr. Troopa, were ever seen. In fact, it is unknown if Jr. Troopa lied to Goompa about having a gang, or that his gang ran away, or were somewhere else.
Just before the player fights him in Forever Forest, he erroneously calls himself "Jr. Koopa". This is probably an alternate name for him.
After defeating him the second time as well as in chapters 4 and 6, he does not run away, and the player in control of Mario can opt to hit him with party attacks, jumping, and the hammer, to which he will always respond with a pained scream.
Jr. Troopa also makes a cameo in Paper Mario: The Thousand Year Door in a mail sent by the real Zip T.. Jr. Troopa can be seen flying with his bat wings.
Jr. Troopa also breaks the fourth wall by noticing his HP bar cut in half during the battle in Toad Town's port.
Even given that Jr. Troopa is one of the main characters of Paper Mario, he doesn't have his own, official artwork.
Not counting the first battle with Bowser, Jr. Troopa is the first boss fought in Paper Mario overall.
Gallery
Characters
Protagonists
Mario • Princess Peach • Luigi • Twink • Star Spirits (Eldstar, Mamar, Skolar, Muskular, Misstar, Klevar, Kalmar)
Antagonists
Bowser • Kammy Koopa • Koopa Troop • Jr. Troopa
Partners
Goombario • Kooper • Bombette • Parakarry • Lady Bow • Watt • Sushie • Lakilester
Other Characters
Albino Dino • Audience • Bootler • Bruce • Bubble Plant • Chanterelle • Chet Rippo • Chuck Quizmo • Club 64 Bartender • Dane T. • DJ Toad • Fearsome 5 • Fice T. • Fishmael • Flight • Franky • Frost T. • Gooma • Goomama • Goombaria • Goompa • Goompapa • Gourmet Guy • Guard Door • Harry T. • Herbert • Herringway • Igor • King Mousta • Kooper's mother • Kolorado • Kolorado's Wife • Koopa Koot • Koover • Lakilulu • Lily • Little Mouser • Little T. • Luigi • Madam Merlar • Master Poet • Mayor Penguin • Mayor Penguin's Wife • Merle • Merlee • Merlon • Merlow • Merluvlee • Minh T. • Mini T. • Moustafa • Mort T. • Mr. E • Mr. Hammer • Muss T. • Nomadimouse • Oaklie • Penguin Patrol • Petunia • Posie • Postmaster • Raphael the Raven • Rip Cheato • Rosie • Rowf • Rhuff • Russ T. • Sashimie • Spiky John • Spiky Tom • Stanley • Sun • Tayce T. • Three Beautiful Sisters • Toad in the Desert • Toad Minister • Tolielip • Trading Event Toad • Vanna T. • Village Leader • Watt's mother • Whacka • Whale • Wise Wisterwood • Yakkey
Species
Baby Yoshi • Bellbell Plant • Boo • Bub-ulb • Bulb Bush • Bumpty • Candy Cane • Cymbal Bush • Doogan • Dryite • Heart Plant • Human • Li'l Oink • Munchlesia • Nomadimouse • Raven • Snowman • Spinning Flower • Star Kid • Toad • Trumpet Plant • Yoshi
Locations
Areas
Boo's Mansion • Boo's Shop • Bowser's Castle • Cloudy Climb • Club 64 • Crystal Palace • Dry Dry Desert • Dry Dry Outpost • Dry Dry Railroad • Dry Dry Ruins • Flower Fields • Forever Forest • Goomba King's Fortress • Goomba Road • Goomba Village • Gusty Gulch • Harry's Shop • Item Shop • Jade Jungle • Koopa Bros. Fortress • Koopa Village • Koopa's Shop • Lavalava Island • Li'l-Oink Farm • Little Mouser's Shop • Mario's House • Mt. Lavalava • Mt. Rugged • Peach's Bedroom • Peach's Castle • Playroom • Pleasant Path • Post Office • Shiver City • Shiver Mountain • Shiver Region • Shiver Shop • Shiver Snowfield • Shooting Star Summit • Shroom Grocery • Shy Guy's Toy Box • Starborn Valley • Star Haven • Star Haven Shop • Star Way • Storehouse • Sun Tower • Toad House • Toad Town • Toad Town Dojo • Toad Town Tunnels • Tubba Blubba's Castle • Windy Mill • Yoshi's Cabana • Yoshi's Village
Bosses
Main/Recurring Bosses
Bowser • Kammy Koopa • Jr. Troopa
Chapter Bosses
Goomba King • Bowser??? • Koopa Bros. (Red Ninjakoopa, Black Ninjakoopa, Yellow Ninjakoopa, Green Ninjakoopa) • Tutankoopa • Tubba Blubba/Tubba Blubba's Heart • General Guy • Lava Piranha/Lava Bud • Huff N. Puff • Crystal King/Crystal Bit • Bowser
Mini Bosses
Red and Blue Goombas • Buzzar • Anti Guy • Blooper • Super Blooper • Electro Blooper • Spike??? • Kent C. Koopa • The Master • Monstar
Enemies
Enemies
Amazy Dayzee • Bandit • Bill Blaster • Bob-omb • Bombshell Bill • Bombshell Bill Blaster • Bony Beetle • Bullet Bill • Buzzy Beetle • Bzzap! • Cleft • Clubba • Crazee Dayzee • Dark Koopa • Dry Bones • Duplighost • Ember • Forest Fuzzy • Frost Piranha • Fuzzy • Gloomba • Goomba • Gray Magikoopa • Green Magikoopa • Groove Guy • Gulpit • Hammer Bros. • Hurt Plant • Hyper Cleft • Hyper Goomba • Hyper Paragoomba • Jungle Fuzzy • Koopatrol • Koopa Troopa • Lakitu • Lava Bubble • Magikoopa • M. Bush • Medi Guy • Monty Mole • Paragloomba • Paragoomba • Paratroopa • Piranha Plant • Pokey • Pokey Mummy • Putrid Piranha • Pyro Guy • Red Magikoopa • Ruff Puff • Shy Guy • Shy Squad • Shy Stack • Spear Guy • Spiked Gloomba • Spiked Goomba • Spike Top • Spiny • Spy Guy • Swooper • Swoopula • White Clubba • White Magikoopa • Yellow Magikoopa
Items
Regular Items
Apple • Blue Berry • Bubble Berry • Coconut • Dizzy Dial • Dried Fruit • Dried Shroom • Dusty Hammer • Egg • Fire Flower • Fright Jar • Goomnut • Honey Syrup • Iced Potato • Jammin' Jelly • Koopa Leaf • Lemon • Life Shroom • Lime • Maple Syrup • Melon • Mushroom • Mystery? • Pebble • POW Block • Red Berry • Repel Gel • Shooting Star • Sleepy Sheep • Snowman Doll • Stinky Herb • Stone Cap • Strange Leaf • Stop Watch • Super Shroom • Super Soda • Tasty Tonic • Thunder Bolt • Thunder Rage • Ultra Shroom • Volt Shroom • Whacka Bump • Yellow Berry
Key Items
Artifact • Autograph • Blue Key • Boo's Portrait • Bucket • Butter • Calculator • Castle Key • Cleanser • Cookbook • Cream • Crystal Ball • Crystal Berry • Diamond Stone • Dictionary • Diploma • Dolly • Egg • Empty Wallet • Fertile Soil • First-Degree Card • Flour • Fortress Key • Fourth-Degree Card • Frying Pan • Glasses • Gold Credit • Jade Raven • Koopa Legends • Kooper's Shell • Letter • Lucky Star • Lunar Stone • Lyrics • Magical Bean • Magical Seed • Mailbag • Melody • Milk • Miracle Water • Mystery Note • Odd Key • Old Photo • Package • Palace Key • Prison Key • Pulse Stone • Pyramid Stone • Record • Red Jar • Red Key • Ruins Key • Salt • Scarf • Second-Degree Card • Silver Credit • Sneaky Parasol • Star Piece • Star Rod • Star Stone • Storeroom Key • Strawberry • Sugar • Tape • Third-Degree Card • Toy Train • Ultra Stone • Volcano Vase • Warehouse Key • Water • Water Stone • Weight • Yakkey
Recipes
Apple Pie • Big Cookie • Bland Meal • Boiled Egg • Cake • Coco Pop • Deluxe Feast • Dizzy Dial • Egg Missile • Electro Pop • Fire Flower • Fire Pop • Fried Egg • Fried Shroom • Frozen Fries • Healthy Juice • Honey Shroom • Honey Super • Honey Ultra • Hot Shroom • Jelly Pop • Jelly Shroom • Jelly Super • Jelly Ultra • Kooky Cookie • Koopa Tea • Koopasta • Lemon Candy • Life Shroom • Lime Candy • Maple Shroom • Maple Super • Maple Ultra • Nutty Cake • Potato Salad • Shroom Cake • Shroom Steak • Sleepy Sheep • Spaghetti • Special Shake • Spicy Soup • Strange Cake • Super Soda • Sweet Shroom • Tasty Tonic • Thunder Rage • Volt Shroom • Yoshi Cookie • Yummy Meal
Badges
All or Nothing • Attack FX A • Attack FX B • Attack FX C • Attack FX D • Attack FX E • Bump Attack • Chill Out • Close Call • D-Down Jump • D-Down Pound • Damage Dodge • Deep Focus • Defend Plus • Dizzy Attack • Dizzy Stomp • Dodge Master • Double Dip • Feeling Fine • Fire Shield • First Attack • Flower Finder • Flower Saver • FP Plus • Group Focus • Hammer Throw • Happy Flower • Happy Heart • Heart Finder • HP Drain • HP Plus • I Spy • Ice Power • Jump Charge • Last Stand • Lucky Day • Mega Jump • Mega Quake • Mega Rush • Mega Smash • Money Money • Multibounce • P-Down, D-Up • P-Up, D-Down • Pay-Off • Peekaboo • Power Bounce • Power Jump • Power Plus • Power Quake • Power Rush • Power Smash • Pretty Lucky • Quake Hammer • Quick Change • Refund • Runaway Pay • S. Jump Chg. • S. Smash Chg. • Shrink Stomp • Sleep Stomp • Slow Go • Smash Charge • Speedy Spin • Spike Shield • Spin Attack • Spin Smash • Triple Dip • Zap Tap
Techniques
Partner Moves
Headbonk • Tattle • Charge • Multibonk • Shell Toss • Power Shell • Dizzy Shell • Fire Shell • Sky Dive • Shell Shot • Air Lift • Air Raid • Body Slam • Bomb • Power Bomb • Mega Bomb • Smack • Outta Sight • Spook • Fan Smack • Electro Dash • Power Shock • Turbo Charge • Mega Shock • Belly Flop • Squirt • Water Block • Tidal Wave • Spiny Flip • Spiny Surge • Cloud Nine • Hurricane
Special Moves
Refresh • Lullaby • Star Storm • Chill Out • Smooch • Time Out • Up & Away • Star Beam/Peach Beam
Enemy/Boss Moves
Charge • Divide and Conquer
Miscellaneous
Object and Features
! Switch • ? Block • Badge • Blue Pipe • Blue Switch • Bowser's Diary • Brick Block • Bubble • Chomp Rock • Cracked Wall • Dock • Fire Bar • Floor Switch • Hidden Block • Jack-in-the-Box • Jump Pad • K64 • Koopa Clown Car • Lakitu's Cloud • Lever • Metal Block • Power Platform • Puff-Puff Machine • Recovery Block • Red ? Block • Save Block • Star Cruiser • Stilts • Stone Block • Super Block • Treasure Chest (Mysterious) • Toy Tank • Warp Pipe • Yellow Block
Terms/Ailments
Badge Point • Danger • Dizzy • Electrified • Flower Point • Frozen • Heart Point • Immobilized • Injured • Invisible • No Skills • Peril • Poison • POW-Down • POW-Up • Sleep • Star Point • Star Power • Stone • Super Rank • Tiny • Ultra Rank
Other
Soundtrack • Tattle List • Walkthrough