Super Mario RPG Statistics: Jinx

Jinx's artwork from Super Mario RPG: Legend of the Seven Stars.
Location(s)
Monstro Town
Health Points (HP)
First Phase: 600
Second Phase: 800
Third Phase: 1000
Flower Points (FP)
100
Attack
First Phase: 140
Second Phase: 160
Third Phase: 180
Defense
First Phase: 100
Second Phase: 120
Third Phase: 140
Magic Attack
0
Magic Defense
First Phase: 80
Second Phase: 90
Third Phase: 100
Speed
First Phase: 30
Second Phase: 32
Third Phase: 35
Special Attacks
Jinxed
Bombs Away
Quicksilver
Triple Kick
Silver Bullet
Valor Up
Vigor Up!
Weaknesses
None
Dropped Item
None
Yoshi Cookie Item
Mushroom
Bonus Flower
Attack Up - 2% chance to get it

Psychopath

Message
First Phase: You're just a beginner!
Second Phase: Sympathy!? Not from me!
Third Phase: Ooh! I'm gonna hurt ya!
Dropped Coins
0
Experience Points
0
Jinx
is an optional mini-boss in
Super Mario RPG: Legend of the Seven Stars
. He is a small character. He has many attacks like Quicksilver, Jinxed, etc. He also has an
Instant Death Attack
,
Silver Bullet
. He has 3 phases. The battle ends between every phase, so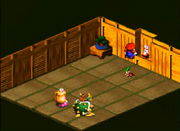 Mario can equip something different, if he wants. After beat the 3rd phase, Jinx will say:
Whoa......
You ARE the stronger champion,
no doubt about it.
My reputation was staked on this last fight, so I've lost the title of "Sensei".
From today, you are the Sensei of this dojo.
Please take this belt, which only the highest ranking fighter in the dojo can wear.
After that, Mario will receive the "Jinx Belt".
Trivia
Attention MarioWiki users!
: This article is
too small or lacks sufficient information
. Whether you are commenting or editing, we would be pleased if you help
MarioWiki
by
expanding it
.
Community content is available under
CC-BY-SA
unless otherwise noted.