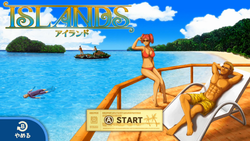 Islands is a multiplayer minigame in Game and Wario for the Wii U. The game can have up to five players, all sharing the GamePad having to fight for the highest score. The stages feature Fronks as the main (and the only playable) characters.
Gameplay
The minigame supports 2-5 players. The player can choose the color Fronks at the start. They obtain a random color of Fronks from the following: Yellow, red, green (from 3 players onward), Yellow (from 4 players onward), and Purple (only with 5 players). The order is randomly chosen at the start, but after the first turn, the one with most most points start first, the second in place plays second and so on. There are four different stages. The player's five Fronks are all launched at the same time. The number of turns, though, vary from the number of players. If there are 5 players, if they have 3 rounds; if there are 3 or 4, there are 4 rounds, while a two player-match compries 5 rounds.
No. of players
The number of turns vary from the numbers of players.
There can't be one player, unless the single player plays as more characters.
Community content is available under
CC-BY-SA
unless otherwise noted.