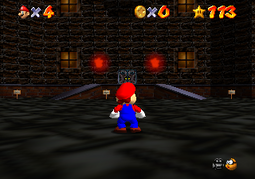 Stages, levels, or locations with a 
haunted theme
are stages usually associated with an eerie atmosphere and is one of the reoccurring themes of the series.
Other Traits and Features
One of the main traits of haunted stages is that the area usually takes place at night and often takes place inside of an old mansion. However, in some games, haunted stages can also take place in a creepy forest (Forever Forest from Paper Mario for example) or in an old ship or sunken ship (Deep Dark Galaxy from Super Mario Galaxy for example).
As for the enemies, Boos are, by far, the most common and reoccurring enemies of haunted-themed stages. They often infest a mansion forcing the player to avoid the ghostly beings. Other enemies and hazards of haunted-themed stages include man-eating pianos, flying books and silverwear, and numerous of bottomless pits. The Boos and ghosts themselves will often mess with the stage trying to hinder the player's progress. In some cases, the player must find a way to stop the enemy from doing what it is doing in order to proceed through the game. This is very common in the Luigi's Mansion games where Luigi must vacuum up certain ghosts in order to proceed through the game.
Examples
Community content is available under
CC-BY-SA
unless otherwise noted.