Fire Emblem Warriors: Three Hopes - The Loop
Play Sound
Green Coins are coins that first appears in New Super Mario Bros. U. They are spawned from Green Rings.
History
In New Super Mario Bros. U, New Super Luigi U, and New Super Mario Bros. U Deluxe, after going through a Green Ring, they spawns one group of three Green Coins appears one time rotating clockwise in a three-leaf clover with the coins still spinning. They will disappear after every three seconds if all of them are not collected in time. The timer will reset when the next group appears in a different spot after the last group collected. Only five groups of three Green Coins are collected to clear, with a total of fifteen coins. When they are collected, a green numbered text appears based on depending what amount collected. It is similar to that to Red Coins, as collecting all of them the player gets a power-up or 1-Up Mushroom. The Green Coin will use the same sound as yellow coins if only one or two of the Green Coins in a group are collected, but collecting all three of them uses the same sound effect as collecting a Red Coin with incremented with every group collected. Every Green Coin is worth one yellow coin.
Super Mario 3D World / Super Mario 3D World + Bowser's Fury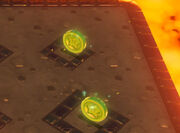 Green Coins, also referred to as Green Star Coins in the Prima Games guide, reappear in Super Mario 3D World and Super Mario 3D World + Bowser's Fury, this time resembling small Star Coins. After going through a star-shaped Green Ring, eight Green Coins start to appear separately like Red Coins, though they only appear for a limited time and disappear if they are not all collected in time, but if the player collects them all within the time limit, a Green Star appears on the same spot where the last Green Coin was collected. When a Green Coin is collected, a dark-green numbered text appears based on what depending amount collected. The Green Star Coin also make a distinct sparkly sound when collected with the pitch with each one collected. Green Coins are once again worth one yellow coin and 100 points.
Characters
Playable characters
Mario • Luigi • Yellow Toad • Blue Toad* • Toadette** • Nabbit**/*** • Mii*
Supporting characters
Princess Peach • Toad • Green Yoshi • Baby Yoshi (Balloon, Bubble, Glowing)
Bosses
Koopalings (Lemmy Koopa, Morton Koopa Jr., Larry Koopa, Wendy O. Koopa, Iggy Koopa, Roy Koopa, Ludwig von Koopa) • Bowser Jr. • Bowser
Enemies and obstacles
Enemies
Amp* • Baby Blooper* • Baby Dragoneel* • Ball 'n' Chain • Banzai Bill • Big Amp* • Balloon Goomba* • Big Boo • Big Buzzy Beetle* • Big Piranha Plant • Big Venus Fire Trap** • Blooper • Blooper Nanny* • Bob-omb • Bony Beetle • Boo • Boomerang Bro • Bowser Amp • Bramball • Broozer • Bulber* • Bullet Bill • Buzzy Beetle • Chain Chomp • Cheep Cheep • Cheep Chomp • Circling Boo Buddies • Cooligan • Deep Cheep** • Dragoneel • Dry Bones • Eep Cheep • Fire Bro • Fire Snake • Fish Bone • Flame Chomp • Fliprus • Foo • Fuzzy • Gargantua Koopa Troopa • Goomba • Goombrat • Grand Goomba • Grrrol • Hammer Bro • Heavy Parabeetle • Hefty Goomba • Huckit Crab • Ice Bro • Jellybeam* • King Bill • Koopa Paratroopa • Koopa Troopa • Lakitu • Lava Plume • Magmaargh • Magmaw • Mecha Cheep* • Mecha Hand • Mechakoopa • Mega Cheep-Cheep • Mega Deep-Cheep** • Mega Eep-Cheep** • Mega Fuzzy • Mega Grrrol • Mega Urchin • Mega Wiggler •

Meteor

• Micro Goomba • Missile Bill • Monty Mole • Muncher • Nabbit • Para-Beetle • Parabomb • Paragoomba* • Piranha Plant •

Piranha Plant Egg

• Piranhacus Giganticus • Podoboo • Pokey • Porcupuffer •

Prickly Goomba

• Red Skull Box • River Piranha Plant • Rocky Wrench* • Scaredy Rat* • Sledge Bro • Spike • Spike Top • Spiked Ball • Spiny • Spiny Cheep-Cheep • Stalking Piranha Plant • Stone Spike • Sumo Bro • Super Dry Bones • Super Thwomp • Swooper* • Targeting Ted • Thwimp* • Thwomp • Torpedo Ted • Urchin • Venus Fire Trap • Venus Ice Trap • Waddlewing • Wiggler
Obstacles
Ball 'n' Chain • Banzai Bill Cannon • Bill Blaster • Bill Blaster Turret • Burner • Cannon • Cannonball* • Fire Bar •

Ghost Block

•

Giant Cannonball

• Huge Fire Bar • Icicle • Lava • Lava Plume • Poisoned Water • Red Skull Box • Skull Box* • Spiked Ball • Spike Pillar • Spiny Egg
Worlds and levels
Acorn Plains
Acorn Plains Way • Tilted Tunnel • Crushing-Cogs Tower • Yoshi Hill • Mushroom Heights • Rise of the Piranha Plants • Lemmy's Swingback Castle • Blooper's Secret Lair • Waddlewing Warning!*** • Crooked Cavern*** •

Flame-Gear Tower

*** • Rolling Yoshi Hills*** • Piranha Heights*** • Piranha Gardens*** • Lemmy's Lights-Out Castle*** • Cheep Chomp Chase***
Layer-Cake Desert
Stone-Eye Zone • Perilous Pokey Cave • Fire Snake Cavern • Stoneslide Tower • Spike's Spouting Sands • Dry Desert Mushrooms • Blooming Lakitus • Morton's Compactor Castle • Piranha Plants on Ice • Piranha Plants on Ice • Spike's Tumbling Desert*** • Underground Grrrols*** • Piranhas in the Dark*** • Wind-Up Tower*** • The Walls Have Eyes*** • Stone Spike Conveyors*** • Spinning Sandstones*** • Morton's Lava-Block Castle*** • Slippery Rope Ladders***
Sparkling Waters
Waterspout Beach • Tropical Refresher • Giant Skewer Tower • Haunted Shipwreck • Above the Cheep Cheep Sea • Urchin Shoals • Dragoneel's Undersea Grotto • Larry's Torpedo Castle • Skyward Stalk • Huckit Beach Resort*** • Urchin Reef Romp*** • Shish-Kebab Tower*** • Haunted Cargo Hold*** • The Great Geysers*** • The Great Geysers*** • Dragoneel Depths*** • Larry's Trigger-Happy Castle*** • Beanstalk Jungle***
Frosted Glacier
Spinning Star Sky • Cooligan Fields • Freezing Rain Tower • Prickly Goombas! • Scaling the Mountainside • Icicle Caverns • Swaying Ghost House • Fliprus Lake • Fliprus Lake • Broozers and Barrels*** • Cooligan Shrooms*** • Icicle Tower*** • Fire and Ice*** • Weighty Waddlewings*** • Ice-Slide Expressway*** • Peek-a-Boo Ghost House*** • Wendy's Thwomp Castle*** • Fliprus Floes***
Soda Jungle
The Mighty Cannonship† • Jungle of the Giants • Bridge over Poisoned Waters • Bramball Woods • Snake Block Tower • Which-Way Labyrinth • Painted Swampland • Deepsea Ruins • Seesaw Bridge • Wiggler Stampede • Iggy's Volcanic Castle • Flight of the Para-Beetles • All Aboard!†/*** • Giant Swing-Along*** • Dancing Blocks, Poison Swamp*** • Heart of Bramball Woods*** • Stone-Snake Tower*** • Stone-Snake Tower*** • Painted Pipeworks*** • Deepsea Stone-Eyes*** • Sumo Bro Bridge*** • Wiggler Floodlands*** • Iggy's Swinging-Chains Castle*** • Para-Beetle Parade***
Rock-Candy Mines
Fuzzy Clifftop • Porcupuffer Falls • Grinding-Stone Tower • Waddlewing's Nest • Light Blocks, Dark Tower • Walking Piranha Plants! • Thrilling Spine Coaster • Screwtop Tower • Screwtop Tower • Roy's Conveyor Castle • Mount Fuzzy*** • Porcu-Puffer Cavern*** • Smashing-Stone Tower*** • Spike's Seesaws*** • Light-Up-Lift Tower*** • Rising Piranhas*** • Spine Coaster Stowaways*** • Sumo Bro's Spinning Tower*** • Switch-Lift Express*** • Roy's Ironclad Castle***
Meringue Clouds
Land of Flying Blocks • Seesaw Shrooms • Switchback Hill • Slide Lift Tower • Spinning Spirit House • Bouncy Cloud Boomerangs • A Quick Dip in the Sky • Snaking Above Mist Valley • Ludwig's Clockwork Castle • Boarding the Airship • Frozen Fuzzies*** • Wiggler Rodeo*** • Rainbow Skywalk*** • Stonecrush Tower*** • Vanishing Ghost House*** • Above the Bouncy Clouds*** • Flame Chomp Ferris Wheel*** • Three-Headed Snake Block*** • Ludwig's Block-Press Castle*** • Bowser Jr. Showdown***
Peach's Castle
Meteor Moat • Magma-River Cruise • Rising Tides of Lava • Firefall Cliffs • Red-Hot Elevator Ride • The Final Battle • Magma Moat*** • Magmaw River Cruise*** • Hot Cogs*** • Firefall Rising*** • Current Event*** • The Final Battle***
Superstar Road
Spine-Tingling Spine Coaster • Run for It • Swim for Your Life! • Hammerswing Caverns • Spinning Platforms of Doom • Fire Bar Cliffs • Lakitu! Lakitu! Lakitu! • Pendulum Castle • Follow that Shell! • Spine Coaster Connection*** • P Switch Peril*** • Star Coin Deep Dive*** • Hammerswing Hangout*** • Under Construction*** • Fire Bar Sprint*** • Cloudy Capers*** • Impossible Pendulums*** • Flying Squirrel Ovation***

Coin Courses

World

Coin

-

1

• World

Coin

-

2

• World

Coin

-

3

• World

Coin

-

4

• World

Coin

-

5

• World

Coin

-

6

• World

Coin

-

7


• World

Coin

-

8

Other
Secret Island
Collectibles and objects
Power-ups
Fire Flower • Ice Flower • Mini Mushroom • Penguin Suit • Propeller Mushroom • Starman • Super Acorn (

P-Acorn

) • Super Crown** • Super Mushroom (Boost Star)
Items
? Switch • ! Switch • 1-Up Mushroom • 3-Up Moon • Berry • Blue Coin • Boost Star • Coin • Dash Coin • Green Coin • Red Coin • Star Coin • Yoshi Egg
Objects

3-Up Moon Block

• Barrel • Beanstalk • Boost Block • Brick Block •

Cannon Pipe

• Checkpoint Flag • Coin Block • Donut Lift • Flying Question Block •

Giant Brick Block

•

Giant Question Block

•

Giant Snake Block

• Goal Pole • Green Ring • Ice Block • Light Block • Note Block • POW Block • P-Switch • Question Block • Red Ring • Roulette Block • Snake Block •

Super Guide Block

• Springboard •

Stretch Block

• Vine • Warp Door •

Water Pipe

• Water Bubble •

Wooden Block

Miscellaneous
Other
Bonecoaster •

Current

• Floating Jump • Koopa Clown Car • Lava • Poisoned Water • Quicksand • Sand Geyser •

Stone-Eye

• Volcanic Smoke • Waterspout
Info
Gallery (

Luigi U

/Deluxe)
*-Exclusive to New Super Mario Bros. U • **-Exclusive to New Super Mario Bros. U Deluxe • ***-Exclusive to New Super Luigi U
†-Level before the world