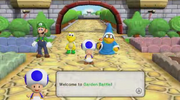 Garden Battle is one of six Party modes in Mario Party 9.
Gameplay
The objective in this mode is the players must fill up their garden with groups of colored plant blocks. The plant groups are randomly chosen from a large cart, and the player who places in first in the previous minigame will choose their plant groups first, followed by second place, then third, then last.
A minigame will start when a player chooses one in the minigame wheel. The player who picks the minigame is at first chosen at random, and then the succeeding choices are made by the player who places in last at the preceding minigame.
The plant groups must be able to fit in their garden, or the player will not have a chance to place one in the patch. The game is won when a player completely fills their garden with plants. That player's garden will grow while all other players clapping. Like other games in Minigame mode, complete this you'll get 10 Party Points.
Community content is available under
CC-BY-SA
unless otherwise noted.