"I'm too hot to touch!!"
― Fry Guy, Super Mario Advance
Fryguy is a boss making his debut appearance in Yume Kōjō: Doki Doki Panic. He makes his first Mario appearance in Super Mario Bros. 2.
Feyguy is the boss of World 4. He reprises this role Super Mario Bros. 2. He is a type of fiery monster created by Wart. Fryguy attacks by spitting out fireballs. He has to be defeated in 4-3 by throwing three Mushroom Blocks at him. After that, he will then break down into four Mini-Fry Guys; each can be killed by a single Mushroom Block. Once all the Mini-Fry Guys are gone, he is defeated and the player can move onto World 5.
Non-canon warning: This article or section contains non-canonical information that is not considered to be an official part of the Mario series and/or isn't considered to be part of the series' overall storyline.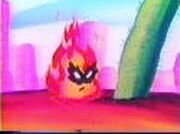 Fryguy later makes appearances in The Super Mario Bros. Super Show, which shows him serving King Bowser Koopa as part of the Koopa Troop. In this series, Fryguy seems to be able to spit fire from his mouth, such as in Hooded Robin.
Gallery
Trivia
Animated characters
Protagonists
Luigi • Mario • Princess Toadstool •

Toad

Antagonists
King Koopa •

Mouser

•

Tryclyde

Other characters
Albatoss • Autobomb • Beezo •

Bingo

• Birdo •

Brutius Maximus Grouchimus

•

Bunsen

•

Butterfingers

•

Birdoroo

•

Black Pit Bob-Omb

• Bloober • Bob-Omb • Bomb Net • Bullet Bill •

Calamity Clam

•

Captain Abidab

•

Captain Clump

•

Cave People

• Cheepy • Cheepy's mother • Clawgrip •

Cowazaurus

• Cobrat •

Dealin' Delbert

•

Dr. Nerdnick

•

Dr. Sheldon

•

Dr. T. Garden

•

Elves

•

Elvin Parsley

•

Fire God

•

Flab Boys

•

Flaky

• Flurry • Fryguy • Goomba •

Goomba (zombie)

•

Goomba Biker Gang

• Goomba Mummy •

Genie

•

George Washingtoad

•

Giant Birdo

•

Goosey

•

Gramma Toadstool

•

Gramps

•

Grunt

• Hammer Brother •

Harry

•

Hercufleas

•

Herlock Solmes

•

Hooded Robin

• Hoopster • Koopa Paratroopa • Koopa Troopa • Lakitu •

Mousersaurus Rex

• Ninji • Ostro • Phanto • Pidgit • Indiana Joe •

James Blond

•

Joliet

•

Joliet's father

•

June and Ward

•

Killer Kitty of the Kaskervilles

•

King James

•

King Neptune

•

Mark Twang

•

Mayor Fettuccine

•

Mermushrooms

•

Mervin

•

Misaki

•

Mouth of the River

•

Mr. President

•

Mr. Mayor

•

Mugga

•

Murphy

• Mushroom People •

Mushroom Rebel

• Obi-Wan Toadi •

Outback mayor

•

Patches

•

Pine

• Piranha Plant • Pokey • Porcupo •

Prince Pompadour

•

Pronto

•

Quirks

•

Robo Shyguy

•

Robo Koopa

•

Romano

•

Romano's father

•

Royal Cow

•

Salvador Drainado

•

Sam Shalam

• Santa Claus •

Scooter

•

Secret Agent N

• Shyguy •

Shyguy Lion

•

Slammer

• Snifit •

Space Troopa

• Spark •

Spider

• Spiny • Spiny Egg •

State Troopa

•

Stool Pigeon

• Stormtroopa •

Super Troopa

•

The Three Mushrooms

•

Thunder Birdo

• Trouter • Tweeter •

Tweeter Bat

• Wereturtle • Whale •

Zero

Live-action characters
Characters

Clog

•

CooKoo Bird

•

Edison

• Luigi • Mario •

Ratagator

Guests

Alligator Dundee

•

Angelica

•

Aunt Luigeena

•

Brian Bonsall

• Captain Lou Albano •

Cher

•

Count Zoltan Dracula

•

Cyndi Lauper

•

David Horowitz

•

Doc Freud

•

Dr. Frankenstein

•

Dr. Sigmund Fruitcake

•

Dr. Toby

•

E.C.

•

Einstein

•

Ellie Mae

•

Elvira

•

Elvis Presley

•

Ernie Hudson

•

Exterminator

•

Frankenstein's Monster

•

Fred Van Winkle

•

George Washington

•

Grandma Mario

•

HAL 9001

•

Harry Blackstone Jr.

•

Howard Stevens

•

Ike

•

Imperial Poobah

•

Inspector Gadget

•

Inspector Klean

•

Jim Lange

•

Jodie

•

Kenneth

•

Little Robert

•

Liz

•

Luigeena

•

Luigi's girlfriend

•

Lyle Alzado

•

Mad Donna

•

Madam AGoGo

•

Magic Johnson

• Mama Mario •

Marianne

•

Marilyn

•

Mario Joe and Luigi Bob

•

Mikhail S. Gorbachev

•

Monster

•

Mr. Gibbel

•

Mr. President

•

Mrs. Gammliss

•

Mrs. Periwinkle

• Nick •

Nicole Eggert

•

Obi-Wan Cannoli

•

Pam Matteson

•

Patty

•

Patty's mother and father

•

Pietro

•

Poochie

•

Ralph Washington

•

Rob Stone

•

Rowdy Roddy Piper

•

Roxanne

•

Sgt. Slaughter

•

Shabba-Doo

•

Slime Ghost

•

Super Plant

•

Susanna Ross

•

Tawny Tyler

•

Ted Bull

•

The Old Psychic Lady with the Evil Eye Who Reads Fortunes and Knows Everything Before it Happens

•

Tommy Lasagna

•

Vincent Van Gook

•

Willy White

•

Young McDonald

Episodes
Animated
The Bird! The Bird! • King Mario of Cramalot •

Butch Mario & The Luigi Kid

•

Mario's Magic Carpet

•

The Ringer

•

Rolling Down the River

•

The Great Gladiator Gig

•

Mario and the Beanstalk

•

Love 'Em and Leave 'Em

•

The Great BMX Race

•

Stars in Their Eyes

•

Jungle Fever

•

Brooklyn Bound

•

Toad Warriors

•

The Fire of Hercufleas

•

Count Koopula

•

Pirates of Koopa

•

Two Plumbers and a Baby

•

The Adventures of Sherlock Mario

•

Do You Princess Toadstool Take this Koopa...?

•

The Pied Koopa

• Koopenstein •

On Her Majesty's Sewer Service

•

Mario and Joliet

•

Too Hot to Handle

•

Hooded Robin and His Mario Men

•

20,000 Koopas Under the Sea

•

Mighty McMario and the Pot of Gold

•

Mario Meets Koop-zilla

• Koopa Klaus •

Mario and the Red Baron Koopa

•

The Unzappables

•

Bad Rap

•

The Mark of Zero

•

The Ten Koopmandments

•

The Koopas are Coming! The Koopas are Coming!

•

The Trojan Koopa

•

Quest for Pizza

•

The Great Gold Coin Rush

•

Elvin Lives

•

Plummers Academy

• Karate Koopa •

Mario of the Apes

•

Princess, I Shrunk the Mario Brothers

•

Little Red Riding Princess

•

The Provolone Ranger

•

Escape from Koopatraz

•

Mario of the Deep

•

Flatbush Koopa

•

Raiders of the Lost Mushroom

•

Crocodile Mario

•

Star Koopa

•

Robo Koopa

Live
Neatness Counts • Day of the Orphan •

All Steamed Up

•

Marianne and Luigeena

•

Slime Busters

•

The Mario Monster Mash

•

Bonkers From Yonkers

•

Bats in the Basement

•

Will the Real Elvis Please Shut Up!

•

Magic's Magic

•

Mama Mia Mario

•

Alligator Dundee

•

Dance

•

Cher's Poochie

•

Wild Thing

•

E.C. The Extra Creepy

•

The Marios Fight Back

•

Magician

•

Do You Believe In Magic?

•

Mommies Curse

•

Lost Dog

•

Plumbers of the Year

•

Mario Hillbillies

•

Super Plant

•

Fred Van Winkle

•

Baby Mario Love

•

9001: A Mario Odyssey

•

Fake Bro

•

Time Out Luigi

•

Tutti Frutti, oh Mario

• Flower Power •

Vampire Until Ready

•

Heart Throb

•

Fortune Teller

] •

The Magic Love

•

Little Marios

•

Gorilla My Dreams

•

George Washington Slept Here

•

Caught in a Draft

•

Defective Gadgetry

•

Toupee

•

The Artist

•

Zenned Out Mario

•

Texas Tea

•

The Great Hereafter

•

The Painting

•

Game Show Host

•

Home Radio

•

Glasnuts

•

Treasure of the Sierra Brooklyn

•

Adee Don't

•

Chippie Chipmunks

•

A Basement Divided

•

No Way to Treat a Queenie

•

Pizza Crush

•

Goodbye Mr. Fish

•

French

•

Two Bums From Brooklyn

•

Opera

•

Tutti Frutti Mario

•

Cyrano de Mario

•

Rowdy Roddy's Rotten Pipes

•

Santa Claus is Coming to Flatbush

•

Captain Lou Is Missing

•

The Ghoul of my Dreams

Live-action locations
Live-action locations
Mario Bros. Plumbing
Animated locations
Regions

Amazon Jungle

•

Aqua Land

• Brooklyn •

Brooklyn Bridge

•

Car Land

•

Caveman Land

•

Cloud Land

•

Coney Island

•

Cramalot

•

Crime Land

•

Desert Kingdom

•

Down Under Land

•

El Desertland

•

Flatbush

•

Grand Koopa Canyon

•

Happy Harbor

•

Jungleland

•

Kingdom of Youth

•

Koopos

• Land of Ice •

Land of Romance

•

Lava Land

•

Linguini Empire

•

Lonesome Mushroom

•

Mushridge

• Mushroom Kingdom •

Mushroom Planet

•

Mythis

•

North Pole

•

Oceanworld

•

Pastaland

•

Pirate's Port

•

Pirate Waters

•

Pirate World

•

Pyramid Land

•

Quirk

•

Rap Land

•

River World

•

Robo Land

•

Rotundaland

•

Sayonara

•

Shamrock Kingdom

•

Sharewood Forest

•

Sharewood Village

•

Snow World

•

Sock Hop Land

•

Spy Land

•

Sudden Death Valley

•

Swiss Cheese Alps

•

Trouter Bay

•

Turtlevania

•

Victoria

•

Winterland

•

Waki-Waki

• Warp Zone •

Wild West

Landmarks

Bonkers Street

•

Brooklyn Plumbers Academy

•

Chateau Koopula

• Cramalot Castle •

Double Cross Ranch

•

First Mushroom Bank

•

Forest of Perpetual Night and Terrible Dangers

•

Fort Hard Knox

•

Fountain of Youth

•

George's Gorge

• King Koopa's Castle •

Koopacropolis

•

Koopa Klub

•

Koopatraz State Prison

•

Linguini Empire Colosseum

•

Mushroom Colony

•

Outback

•

Pasta Pit

•

Quirk Factory

•

Rebel Fort

•

Rotunda Castle

•

Santa's workshop

•

Shamrock Inn

•

Super Spy Headquarters

•

Temple of Koopa

•

Tower of Victoria

•

Tunnel of Doom

Items and objects
Animated

All Purpose Portable Plumber's Helper

•

Aladdin's Lamp

• Beanstalk •

Birdo Ray

•

Blackbeard Koopa's Ship

• Bomb Plant •

Ding Bell

•

Excalibur

• Fireball • Fire Flower •

Fireproof Lava Boat

• Flagpole •

Flying carpet biplane

•

Flying Pizza

•

Freeze Gun

•

Garbage Pod

• Gold Coin •

Golden Plumber's Helper

•

Golden Plunger

•

Great Balls of Fire

•

Heat Gun

•

Industrial Strength Itching Potion

•

Intergalactic InSinkErator

•

Koopa-Kola

•

Koop Star

•

Koopa Scepter

•

Koopa Strength Itching Powder

•

Koopa Surprise

•

Koopa's rocket

•

Koopilus

•

Lava Machine

•

Lightplunger

•

Lost Mushroom

•

Magic carpet

•

Magic doodad

•

Magic flute

•

Magic Growing Potion

•

Magic Shrink Potion

•

Magic Statue

•

Magical Potion

•

Mushroom Starfighter

•

Passion Potion

•

Peapod

•

Plumb-Fu

•

Plumber's Log

•

Plumbinator

•

Pot of Gold Coins

• Power block •

Red-Hot Pepper Detector

•

Retro Router

•

Robot Monster Troopa

•

Robo-suit

•

Royal Plug

•

Sacred Sink of Cramalot

•

Shrinking Sukiyaki

•

Sinister Star

•

Space Raft

• Spaghetti •

Spymobile

• Starman •

Stereo Gun

•

Stormtroopa Starfighter

•

Super Sushi

•

Super Sushi Shrinker

•

Unzappable Hat

• Vegetable •

Yellow spaceship

Live-action

Mario Brothers Clog Cleaner

•

Mario Brothers Plant Food

•

Pizza Transformer

•

Roseitis

•

Secret Chippie Decoder Ring

•

Steam-O-Matic

•

Strange watch

•

Super Plant Growth Formula

•

Veggieitis