"Who... walk... here? Who... break... seal? Wake... ancient... ones? We no like light... Rrrrummbbble... We no like... intruders! Now battle... ... hand... to... hand!"
― Eyerok, Super Mario 64
The Eyerok is a creature made of stone bricks that appears in Super Mario 64 and Super Mario 64 DS that Mario has to fight in order to get a Power Star in Shifting Sand Land. They reappear in Mario Kart DS as a Boss Mission.
Appearance
Eyerok is a stone creature comprised only of two hands, with each containing a single eye (the boss's weak spot). Because of its stone-like appearance, Eyerok might be based on a golem (a creature that was said to have been brought back to life through magic and enchanted earth). 
History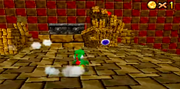 In Super Mario 64 and Super Mario 64 DS, Eyerok is the boss of Shifting Sand Land. The Eyerok is a spirit composed of two giant rock hands with eyes on his palms. He resides in a secret room in the pyramid but Mario must find a secret entrance to reach his room. It will open when he's been on the top of all four of the pillars on the level. He is fought on a platform that's surrounded by pits on three sides. He can attack by slamming down his fists on Mario which takes 3 HP. The Eyerok can also try to push Mario down from the platform, causing an instant death. The Eyerok can only be attacked when his eyes are open which is only when one of the hands aren't attacking. After both of his eyes have been punched three times, the Eyerok will be defeated and Mario will earn another Power Star.'

He is fought on star four in the mission Standing on the Four Pillars in Shifting Sand Land and is fought in exactly the same way in Super Mario 64 DS, in this game, Luigi and Wario can also fight the Eyerok, while Yoshi cannot break the seal leading to the Eyerok, he can break the seal (whilst wearing another character's Cap) and then change back to regular Yoshi before entering the hatch). Yoshi can beat the Eyerok with Sweep Kicks or by burning it by swallowing some fire from the nearby Fire Torch. Additionally, Luigi can easily reach the ledge leading to the Eyerok's room without the need of standing on the Pillars by using tornado backflip and spinning to the ledge.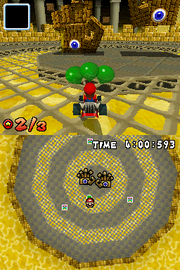 The Eyerok appeared again in Mario Kart DS as the second boss in mission mode. He must be fought by Mario in this version and he can be defeated by shooting green shells at him when his eyes are open. He isn't completely defenseless, as he whirls around in the air and comes down, crushing Mario and making him lose a balloon. He also goes ballistic after you hit his eyes two times. He repeatedly comes down hard. So if you wanna be in his way when he goes crazy, thinking your brave, go right ahead. You will get flattened. No doubt about it.
Trivia
Eyerok can also be split into two words Eye and rock, which is how Nintendo created the name. There is also the pun "I rock" in his name.
Eyerok has the most health in Super Mario 64 and Super Mario 64 DS as both his hands have 3 HP each, giving him 6 HP in total. Not even Bowser's final round has that much health.
Eyerok is similar to Rollodillo from Super Mario Galaxy 2 as both bosses have the most amount of hit points.
In the original Super Mario 64 Eyerok originally had the same sound as the Whomp King however in Super Mario 64 DS, he was given his own unique sounds.
His character is similar to the Knucklotec from Super Mario Odyssey.
Originally, Eyerok had no name and they were called "the ancient ones." however the Eyerok was named in the Nintendo Official Player's Guide.
Eyerok prefers to speak in first person, as evident in the pre-battle and post battle dialogues. 
The Snow Ogre from Mario Tennis Aces strongly resembles the Eyerok with the major difference being is the Snow Ogre is composed mostly of ice rather than stone.
Navigation
Characters
Playable Characters
Yoshi • Mario • Luigi • Wario
Supporting Characters
Toad • Bob-omb Buddy • Princess Peach • Rabbits • Ukiki
Bosses
King Bob-omb • Whomp King • Goomboss • Bowser#1 • Big Boo • Big Mr. I • King Boo • Big Bully • Eyerok • Bowser#2 • Chill Bully • Chief Chilly • Wiggler • Bowser#3
Enemies
Enemies
Goomba • Bob-omb • Chain Chomp • Big Steely • Koopa Troopa • Piranha Plant • Thwomp • Whomp • Unagi the Eel • Treasure chest • Cheep Cheep • Bubba • Mr. Blizzard • Amp • Boo • Mr. I • Bookend • Killer Chair • Mad Piano • Coffin • Scuttlebug • Flamethrower • Monty Mole • Snufit • Swooper • Boulder • Bully • Podoboo • Klepto • Tox Box • Grindel • Spindel • Pokey • Sushi • Manta Ray • Bub • Fire Chomp • Fire Spitter • Spindrift • Skeeter • Heave Ho • Chuckya • Fly Guy • Grand Goomba • Micro-Goomba • Venus Fire Trap • Big Venus Fire Trap
Courses
First Floor
Bob-omb Battlefield • Whomp's Fortress • Jolly Roger Bay • Cool, Cool Mountain • Goomboss Battle • Bowser in the Dark World
Courtyard
Big Boo's Haunt • Big Boo Battle
Basement
Hazy Maze Cave • Lethal Lava Land • Shifting Sand Land • Dire, Dire Docks • Bowser in the Fire Sea
Second Floor
Chief Chilly Challenge • Snowman's Land • Wet-Dry World • Tall, Tall Mountain • Tiny-Huge Island
Third Floor
Tick Tock Clock • Rainbow Ride • Bowser in the Sky
Stars
Bob-omb Battlefield
Big Bob-omb on the the Summit • Footrace with Koopa the Quick • Shoot to the Island in the Sky (N64) •

5 Silver Stars

(DS) •

Big Bob-omb's Revenge

(DS) •

Find the 8 Red Coins

•

Mario Wings to the Sky

•

Behind Chain Chomp's Gate

(N64)/

Behind Chain-Chomp's Gate

(DS)
Whomp's Fortress

Chip Off Whomp's Block

•

To The Top Of The Fortress

•

Shoot into the Wild Blue

•

Red Coins on the Floating Isle

•

Fall onto the Caged Island

•

Blast Away the Wall

•

Switch Star of the Fortress

(DS)
Jolly Roger Bay

Plunder in the Sunken Ship

•

Can the Eel Come Out to Play?

•

Treasure in the the Ocean Cave

•

Red Coins on the Ship Afloat

•

Blast to the Stone Pillar

•

Through the Jet Stream

•

Switch Star of the Bay

(DS)
Cool, Cool Mountain

Slip Slidin' Away

•

Lil' Penguin Lost

•

Big Penguin Race

•

Frosty Slide for 8 Red Coins

•

Snowman's Lost His Head

•

Wall Kicks Will Work

(N64)/

Mario's Super Wall Kick

(DS) •

Switch Star of Cool, Cool Mountain

(DS)
Big Boo's Haunt

Go on a Ghost Hunt

•

Ride Big Boo's Merry Go Round

•

Secret of the Haunted Books

•

Seek the 8 Red Coins

•

Big Boo's Balcony

•

Eye to Eye in the Secret Room

•

Switch Star of the Basement

Hazy Maze Cave

Swimming Beast in the Cavern

•

Elevate for 8 Red Coins

•

Metal-Head Mario Can Move!

(N64)/

Metal-Head Wario Can Move

(DS) •

Navigating the Toxic Maze

•

A-Maze-Ing Emergency Exit

•

Watch for Rolling Rocks

•

Underground Switch Star

Lethal Lava Land

Boil the Big Bully

•

Bully the Bullies

•

8-Coin Puzzle with 15 Pieces

•

Red-Hot Log Rolling

•

Hot-Foot-it into the Volcano

•

Elevator Tour In the Volcano

(N64)/

Inside the Volcano

•

Flaming Silver Stars

(DS)
Shifting Sand Land

In the Talons of the Big Bird

•

Shining Atop the Pyramid

•

Inside the Ancient Pyramid

•

Stand Tall On the Four Pillars

•

Free Flying For 8 Red Coins

(5th Star, N64) (7th Star, DS) •

Tox Box Switch Star

(DS) •

Pyramid Puzzle

Dire, Dire Docks

Board Bowser's Sub

•

Chests in the Current

•

Pole-Jumping for Red Coins

•

Through the Jet Stream

•

The Manta Ray's Reward

(5th Star, N64) (7th Star, DS) •

Koopa Surfin' Switch Star

(DS) •

Collect the Caps...

(N64)/

Inside the Cage

(DS)
Snowman's Land

Snowman's Big Head

•

Chill with the Bully

•

In the Deep Freeze

(N64) •

Yoshi's Ice Sculpture

(DS) •

Whirl from the Freezing Pond

•

Shell Shreddin' for Red Coins

(N64) •

Snowman's Silver Star

(DS) •

Into the Igloo

•

Red Coins in the House

(DS)
Wet-Dry World

Shocking Arrow Lifts!

•

Top o' the Town

•

Secrets in the Shallows and Sky

(N64)/

5 Secrets in the Shallows and Sky

(DS) •

Express Elevator--Hurry Up!

•

Go to Town for Red Coins

(N64)/

Go to Town for the Red Coins

(DS) •

Quick Race Through Downtown!

•

Soaked Silver Stars

(DS)
Tall, Tall Mountain

Scale the Mountain

•

Mystery of the Monkey Cage

•

Scary 'Shrooms, Red Coins

•

Mysterious Mountainside

•

Breathtaking View from Bridge

(Star 5, N64)/

Breathtaking View from the Bridge

(Star 7, DS) •

Blast to the Lonely Mushroom

(Star 6, N64) (Star 5, DS) •

5 Secrets of the Mountain

Tiny-Huge Island

Pluck the Piranha Flower

•

The Tip Top of the Huge Island

•

Rematch with Koopa the Quick

•

Five Itty Bitty Secrets

(N64) •

Klepto the Condor

•

Wiggler's Red Coins

•

Make Wiggler Squirm

•

Switch Star of the Island

(DS)
Tick Tock Clock

Roll into the Cage

(N64) •

Luigi in the Cage

(DS) •

The Pit and the Pendulums

(N64) •

The Pendulum Switch Star

(DS) •

Get a Hand

•

Stomp on the Thwomp

•

Timed Jumps on Moving Bars

•

Stop Time for Red Coins

•

Tick Tock Silver Stars

Rainbow Ride

Cruiser Crossing the Rainbow

•

The Big House in the Sky

•

Coins Amassed in a Maze

•

Swingin' in the Breeze

•

Tricky Triangles!

•

Somewhere over the Rainbow

•

Switch Star of the Manor

Items and Objects
Items
Power Flower • Vanish Cap • Metal Cap • Key • Power Star • Koopa Shell • Silver Star • Wing Cap
Objects
Mario's Cap •

Luigi Cap

•

Wario Cap

• ! Block •

Star Switch

• Red Switch • Cannon • Coin • Red Coin • Blue Coin • Bowser Key