The Egg 1 a kart that appears in the Mario Kart series. It is in the shape of a green Yoshi Egg, with a yellow rim around the top, two grey exhaust pipes at the back and a grey chassis at the lower front, resembling the chassis on the Pipe Frame. It is usually equipped with small tires.
It is the Turbo Yoshi's successor from Mario Kart: Double Dash!!.
Appearances
Mario Kart series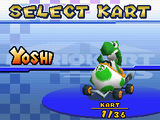 The Egg 1 debuted in Mario Kart DS, as Yoshi's default kart, along with his Standard YS, and his unlockable kart, the Cucumber. It has the fourth best acceleration and handling stats, average speed, and low drift and items. It is also the lightest kart within the entire game. It is also the fastest kart within the lightweight class.
The Egg 1 is one out of the four karts in Mario Kart DS that are the best for snaking, with the other three being Dry Bones' Dry Bomber, Luigi's Poltergust 4000 and R.O.B.'s ROB-BLS, though the Egg 1 may be a preferable choice. Its weight rivals Toad's Mushmellow, and it shares its item stat with all other characters' lighter karts.
Princess Daisy and R.O.B. can use the Egg 1 once the player completes all cups in the 150cc Nitro or Retro Grand Prix, but only if they are unlocked, and all racers can use the Egg 1 once all cups in the Mirror Mode have been completed. Until then, only Yoshi can use this kart.
Yoshi in the Egg 1 is used as the staff ghosts for courses Yoshi Falls, with a time of 0:57:677, and SNES Koopa Beach 2, with a time of 0:54:847.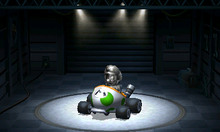 It returns in Mario Kart 7 as an unlockable Retro Kart body. It gives a boost in acceleration, whilst hindering speed and weight. In terms of hidden stats, the Egg 1 has the best sea speed in the game, tied with Tiny Tug, and also gives a boost in air speed, mini-turbo and drift.
A computer-controlled Princess Peach or Wario may use the Egg 1, usually equipped with Monster tires for Peach, Roller for Wario and equipping it with the Parafoil.
Also, equipping the Egg 1 with Roller tires will resemble the original Mario Kart DS version, with the only difference is the center of the tires is silver instead of orange.
The Egg 1 makes an appearance in Mario Kart Tour, and is classified as a Super kart.
Attention MarioWiki users!: This section is short or lacks sufficient information. Whether you are commenting or editing, we would appreciate it if you help MarioWiki by expanding it.
Non-canon warning: This article or section contains non-canonical information that is not considered to be an official part of the Mario series and/or isn't considered to be part of the series' overall storyline.

The Egg 1 appears as a trophy in Super Smash Bros. for Nintendo 3DS. It uses the Mario Kart 7 rendition.
Statistics
Mario Kart DS
Egg 1

Information
Class
Light
Speed
59
Acceleration
91
Weight
34
Handling
89
Drift
41
Items
32
Mario Kart 7 stat boosts
Speed: -0.25
Sea Speed: +1.5
Air Speed: +0.5
Acceleration: +0.5
Weight: -0.25
Handling: 0
Sea Handling: 0
Air Handling: 0
Off-Road: 0
Mini-Turbo: +0.5
Stability: 0
Drift: +0.25
See also:
Gallery
Community content is available under
CC-BY-SA
unless otherwise noted.