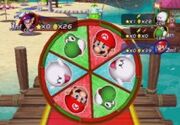 The Dart Wheel (Also known as the Carnival Wheel) is a wheel you can throw a dart at to determine which player you're targeting or how many coins to take away from someone for winning the challenge. If you eat any candy wrapped in green (Cashzap Candy, Vampire Candy, or Springo Candy), win a duel, or completing a Challenge Minigame then you get to throw a dart at the Dart Wheel.
Throwing
To throw your dart, hold your Wii Remote while pressing A or B and thrust the remote forward. The time only allots the player 10 seconds to throw the dart at the board. After that, the dart will throw itself and select whatever it happens to hit.
Community content is available under
CC-BY-SA
unless otherwise noted.