Not to be confused with the move from Paper Mario, Cloud Nine.
The Cloud 9 is a kart that appears in the Mario Kart series. It is in the shape of a Lakitu's Cloud, with two golden exhaust pipes at the back. It is based for Lakitu, though any character can use this kart.
Appearances
Mario Kart series
Mario Kart 7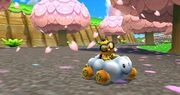 The Cloud 9 debuted in Mario Kart 7, as a unlockable kart part. It gives a boost in acceleration and handling, whilst lowering speed and weight. In terms of hidden stats, the Cloud 9 offers a boost in sea and air speed, sea and air handling, mini-turbo and drift.
A computer-controlled Princess Peach Rosalina, Honey Queen and Lakitu may use the Cloud 9. Rosalina, Honey Queen and Lakitu may use the Cloud 9 equipped with Sponge tires, while Princess Peach may choose the Mushroom tires, and they may choose the Parafoil glider.
The Cloud 9 is also used for the Expert Staff Ghosts for Piranha Plant Slide (Piranha Plant Pipeway) and SNES Rainbow Road, both with Lakitu using the Sponge tires for Piranha Plant Slide, Roller tires for SNES Rainbow Road, and with the Paraglider. Toad is also used in the Cloud 9 for the Normal Staff Ghost for Wii Mushroom Gorge, equipped with the Mushroom tires and the Paraglider.
Mario Kart Tour
The Cloud 9 reappears in Mario Kart Tour, where it is classified as a Super kart. Peforming Jump Boosts will earn more points if this kart is used. The tires use the Sponge tires from Mario Kart 8 and Mario Kart 8 Deluxe. Unlike in 7, the Cloud 9 does not display the characters' emblem at the back.
Non-canonical appearances
Super Smash Bros. for Nintendo 3DS
Non-canon warning: This article or section contains non-canonical information that is not considered to be an official part of the Mario series and/or isn't considered to be part of the series' overall storyline.

The Cloud 9 makes an appearance in Super Smash Bros. for Nintendo 3DS as a trophy, with Lakitu in it. It is also equipped with the Slick tires and Lakitu's Super Glider.
Statistics
Cloud 9

Information
Type
Kart
Speed
-0.5
Sea Speed
+1
Air Speed
+0.5
Acceleration
+0.25
Weight
-0.25
Handling
+0.5
Sea Handling
+0.25
Air Handling
+0.25
Off-Road
0
Mini Turbo
+0.5
Stability
0
Drift
+0.25
See also:
External links
Gallery
Community content is available under
CC-BY-SA
unless otherwise noted.