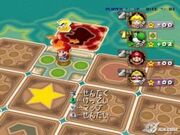 Card Party
is a special game that appears in
Mario Party 5
that is hosted by
Mamar
. In this game, players now have a chance to find the number of Star cards depending on how long the game lasts in order to win the game. The first thing you have to do is pick the turn order, then you select your start space, and then... START! On your turn, you must roll the dice to move up to 6 spaces and as you move, he/she will reveal special cards that will help them along the way. Here are the cards:
Cards
Path Card: Makes a path for the player. Sometimes it holds hidden dice which allows the player to roll again.
Item Card: Holds either a Mushroom, a Cursed Mushroom or a Warp Pipe.
Event Card: Reveals a mystery surprise including Pink Boo, Switch or Boo.
Star Card: Holds a Single Star, Double Star or a Ztar star.
Bowser Card: Makes Bowser or Koopa Kid appear and like to cause trouble.
The game ends when everyone collects all of the star cards. Then Mamar will announce the results. If the player has the most star cards, then you win! If 2 players or more have the same number, then a Star Card Championship occurs. There are 8 star cards on the board. 7 of them are false and the 8th one has a Star. Each player in turn will pick one and the person who finds it gets 1 star and the win!
Community content is available under
CC-BY-SA
unless otherwise noted.